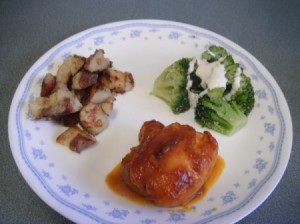 For many years, we have enjoyed cooking outside on our Holland Grill, especially during the hot summer months. It cooks much like an oven with no open flame so cooking this chicken in a pan works great. It can also be baked in the oven as well.
My husband likes to get in the kitchen now and then and make BBQ chicken. He does not look at a recipe or measure anything, he just adds what he thinks is needed. However this time he measured so I could share his recipe on Thriftyfun. The chicken turned out perfectly.
Years ago, he started out using my recipe for BBQ chicken but the more he made it, the more he changed it and added other ingredients. I baked it in the oven and he even changed that. He cooked it on the Holland Grill. It really is good. Much better than my old recipe.
I'm glad to let him have the kitchen and cook anytime he desires but the BBQ sauce is about the only thing he enjoys making. He puts it all together and then lets me clean up the kitchen and do the cooking on the grill.
This recipe is good to use with barbeque pork as well. We haven't tried beef yet, but he's talking about that. I have heard that beef is what they barbeque in Texas and I'll bet it is good.