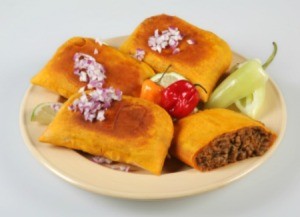 This is a way I get rid of leftovers. Pot roast works well, some meat chopped or shredded, some potatoes, chopped and some carrots, chopped with a tablespoon of gravy. Left over ham chopped up with some cheese. Left over BBQ; just any leftovers you have that would make a good hot pocket. I have made breakfast ones with loose scrambled eggs, some meat and some cheese.
Ingredients:
Crust:
1 tsp. instant yeast (for a more bread like crust add 1 packet)
2/3 cup lukewarm water plus 3 Tbsp.
4 Tbsp. butter, melted
1/2 cup olive oil
1 large egg, beaten
2 tsp salt (I use 1 tsp.)
3 1/2 - 4 cups all purpose flour (you can use whole wheat flour up to 3/4 cup)
Directions:
Combine yeast, water, butter, olive oil, egg and salt. Mix well with the paddle attachment of a mixer. Stir in 3 1/2 cups flour, 1 cup at a time. Add extra flour until you have a tender, pliable and oily dough. It will feel much softer than a typical pie crust or bread dough.
Switch to the dough hook attachment for the mixer and knead for about 5 minutes. Divide the dough into 9 or 10 equal sized pieces. Roll into balls, set on a flat surface and cover in plastic for 20 minutes (I let it rise for 60 minutes). The dough won't really appear to rise. This can be done in a bread machine. Dump dry ingratiates then wet and use the dough cycle.
This can be done ahead of time, place dough in refrigerator until ready to use, covered with plastic. Let it return to room temp before using (about 1 hour).
Preheat the oven to 375 degrees F. Roll each round of dough out to circles about 7 inches in diameter. Put filling into one half of each circle, leaving a border around the filling. Fold the other half of the dough over the filling to make half moons. Decoratively crimp the edges to seal closed. Be sure they're sealed. Cut a few slashes in the top of each empanada to let steam out. The filling will boil out a little - no worries. Brush the top of the empanadas with the beaten egg.
Set the empanadas on a prepared baking sheet, ideally on parchment paper. Bake for 45 minutes. Let cool slightly before eating. You can heat these in the oven to reheat and the crust will stay flaky.
They can be done in a appetizer format with them done in muffin tins or just smaller diameter and baked.
By scott E. from Chicago, IL
Read More

Comments