Black Biting Insects?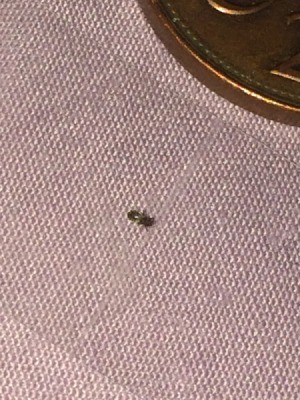 I have just found these tiny little black bugs in my bedroom. They're all over the skirting boards and I have seen them on my bedside table. I have also just found one in my actual bedding. I have had bites before which I thought were bed bugs, but these little things don't seem to be bed bugs to me. Can anybody possibly help me ID them please? Thanks in advance!
Add your voice! Click below to answer. ThriftyFun is powered by your wisdom!
September 18, 2015
1

found this helpful
This works on bed bugs and other bugs, you can add a little more of the concentrate Lysol, kills them on contact, keep spraying every couple days to kill eggs that hatch...Walmart carries the Lysol.
www.pinterest.com/.../
March 26, 2016
1

found this helpful
Those are bedbugs!!! Ive had them a few times.
March 26, 2016
1

found this helpful
Those are bedbugs we have had them before, you will need to bomb your apartment house or which ever almost weekly. Wash your bedding on high hot dry on hot as well. Good luck
August 8, 2016
0

found this helpful
The photo of the bites looks exactly like the pictures I just saw that were SCABIES. Especially the track of bumps in a row. Hope that helps.
September 28, 2016
1

found this helpful
Just because that appears like SCABIES does not mean it is , put some rubbing alcohol on it and then aloe Vera from the bottle for sunburns and keep it in the refrigerator. First off, I am experiencing these same stupid bugs and my exterminator told me to not bomb cause it spreads them and he had nothing to help me. To just keep running my sweeper and washing my stuff and using a dryer to kill them. I can tell you this when they bury themselves into your skin it hurts so bad it feels like it's burning.
I truly think since my husband does yard work for other people he brought these into our house !! Namely because our cat has them as he is an indoor cat and my dog has them and she is in and out but treated with Frontline Plus and still has them and also the cat is treated too. We've spent money like crazy trying to get rid of these and nothing. Now I am going to try the yellow Listerine . Good luck to you !!
September 8, 2016
2

found this helpful
I'm finding these lil black or brown bugs I tube and they don't seems to be fleas cause they are very easy to kill they are just appearing out the blue
June 9, 2017
0

found this helpful
I am trying to verify if the person that listed the picture (the first of three in a row, with a small bug ) is that life-size or blown-up? Does it actually have a small yellow streak across the middle with little grey dots(if you look close) on all of the bugs, and is the size aprox 1 cm? If so, it is probably a larder beetle.
July 2, 2018
0

found this helpful
What is a larder beetle?
I have these little black bugs that are living in the mattress and box spring seam and had eggs and they bite me. They are small beetles but bigger than a flea or a dust mite or a bed bug but not like a normal small beetle they are black and when you squish them they have brown goo with blood in it. Can you please tell me what they are. I check my bed daily and I powdered the seams on the mattress and box springs with insecticide dust.
But I can't stand breaking out. these only come out at night and thats when I get bit. They hide along the seam or crease in the mattress. I have never ever had bugs in my bed all my life until recently. I have looked at numerous bug pics on the net but the one I found doesn't even identify it. I just need to know what it is so I can research it and find the best way to kill it for good. They are easy to kill.
September 22, 2018
0

found this helpful
I have been diagnosed with scabies. I'm being treated with peremethrin cream. I'm cleaning and washing everything. Question is I also have these pin size black bugs on clothes, bed, all hard services, as well as seemingly jumping on my body, as I feel and see them on body
September 22, 2018
0

found this helpful
I'm being treated for scabies. Cleaning everything.
Still see small pin point black bugs. Exterminator says they are not bed bugs. What could this be?
Add your voice! Click below to answer. ThriftyFun is powered by your wisdom!
Advertisement
Published by ThriftyFun.
© 1997-2020 by Cumuli, Inc. All Rights Reserved.
https://www.thriftyfun.com/Black-Biting-Insects.html