Blue Jay Information and Photos
Photos
Share on ThriftyFunCheck out these photos. Click at right to share your own photo in this guide.
After a recent heavy snow, food was scarce and our feeder was the only game in town. The mornings are filled with blue jays, up to nine at a time sharing the feeder! I snapped this shot from my kitchen window and am delighted with the results.
One jay in focus that has decided to throw its food (good for the little birds on the ground) while another jay is coming in for a landing. It never fails to surprise me how nature is never wasteful; one's thrown and discarded food quickly becomes another's meal.
By Diana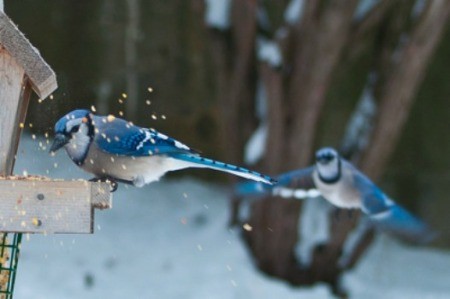 Blue versus Gold! I had just put out some bird seed and this is the rush to get to it! Blue Jay verses Evening Grosbeak couple.
Read More...
I found these plans to make a squirrel feeder using some scrap wood in the shed and a pickle jar, and put it on our porch. You'd be amazed by how many blue jays we have had to release out of the bottle.
By Lesa D.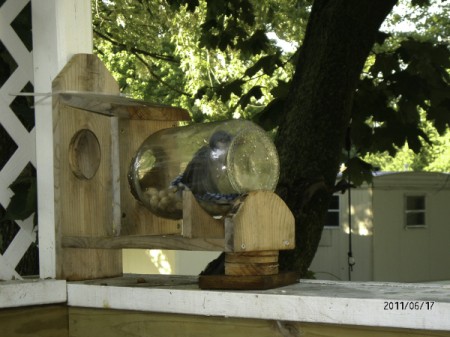 A close friend made this bird house. It is frequented by this darling little Blue Jay.
By Robyn Fed from Tri-Cities, TN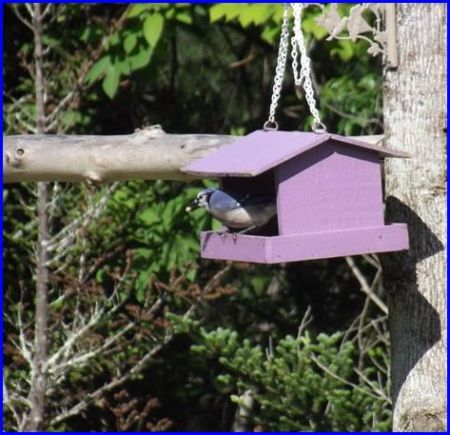 For past few years I've been putting out birdseed and bread for a large variety of birds, chipmunks, and squirrels.
I really enjoy watching them through my kitchen window and have been able to take some really great pictures of them.
Last year my Emma went after a baby Blue Jay that couldn't fly and out of nowhere came a flock of Blue Jays and they were mad.
They chased her all around the yard yelping and she couldn't get back inside fast enough.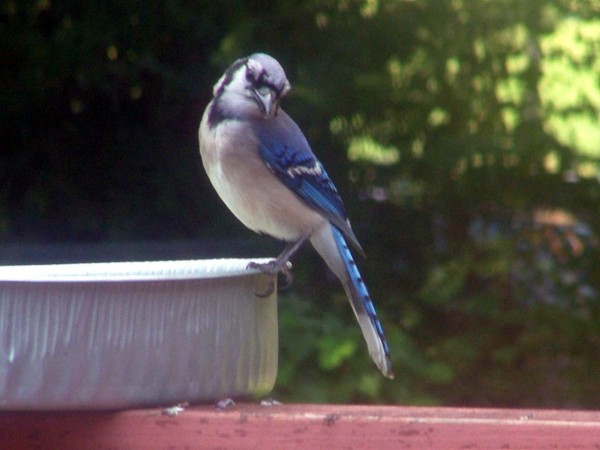 After I checked Emma to make sure she wasn't bleeding I headed back outside and dreaded every step of the way knowing I would be needing a shovel for a proper burial.
As I approached the baby bird I was completely astonished that it was alive and not injured. There I stood with this large shovel, grateful that the bird was still alive when all of a sudden I remembered all the adult Blue Jays that had just attacked Emma.
Though beautiful, it's a known fact that Blue Jays can be brutal when it comes to protecting their young and there I stood 2 feet from their baby. My mind was racing trying to figure out would it be faster to run towards the house or garage.
I do believe the birds recognized me as the person who feeds them and knew I wouldn't hurt their baby.
I slowly shooed the baby under a bunch of trees into a neighbor's yard that doesn't have dogs.
It was 50 feet to the fence line and I was absolutely terrified that any moment I could be swarmed.
I actually touched the little bird with my sneaker gently to keep it going, as it seemed dazed and didn't want to move.
I did not hear one Blue Jay squawk!
After I got the baby through the fence, I thanked the birds for not attacking me. I was grateful that I came out of the whole rescue with my dignity and not running around the yard screaming the way my dog had.
As for Emma, she refused to go out into the yard for several days and though she finally forgotten the incident, it's something that I will always remember.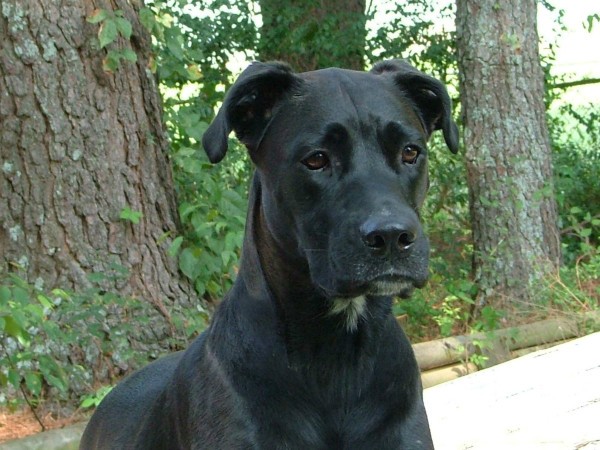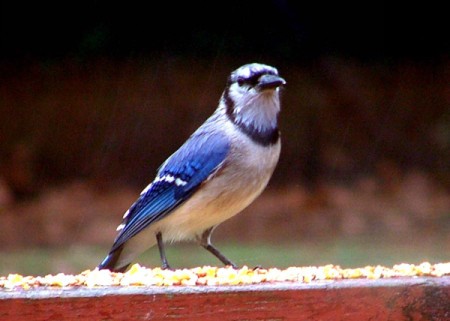 February 11, 2009
0

found this helpful
Don't forget that even if it's cold, beauty will be there...
Read More...
A Bluejay about to take flight after snatching a peanut I put out for the squirrels.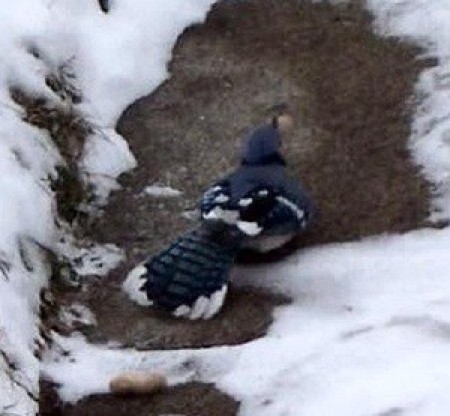 Read More...
Archives
ThriftyFun is one of the longest running frugal living communities on the Internet. These are archives of older discussions.
January 18, 2011
0

found this helpful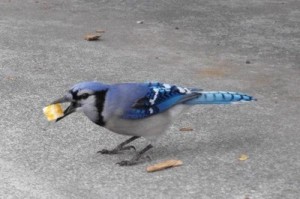 I took this picture while fishing at Ft. Loudon Historical State Park in Vonore, TN. This little Blue Jay decided it was his snack time and took off with a piece of cubed cheese from our table.

By Lovingnature
Answers:
Wildlife: Blue Jay
I love the Blue Jays. Many people think they are bully birds or greedy, but on the contrary, they earn the right to eat first. They are the "sentinels" of the forest and watch out for everyone else.

The other birds are really glad to allow them to eat first even though once in a while we can see what appears to be small confrontations. Usually caused by an immature male bird of another type.

I once watched a female cardinal challenge a jay and the jay gave way. He allowed her to get food at the platform feeder ahead of him. I'm sure she must have told him that she had little ones waiting for her to bring their food. He stepped aside and she took the food, flew away and then he ate.

I've seen jays do some very clever tricks too like hiding food behind cans etc...then fill up their beaks again, leave with what was in their beaks and wait until all the food was gone before going to that he'd hidden. Just amazing. If you put out a bunch of peanuts in the shells, they will choose the peanut with the most peanuts in it. Every time, they'll choose the biggest peanut and they'll put one down and take another if they see one that's larger or has three peanuts instead of two.

They can be pretty fierce when necessary, and take their jobs of guarding and watching very seriously. They can be so comical too. A great all-around beautiful little bird.

Excellent picture. Thank you for sharing.
(06/15/2010)

By PookaRina
Wildlife: Blue Jay
What a cute picture! :-) (06/16/2010)

By Deeli
Wildlife: Blue Jay
I like them. I agree with all Julia has said. (08/13/2010)

By Grayce
Related Content