After a recent heavy snow, food was scarce and our feeder was the only game in town. The mornings are filled with blue jays, up to nine at a time sharing the feeder! I snapped this shot from my kitchen window and am delighted with the results.
One jay in focus that has decided to throw its food (good for the little birds on the ground) while another jay is coming in for a landing. It never fails to surprise me how nature is never wasteful; one's thrown and discarded food quickly becomes another's meal.
By Diana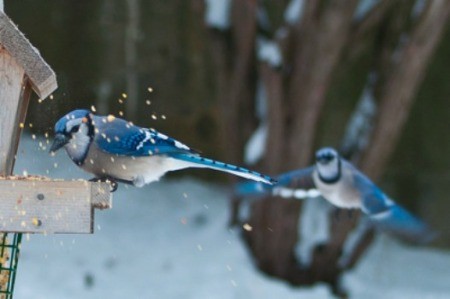 January 18, 2011
0

found this helpful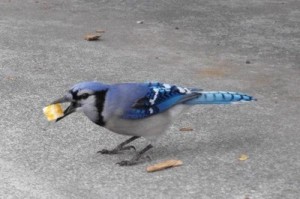 I took this picture while fishing at Ft. Loudon Historical State Park in Vonore, TN. This little Blue Jay decided it was his snack time and took off with a piece of cubed cheese from our table.
By lovingnature
Answers:
Wildlife: Blue Jay
I love the Blue Jays. Many people think they are bully birds or greedy, but on the contrary, they earn the right to eat first. They are the "sentinels" of the forest and watch out for everyone else.

The other birds are really glad to allow them to eat first even though once in a while we can see what appears to be small confrontations. Usually caused by an immature male bird of another type.

I once watched a female cardinal challenge a jay and the jay gave way. He allowed her to get food at the platform feeder ahead of him. I'm sure she must have told him that she had little ones waiting for her to bring their food. He stepped aside and she took the food, flew away and then he ate.

I've seen jays do some very clever tricks too like hiding food behind cans etc...then fill up their beaks again, leave with what was in their beaks and wait until all the food was gone before going to that he'd hidden.
Just amazing. If you put out a bunch of peanuts in the shells, they will choose the peanut with the most peanuts in it. Every time, they'll choose the biggest peanut and they'll put one down and take another if they see one that's larger or has three peanuts instead of two.
They can be pretty fierce when necessary, and take their jobs of guarding and watching very seriously. They can be so comical too. A great all-around beautiful little bird.

Excellent picture. Thank you for sharing.
(06/15/2010)

By Julia
Wildlife: Blue Jay
What a cute picture! :-) (06/16/2010)

By Deeli
Wildlife: Blue Jay
I like them. I agree with all Julia has said. (08/13/2010)