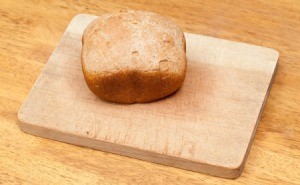 Fortunately, I decided to make a practice loaf of bread in my bread machine before Thanksgiving. Once again, it did not rise. Has anyone substituted milk for water in their recipe?
The manual for my Hitachi-B201 states "If you use fresh milk instead of dry milk, a large spoonful of dry milk corresponds to 2.4 fluid ounces of fresh milk. If you use fresh milk, therefore, the amount of water to be added must be reduced accordingly. If you use fresh milk instead of water and add an egg or two, your bread will taste even better." I am wondering if my use of all milk and one egg, no water, is the problem? Thank you for any suggestions!
By Maggie from Philadelphia, PA
Answers

December 3, 2010
0

found this helpful
Best Answer
Make sure your liquids are warm (not hot), make sure the salt does not touch the yeast (I put the salt in with the liquid, before adding flour), and I have had great success adding gluten to all my bread machine recipes. You can buy it in the grocery store in the flour section; some people buy flour with gluten in it; I buy the gluten and add 3 teaspoons to a small or medium loaf, and 4 teaspoons to a large loaf.
I have also had better success with medium (& small) size (not large) loaves. Good Luck.

December 3, 2010
0

found this helpful
Best Answer
Liquid vs dry milk/liquid/egg shouldn't be a factor in your bread's not rising. My first thought is that your yeast is old. Bread machines recommend instant yeast, but I've used regular Red Star yeast 'cause I can get it in larger quantities. Don't heat the water/milk. Don't let the salt mix with the yeast. Try it this way and I can't see why it wouldn't work...add 2 t more yeast to try it out if you want. I am using my third breadmaker with the handwritten instructions from the first (passing on not used equipment when the brochures have been lost...irks the hell out of me) but I've been able to make bread with all the machines.
I agree that added gluten will help the texture. Sometimes, though, you have to settle fro smaller loaves with tighter texture. I personally don't mind the texture, but I hate taking the effort to produce a really short loaf.
Answer

this Question