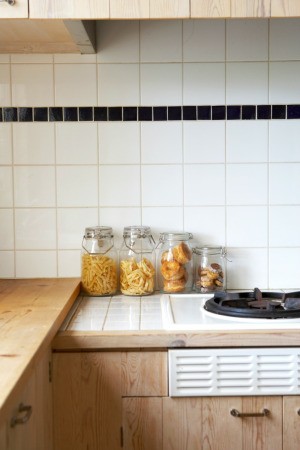 I need kitchen countertops! I've read all the great ideas on how to update kitchen countertops frugally and I'm so impressed by the ingenuity! But, I have no countertops at all! We moved back into our formerly leased home after moving out of state and then moving back. The renters destroyed our home.
The counter tops were tiled just before we moved, but upon return we found them cracked, broken and missing. We've redone the kitchen on a budget (and I plan on posting some really great thrifty ideas), but we can't even afford laminate, unless it's the preformed stuff from the major hardware retailers. The choices they offer won't match at all.
Has anyone been in this pickle and come up with a great idea to create counter tops? How about making your own resin counter tops? Has anyone done that and if so, could you share? Any advice would be greatly appreciated!
Penny from Fowlerville, MI
Answers

Cyinda
Bronze Post Medal for All Time! 213 Posts
October 9, 2008
0

found this helpful
If I were you, I'd start all over with plain plywood, & paint, then slowly (when you can afford it) add Formica or tile. I recommend starting over with a discount Formica. They have some new Formica that looks like stone & is really nice.
A second idea: When a tile wholesaler (the places that sell to builders & contractors) decide to not carry a tile anymore, they will sometimes just throw them away (I got free boxes & boxes this way!) This way they don't have to pay to take them to the dump. Also, Home Depot has a "Clearance Tile" area. Take a look there.
The real truth is you most likely won't be able to match your original tile & might as well rip it out & start new. As you know, Formica is the least expensive, & down from that is contact paper or nontoxic paint.
If you are set on tiles, then you can just take out the broken ones (& several others in various places) & inset a deco tile here & there. They need to fit & should be tiles of the same size that are a totally different color or even smaller tiny mosaic tiles would also work. You can also use broken, bright colored tiles & do your counter top with broken dishes & glassware. Mosaics are fun & cheap! You can also include broken mirror pieces & flattened marbles. This would give your kitchen a real kick! Ask for broken tiles at any tile manufacturer or retailer.
Another GREAT fix is to buy broken car window glass. (This type of glass isn't sharp. Just look for "Recycled Glass" in the Yellow Pages) What you do is glue the broken windshield glass on to a silver, copper, gold or color painted plywood, then you glue these glass fragments on with clear silicone caulking, let dry for 2 days then grout with a gold, silver or colored grout. It looks AMAZING! I've even seen pictures (from books) & copper glitter UNDER the broken glass.
You can also do a faux painted "granite" or "marble" countertop with paint & 5 or more coatings of varathine. Check out the Christopher Lowell web site, as well as these other including Debbie Travis, she has really amazing painted fixes!
www.christopher lowell.com
www.hgtv.com
www.diy.com
www.debbietravis.com
-------------------------------------------------------------------------------
FOR BEGINNERS, To make you own counter tops from scratch:
You'll need some kind of electric saw. I recommend a jig saw, you can buy one at home depot or big lots for $29. You can build you counter tops with one sheet of plywood. If you don't have a car that's big enough to haul one sheet of 4foot x 8' foot, 3/4 inch thick plywood then take your measurements into Home Depot or any lumber yard & they will cut the plywood FOR you! You can them buy Formica for very little (it's downright cheap!) at Home depot.
If you don't think you can handle installing the Formica yourself, For less than $80 (including the cost of the Formica & the installation) THEY will install it for you. OR you can instead, sand the plywood & put contact paper on it or several coats of nontoxic paint.
If you don't have any cabinets left to put your countertops on to, you can do several things to hold up the plywood countertops: You can either use low-grade 2" x 4"'s OR, better yet you can buy pre-made cabinets or even chest's of drawers in the "Custom-Closet" area of any store or at a second-hand store or on Craig' List.
You might also think of posting a "Wanted" or a "Will Barter" message on Craig's list for someone to do this or help you with your project. You could then do something for them in return such as sew custom drapes, knit or crochet a special custom afghan for their sister or mom for Christmas, watch their pet while they are on vacation, do their income taxes or work on their car, etc, or whatever for them. Bartering is the wave of the future (& the past!)

October 13, 2008
0

found this helpful
Have you thought about concrete? I saw an article a few months ago about custom countertops made out of concrete. The concrete can be stained, dyed, painted, sealed, polished, and have things (glass, tiles, pebbles, shells, etc.) embedded in it. Some of the pictures I saw looked like marble; but, only cost a fraction.
Also, the amount of concrete needed for a countertop is small and very inexpensive especially if you are doing it yourself.
I am sure a quick search on the Internet would give you the information you need to create a beautiful, long lasting, inexpensive countertop for your home.
By tahlula (Guest Post)
October 14, 2008
0

found this helpful
Google 'how to' on 'concrete countertops'--incredibly inexpensive (4 dollars for a 40 lb bag of quick -crete here), but somewhat labor intensive. However, it is a very flexible media if you are at all creative (e.g., color, add-ins, pattern, etc.) Do your homework. Good luck

susan
Silver Feedback Medal for All Time! 472 Feedbacks
October 14, 2008
0

found this helpful
You can just put plywood down for now, and later make some butcher block counter tops as you get money. The nice thing sbout butcher block is it's versatility: you can cut on it, put hot things on it, don't have to worry about stains, etc.--they just seem to add to its character. It really seems to warm the room too.
Read More

Answers