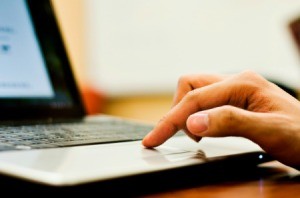 Do you know where I might find Rubel's Heavens Retired Angels?

Shari from Kalamazoo, MI

Answers
By Tom Kirwan (Guest Post)
January 23, 2008
1

found this helpful
By Chris (Guest Post)
June 13, 2008
1

found this helpful
I'm getting ready to list some on ebay right now.
October 26, 2008
0

found this helpful
I have almost the whole collection except 2 or 3. I would never have thought I would get rid of any of them but TIMES ARE HARD right now so....what 'CHA NEED. pamvic2003
July 2, 2009
0

found this helpful
I need the angel granny's at bedtime. I have all the rest, and just want to complete the set. Help, Ken G.
August 30, 2014
0

found this helpful
I have 2 retired angels both in mint condition 4 sale. One is item #44018 (MsLucy&msLily) and the other is Item #sc44002 (Ms Privy)
October 19, 2016
0

found this helpful
Im looking for Lucy and Lillty.
June 25, 2017
1

found this helpful
Heaven's Retired Angels Ms Knitting "Stitch One..., and the retired angel holding a pie. Do you have these. Cathy Wilson
August 18, 2017
0

found this helpful
There are several selling on eBay right now. You can also put an alert on eBay and they will tell you each time a figurine comes up for sale.
July 13, 2018
0

found this helpful
I am interested in Lucy and Lily on a bench
August 17, 2018
0

found this helpful
Is this still avail
Read More

Answers
Where can I find Mr. Go Far? I have been searching for this one for years. I originally bought it for my daughter after her grandpa died, it broke and I never knew the name of the artist or figurine to search for one until recently.
Any help appreciated.
Answers
May 14, 2019
0

found this helpful
Ebay and Worthpoint have him all the time. Sometimes you have to look through all of the Retired Angel auctions because people do not always know the names of the pieces they list.
It looks like he may be in this lot from eBay. Sometimes you can work with sellers to pull one from a auction. for a price. It can't hurt to ask.
Post back if you find it!
May 15, 2019
0

found this helpful
Do you have to pay to go on worthpoint?
May 15, 2019
0

found this helpful
I am disappointed that the seller won't break up the set. If it sits for a week or two, you may want to try back. Maybe the seller isn't a sale in the hand kind. I always do that for people. Sad.
You can check back to eBay daily just by brand since people don't always name their figurines.
So I need to apologize. I should not have mentioned worthpoint. It was Ebth I meant which is a buying site. Worthpoint is a resource site that you used to be able to visit for free. Then they changed it to a fee. I feel bad... said one thing and meant an other. I have never bought from Ebth so I am not sure how it works.
I am sorry that I gave you misinformation. I hope you find it soon or the eBay person changes his/her mind.
May 16, 2019
0

found this helpful
One last suggestion...Etsy is now selling a lot of vintage items. I am not overly familiar with the site, except for a failed attempt to sell off a hugs box of new in the pack zippers and some unopened sewing patterns on the site (it used to only be for craft supplies and crafted items--now they are trying to compete with eBay with selling vintage glass and such).
Someone may have it there also.
The important thing to do in your search is just put in the brand --not necessarily the piece's title. I say this because this new crop of sellers are totally clueless and they may know the brand but not the piece name. You may even need to search just by the description...white figurine male or white figurine pocket watch...seriously...some of the new sellers are just that clueless what they are selling.
Hopefully you will find one that is extra clueless and has no idea of the value and you can get it for a few dollars.
The worry with the clueless sellers is they will ship it without any packing materials--true story I just saw a buyer who was dealing with a first time seller who sold a glass figurine in a Tyvek mailer (NO BOX) with one swath of bubble wrap around it. She showed a photo of the glass sticking out of the Tyvak and the piece was a pile of shards. I am surprised her mailman didn't get cut up.
So my word of caution is kindly remind the seller to pack it well--double box and multiple layers of bubble wrap or double box in packing peanuts.
I sure hope you find it. If I get out to the flea this weekend and see one I will message you. Every now and then they show up in the strangest places!!
Answer

this Question
I was out thrifting and found this beautiful sculpture. I've searched and haven't located any info about it. It's described as "Studio Collection: Heavenly Angels by Tom Robel "We Shall Always Follow You" SCI 1999.
Any idea of value?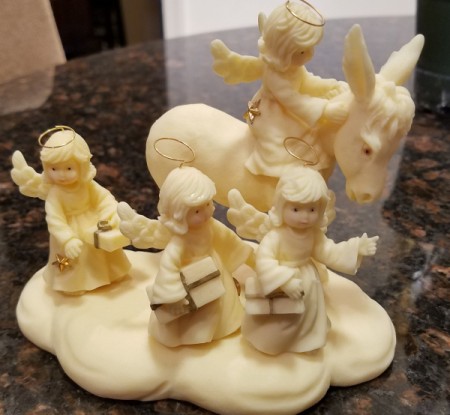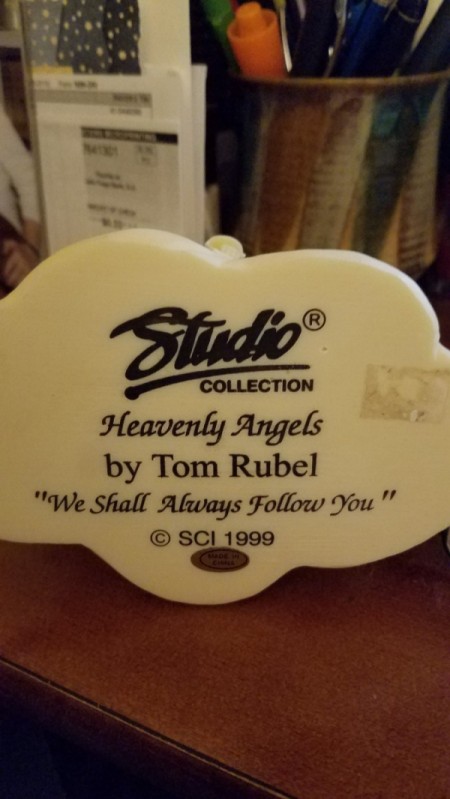 Answers
January 14, 2019
0

found this helpful
Ive seen one for $175 on eBay. Go to eBay and follow Tom Rubel for several weeks and see what they actually sell for.
January 16, 2019
0

found this helpful
Wow! I thought I knew all the Rubels, but I have never seen this one before. I was out of retail by 1999 is probably why, but I would have thought I would have seen it in my travels.
Perhaps this auction site, which seems to sell a lot of these (or lat least they list a lot at high prices), may be able to tell you what you have and the value.
www.bathantiquesonline.com/contact.htm
Please post back what you learn. I am so curious about this one! Thanks!
Answer

this Question
I'm looking to purchase a collectible by Tom Rubel titled 'Bedtime at Granny's'. It's a combination of the Retired Angel line and the Heavenly Angel line. Please contact me if you know of anyplace I might find one. Thanks!
Kurt from Indianapolis, IN
Answers
March 19, 2008
0

found this helpful
Assuming you've tried Ebay by the name of the maker and the name of the piece-- plus the names of the collection.
that's the best I can think of off the top.
good luck
October 26, 2008
0

found this helpful
I Have Bedtime at Granny's and she's beautiful! Interested? Should still have the box she came in too. I have almost all of them exsept maybe two. Make me an offer
Answer

this Question
Does anyone know if there is a website where I can view or find out how many of the Tom Rubel Heaven's Retired Angels were actually made? I have a few of them and am interested in collecting more but have no idea how many of them there actually are.
By JanetM
Answers
Answer

this Question