I first tried this spicy Thai chicken soup at a outdoor festival last summer. It was such a delicious combination of creamy and spicy, I wanted to try to make it at home. I looked at a lot of versions online to see what challenges and pitfalls there might be.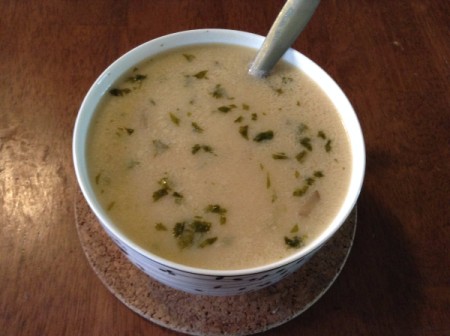 Everyone agrees that galangal, a Southeast Asian relative to ginger, is required for authentic Tom Kha. The galangal is simmered with lemongrass, spicy Thai chilies and kaffir lime to richly flavor chicken stock. The broth is added to coconut milk with chicken and mushrooms for a hearty meal.
Ingredients:
I used two rotisserie chickens from Costco for both the meat and the broth, with some set aside for future meals. Next time, I will try adding in the aromatic flavors while I am reducing the stock to avoid having to strain twice.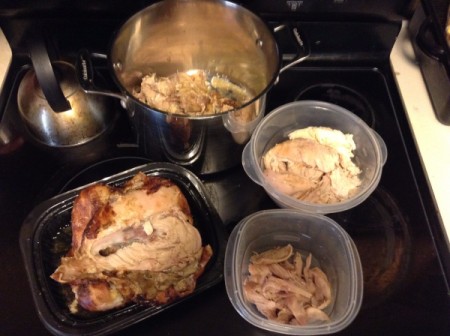 All the exotic ingredients should be available at an Asian food market or Whole Foods. They keep well in the freezer so plan accordingly. I saved half to make the next batch of soup.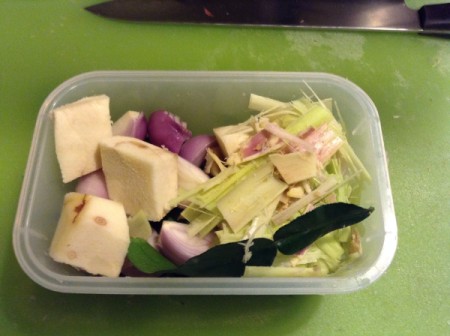 6 cups chicken broth
1 stalk lemongrass, smashed
1 garlic cloves, smashed
3 shallots, peeled and chopped in quarters
1 3 inch galangal section, chopped*
4 kaffir lime leaves, bruised
2 cups shredded chicken
1 cup sliced mushrooms
1/4 cup Thai or Vietnamese fish sauce**
1 13 oz. can coconut milk
1/2 cup lime juice (4 limes)
2-4 Thai chilies, smashed***
1/2 cup cilantro, chopped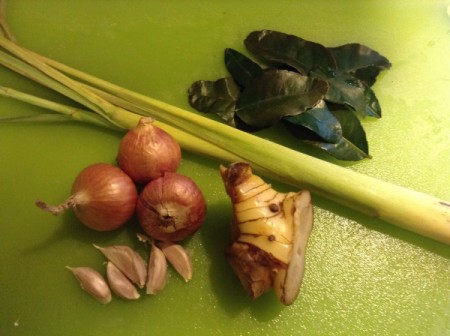 *If you cannot find galangal, you can substitute ginger but the flavor will not be the same.

**Use fish sauce sparingly as the flavor can be strong to unfamiliar palates. My original recipe calls for 1/2 cup of fish sauce.

***Thai chilies are much hotter than jalapeños so use caution when chopping and measuring. Jalapeños or other spicy green chiles can be substituted, if necessary.


Steps:
Add chicken stock to pot and heat to a simmer. Add the galangal, garlic, shallots, kaffir lime leaves and lemongrass. Simmer lightly for about 15 minutes to allow the broth to pick up the flavors. Strain the broth and return to the pot.
Add the chicken, mushrooms and coconut milk to the pot and simmer together for about 10 minutes.
Add fish sauce, Thai chilies and lime juice and remove from heat. Garnish with cilantro before serving.
This is a hearty soup but can also be served with rice or noodles. It reheats well, if there is any left.