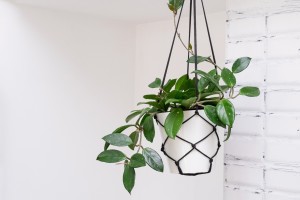 Question:
Does anyone know if a Hoya plant should be kept in a small or larger pot? Also, should they be kept moist or dry? I've had a Hoya for over 10 years and it has never bloomed.
Thanks,
Eleanor
Answer:
Hoya plants generally prefer to be kept root bound. A rule of thumb is not to repot them until it's unavoidable. Water them enough to soak the root mass, and then let the upper 1/3 to upper 1/2 of the pot dry before watering again.
Water them liberally in summer and only in amounts to prevent leaves from shriveling in the winter. Hoya plants like well-drained, slightly acidic soil, warm temperatures and high-humidity-near saturation. They also prefer higher levels of potassium to bloom.
When kept indoors in centrally heated and cooled rooms they will rarely bloom. Place them outside in partial shade (under a tree) for the summer to encourage blooming. They should receive at least four hours of direct sunlight, but need to be kept out of noonday sun in order to bloom. Too much shade discourages blooming and too much sun will burn their leaves.
Once buds appear the plants should not be disturbed. Also, dried flower spurs should not be removed as next seasons flowers will appear in these same spots.