I got my mother's Christmas plant just after she pasted away in March of 2010. The plant was doing great until I got it. I water it about once a week and give it plant food about once a month (Miracle Gro 24-8-16). Can someone help me with my dying cactus? If I am using the wrong plant food can I run it under water continuously to get the remaining plant food out? Please can you tell me what I should do. Thank you very much.
By duane
Answers

February 1, 2011
3

found this helpful
Best Answer
When I had a cactus plant, I used cactus food for it, rather than Miracle-Gro. I don't know if it's available everywhere, at the time, I lived in the desert Southwest, but it should be available online, if worse comes to worst.
I would also guess that you're really over watering your cactus. These plants are made to survive in the dry desert climate, there's only a "monsoon season" once a year, and some rain in the valleys if it snows heavily in the mountains. I hope someone else here will have more specific advice, but for the time being, stop watering the cactus. Then find out how much you really should water it, by researching online, or calling garden centers that sell cacti.
Hopefully, once you stop over watering the plant, and give it plant-specific nutrition, it will perk up and be healthy again. I can see why the plant is so important to you. I'm very sorry to hear of your loss.

February 2, 2011
1

found this helpful
Best Answer
If you can repot your Christmas cacti as I think you will find you have over watered it and the roots are probably starting to rot , pot it up again with new compost. Then leave it for a while about a month and then only a little, as already has been said Christmas cacti or any cacti for that matter only need watering infrequently! my inlaws always watered theirs with cold tea now and again.
In the spring when the weather warms up a bit I put mine outside in a shady spot and virtually forget about it until autumn then I bring it in and you will soon see buds forming, but once again neglect it it will repay you by flowering a couple of times, it is natural for them to have a long resting period before they flower again.

February 2, 2011
1

found this helpful
Best Answer
Cut some of the arms off of the plant and place in a clear glass jar in a sunny location. They will start to root this way and you will be able to start a new plant (or a lot of new plants!). The advise given was on-spot: these are cactus and only require a bit of water every-so-often.
I got mine from cuttings where the summer temp was 100 or so, ours is closer to 70. It's a great plant and should bloom for you year after year. I am sorry for the loss of your Mother. I know that this is an important plant for you to tend.

February 4, 2011
0

found this helpful
Best Answer
I understand about having your mom's plant now that she's gone. I did the same thing after my mom passed away. With a Christmas cactus, as with any succulent or cactus, less is more. Don't water it unless it thoroughly dries out in between watering and then only enough to moisten the soil. And stop feeding it so often, too...they really thrive on neglect.
I've had one for over five years that blooms profusely every year and sometimes I've forgotten to water it for a couple weeks at a time and I've never fed it. And I'd take the advice of putting it in a new pot and getting rid of all the soaked potting soil, too. Don't give up, I think your cactus will be just fine. :-)

February 4, 2011
0

found this helpful
Best Answer
I have a Christmas cactus that I got as a one-stalk cutting from my sister-in-law. I took it home and stuck it into a glass of water until roots grew. I planted it into some cactus-type soil and it grew. That was thirty five years ago! It grew because I forgot about it, sometimes only watering it once a month, if then.
It has been re-potted only twice in 35 years. This year was the first year that it had a profusion of blooms. Last year I moved it to a west window that gets lots of light and sun. I guess it likes it there!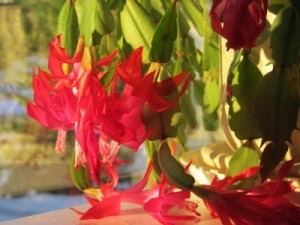 April 20, 2016
0

found this helpful
Best Answer
Most people tend to over water them. These cacti are more of a forest type of plant, rather than a desert plant, but they like for the soil to be dry between waterings. Use plant food sparingly, about 1/4 tsp per gallon of water. They also like the summers outdoors in shade and the winters indoors in a dark area, a closet? Once removed from the dark area they will bloom. Continue watering as before. They require some unique techniques but the results are spectacular! Just don't over water them. As for removing the excess fertilizer, set the pot in the sink with the stopper in. Fill the sink to the level of the top of the pot with cool water (only) and let it set for about an hour. Then let the water down and let it sit for another hour, or until no more water runs out the bottom of the pot. Place the plant back in it's usual spot. I had to do this when I lived in So. California, due to the high salt level in the water there. It was necessary for ALL my indoor plants. Don't place the plant in direct sunlight; being a forest plant it likes bright but filtered light. You can read the results of many others here and elsewhere. Good luck and enjoy it!
Answer

this Question

My Christmas cactus blooms, but is not growing taller or fuller. It is just staying the same size. How can I increase plant growth? What kind of fertilizer should I use?
Hardiness Zone: 6b
By gayle from Rochester, NY
Answers

March 30, 2010
1

found this helpful
Best Answer
Repot the cactus into a larger pot.

Vi Johnson
Silver Post Medal for All Time! 288 Posts
April 1, 2010
1

found this helpful
Best Answer
I use Schultz 10-15-10 Plant food plus. It is liquid, I mix about a Gal of water to 14 DROPS of the plant food. Water plants about every 2-3 weeks. Don't over water. GG Vi

October 8, 2011
0

found this helpful
Best Answer
I use Miracle Gro liquid fertilizer on my Christmas Cactus about once a month and not too much. I mix up a Tbsp. in a gallon of water and just put a small amount on each plant.
Answer

this Question

After many years of regular blooming and growth my Christmas cactus has turned purple and droopy. It is in a large hanging pot in full shade and has done well for 6 years. What could be wrong?
By Irwin Friedman from Paso Robles, CA
Answers

September 9, 2010
0

found this helpful
Best Answer
Too much water, roots being bound or poor drainage. Take some of the root from the bottom of the plant off. Put your plant in a pail with a couple drops of dish soap and a touch of bleach. This removes dust, etc. Rinse and re-pot in new soil. The roots need room to travel in the pot. You would be amazed what this method does to a spider plant.
Answer

this Question
What causes buds to fall off a Christmas cactus without opening?
By Billie B from Garland, TX

Answers

Catherine
Bronze Feedback Medal for All Time! 131 Feedbacks
December 24, 2013
0

found this helpful
Best Answer
The causes could be: turning the pot as the buds will try to bend to one side to receive more light and fall off, leaves with petiole can follow the light but buds have no petiole and will fall off.
Watering too soon. It is better to wait until the buds turn into flowers.
Or watering with cold water.
Answer

this Question