My family and I are taking care of a cockatiel for a couple months. We realized he was sneezing but not much we could do about it but keep him warm. He was fine until a few days ago, when he began to act really lethargic. He wouldn't whistle or chirp or anything. Only today we found some green substance on his head and on his beak. It's green, and strings on top of his head where it smears on his cheek. Is this fluid from his nose?
My parents believe it could just be feces that he rubbed into his head. Though I have a hard time believing that right now. He has many of the symptoms of an ill bird - such as fluffing of feathers, sleeping, shivering time to time. My dad thinks it's because he's molting. I'm not so sure. I know the answer is take him to the vet. But anyone know what we're dealing with? Please help, and thank you.
Jay
Answers
By BD (Guest Post)
June 30, 2008
0

found this helpful
Best Answer
While it's good of you to be caring for this bird for someone, you need to contact the owner if possible and get the bird to a vet ASAP! His symptoms sound much more serious than just molting, and when birds are ill they can quickly worsen and die in a matter of days. When you contact the vet, try to think if when you had him out of the cage he was able to chew on anything that might be toxic, such as houseplants, chocolate, tobacco, etc. Also, be careful to change his drinking water several times a day and keep his cage clean, too. It might also be possible that he's really missing his owner and he's not being handled or talked to the way he's used to. Parrots and cockatiels are very sensitive to being suddenly in a different environment. You're doing the right thing by keeping him warm and quiet, but please call his owner right away and don't hesitate taking him to the vet soon. Hope everything works out :-)
By Grammiecracker (Guest Post)
June 30, 2008
0

found this helpful
Best Answer
You need an AVIAN (bird) vet RIGHT AWAY! As a rule, birds don't show signs of illness if at all possible. In the wild, it would mean certain death. It may even be to late for this little guy judging by your description. PLEASE call a vet. The bird may have injested something toxic. Do you use air fresheners at all?
Chocolate is also toxic. You can check on Birds n' Ways for listings of toxins. Are there any plants in the room. A lot of plants are toxic as well. In any event, this bird NEEDS medical attention like yesterday. Diane: Lazicki's Bird House & Rescue. www.LaziBirds.com

June 30, 2008
0

found this helpful
Best Answer
The Cockatiel could have caught a draft and has a chill or a cold. You are right about him needing to be kept warm. Birds have a way a camoflaging their illnesses, and many times don't show signs of it until it is too late. Judging from your description, it does sound like he is getting worse. I would suggest you take him to an avian vet, a vet that has some expertise with parrots/birds, as soon as possible.
Did the owner happen to give you the name of the vet they use? Hopefully, that would make things easier for you.
I have owned large parrots for over 20 years and also breed and own cockatiels. Please don't hesitate getting this bird to a vet, or the owner's may not have their friend when they get back from their trip.
By BeanTownSteve (Guest Post)
July 1, 2008
0

found this helpful
Best Answer
The advice about the vet is certainly a first choice, if it's possible and contacting the owner as well.
IF you are unable to get a vet that treats small birds (or until you can get there)
Ensure the cage is NOT in a drafty location. What's a draft to them might be almost nothing to you. Check, maybe with a candle. For now it would also be best in a quiter part of the house.
Make positive the tray is not only clean of droppings once/twice a day but sanitize it to the best possible.
Put some mild warmth under the cage; a heating pad set on LOW and cover the cage with a towel or something similar.
There are some helpful additives for the water that should be available at your pet shop.
Do NOT use any teflon coated cookware!
Change the water several times per day, clean (as in sanitize) the watering implement at least once per day.
Change the feed (is it seed or pellets?) once a day- throw out what isn't eaten.
If the bird improves a bit, see if you can put him into something else for a few hours, even a large box and sanitize the cage, perches, and tray. Ensure it's all very dry before he goes back in.
Some of the suggestions are a bit overkill and not something you would have to do ALL the time but because he appears not well you've got to go all out.
Answer

this Question

I have a 5 year old cockatiel and she had never laid an egg until 5 days ago. She has laid 2 eggs but still acts as though she doesn't want us around her. Since she is alone I removed the eggs. Do I need to do anything else for her?
Debra from Hampton, TN
Answers
By (Guest Post)
January 9, 2009
0

found this helpful
Best Answer
There are a few things that you can do to naturally discourage egg laying. Make sure she is getting more than enough "night time" by covering her cage a little longer to mimic longer nights. Don't inadvertently stimulate her by too much petting, especially on the back and under the wings.
Otherwise keep a close eye on her for any behavior out of the ordinary. If she seems at all "off" take her in to the vet. She can get egg bound, or if she lays too many eggs, calcium deficient.
My female cockatiel laid two eggs when we first got a male. She was like "Eeewww that came from where?" And after we implemented a longer night and cut back on fussing with her for a while the egg laying stopped, thankfully. My female sun conure also went through a big egg laying period. Same treatment helped. No eggs since. Good Luck!
By Diane (Guest Post)
January 10, 2009
0

found this helpful
Best Answer
There is no need to remove the eggs. They are not fertile. As a matter of fact, removing them could encourage her to lay more. Constant egg laying can deplete her calcium. If you just leave the eggs there, she will eventually abandon them. www.LaziBirds.com
Answer

this Question
This is a picture of our cockatiel "Gypsy" We've had him for almost 2 years, or you could say he's had us. He "found" us. One day my husband came inside and told me to come out and see the funny bird on our roof.
After much coaxing, he finally flew down and landed on my daughter's head. We took him in, and tried to find his owner, to no avail. So we went out and bought him a cage, food etc., and now have a beautiful bird.
In the beginning, my hands were always full of bird bites (he could be very nasty), but now he has gotten very lovable and is spoiled rotten. He has such a personality and he loves junk food. We were not looking for another pet, but he found us, so I guess it was meant to be. We wouldn't part with him for anything.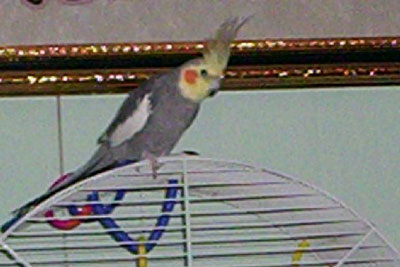 By Eleanor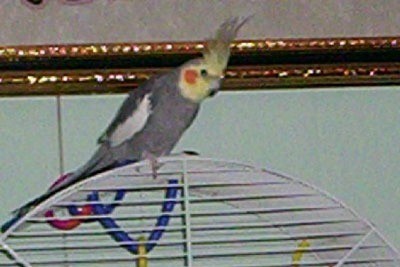 Read More

Comments