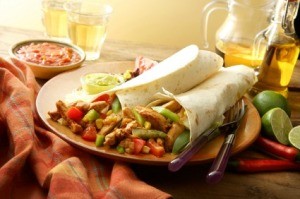 Delicious, inexpensive, and a great way to use leftovers!
Ingredients:
1 (15 oz.) can refried beans
2 cups cooked rice (I prefer brown but white is fine)
2 cups shredded cheddar cheese
1/4 cup salsa
8 10 inch flour tortillas
2 cups cooked shredded chicken
Salsa and Sour Cream for topping
Directions:
Heat oven to 400 degrees F. Spray 2 cookie sheets with Pam. In a medium bowl, mix refried beans, rice, 1 cup cheese, and 1/4 cup salsa. Divide chicken mixture down center of each tortilla. Roll up, tucking in ends as you go, burrito style. Cover with foil, and bake 20 minutes. Remove foil, and top with cheese. Bake 8 to 10 minutes longer until cheese is melted. Serve with sour cream and salsa. A meal in itself!
Note: To save time, I buy the Minute brown Rice - store brand. It's more nutritious than white, but I don't have to cook it for 45 minutes :)
By Carol Young from Landisville, PA
Read More

Comments