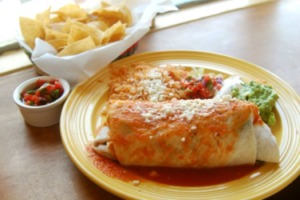 I am looking for a wet burrito recipe.

Kathy from IN

Answers

February 22, 2006
0

found this helpful
maindish.allrecipes.com/.../70404.asp
Jennybobenny

February 22, 2006
0

found this helpful
Why are these called "wet' burritos?
By Annie (Guest Post)
February 22, 2006
0

found this helpful
1 lb ground beef
1 pkg taco seasoning
1 can refried beans
1 pkg of flour tortilla shells
1 12-oz pkg of mexican blend shredded cheese
2 jars of beef gravy
1 can Enchilada sauce (hot, medium or mild)
Brown beef and prepare according to taco mix directions. Add refried beans and mix well. Spoon onto tortilla shells place in 9 x 13 pan seam side down. Cover with shredded cheese. In small pot mix gravy and enchilada sauce together and heat. Pour over the burritoes and bake at 400 until it bubbles.
By Madeline (Guest Post)
February 24, 2006
0

found this helpful
1 lb ground beef
flour tortillias
refried beans
mexican cheeses grated
one package brown gravey mix
tacco seasoning 2 packs
1 small can tomato paste
brown ground beef drain off grease,add tacco seasoning according to package directions. prepare gravey mix according to package mix in the tomato paste and tacco seasoning.and half of the cheese.let this melt and blend well.
mix your ground beef with the refried beans . place about 2 to 3 table spoons in each tortilla and fold into a burrito. place in a backing dish in a row cover with the gravey tomato mixture . sprinkle with remaining cheese . bake at 350 untill heated thro and cheese is melted on top .
I then add chopped black olives , onions , tomatoes, and lettuce . (but you dont have to ) then on the side have salsa and sour cream .
By Linda (Guest Post)
February 24, 2006
0

found this helpful
Burritos are usually able to be held in the hands and eaten. A "wet burrito" is doused in sauce and cheese, making it a fork and kinife food.
Pour prepared enchilada sauce and cheese over and burrito, pop it into the mirco to melt cheese, and it a "wet burrito".
By Janine (Guest Post)

March 12, 2006

0

found this helpful

I've not tried this yet as it's in my collection of things to try. If you try it, let me know what you think.

"Fabulous Wet Burritos
Very easy, yet very good wet burritos. I got this recipe
from a friend, and everyone I serve them to asks for the
recipe. Serve with guacamole, sour cream and salsa. Prep Time:
approx. 15 Minutes. Cook Time: approx. 30 Minutes. Ready in:
approx. 45 Minutes. Makes 6 servings.
Printed from Allrecipes, Submitted by Sydney6
--------------------------------------------------------------------------------
1 pound ground beef
1/2 cup chopped onion
1 clove garlic, minced
1/2 teaspoon cumin
1/4 teaspoon salt
1/8 teaspoon pepper
1 (4.5 ounce) can diced green
chile peppers
1 (16 ounce) can refried beans
1 (15 ounce) can chili
without beans
1 (10.75 ounce) can condensed
tomato soup
1 (10 ounce) can enchilada sauce
6 (12 inch) flour tortillas, warmed
2 cups shredded lettuce
1 cup chopped tomatoes
2 cups shredded Mexican blend cheese
1/2 cup chopped green onions

Directions
1 Crumble ground beef into a skillet over medium-high
heat. Cook and stir until evenly browned. Add onion, and
cook until translucent. Drain grease, and season with
garlic, cumin, salt and pepper. Stir in the green chilies and
refried beans until well blended. Turn off heat, but keep warm.
2 In a saucepan, combine the chili without beans, tomato
soup and enchilada sauce. Mix well, and cook over medium
heat until heated through. Turn off heat and keep warm.
3 Place a warmed tortilla on a plate, and spoon a


generous 1/2 cup of the ground beef mixture onto the center.
Top with lettuce and tomato to your liking. Roll up
tortilla over the filling. Spoon a generous amount of the sauce
over the top, and sprinkle with cheese and green onions.
Heat in the microwave for 30 seconds, or until cheese is
melted. Repeat with remaining tortillas."
By Debi (Guest Post)
November 10, 2008
0

found this helpful
These "wet" burritos are delicious!
2 lbs. chuck roast-pot roast
1 package Lipton's onion soup mix
green onions
white onion
tomatoes
flour tortillas
cheese-optional
guacamole or chopped avocados-optional
El Pato or other red taco sauce-

Heat oven to 350-400 degrees. Sprinkle chuck roast with 1 to 2 packets of dry onion soup mix. Wrap in tin foil and bake for 2-3 hours until beef is tender and shreddable. The tinfoil will carmelize the onions and make tasty gravy later.
Pour any beef juices into saucepan and add El Pato or other taco sauce to taste. You may thicken it to a gravy consistency using standard thickening methods (cornstarch slurry works great-use 2-3 tablespoons of corn starch mixed with 1/3 cup water and add to gravy mixture).
When beef is cool, shred and set aside. Heat flour tortillas, place shredded beef, and whatever condiments desired (tomatoes, onions, cheese, sour cream, guacamole, etc.) inside. Place burrito on plate or in ramekin and smother with gravy sauce. Add more cheese, onions,black olives, etc. and place in oven or broiler until burrito is heated through.
Serve immediately. I dare you to eat just one!
Read More

Answers