Chicken and Black Bean Enchilada Casserole
Solutions
Share on ThriftyFunThis page contains the following solutions. Have something to add? Please share your solution!
These enchiladas are really easy to make. They're so delicious with the oozing cheese and all the wonderful flavors inside them. They can be served with a side of rice, refried beans and cheese, or just by themselves.
Prep Time: About 45 min
Cook Time: 35-45 min.
Total Time: 80-90 minutes
Ingredients:
6 large flour tortillas
1-2 can (s) enchilada sauce
1 can black beans
2 large chicken breasts or 4 chicken thighs
3/4 cup white or yellow onion, chopped
1 can black olives, whole or sliced
1 can small can diced green chilies
1.25-1.50 cup grated jack cheese
1.25-1.50 cup grated cheddar cheese
1/2-1 tsp cayenne pepper
1/8-1/2 tsp garlic powder
1/2-3/4 tsp cumin
1/2-3/4 Tbsp chili powder
1-2 pinch salt
cilantro leaves (optional)

Steps:
First generously season your chicken pieces with a little bit of each of the listed spices.

Cook the chicken in a skillet with a few tablespoons of oil until done.

Remove chicken when done, and set aside on a plate.

Set your skillet aside with the chicken fat that you've cooked the chicken pieces in. You'll be using the skillet next with the fat and spices in it from your chicken.
Chop your small onion, or equivalent to about 3/4 cup, more or less is okay too.
Gently fry up your chopped onion in the same skillet you cooked your chicken with spices in. The spices will coat your onions as you cook them, and cook just until tender. When the onions are tender, set them aside in a separate bowl.
Now drain and add 1/3 to 1/2 can of black beans to your cooked onions in the bowl and stir to coat everything. Then set that aside. No need to cook this.
Pour your enchilada sauce in the same skillet you fried up your chicken and onions in. You can use two cans of Enchilada sauce (if you like saucy) or, you can use one can of Enchilada sauce and one can of tomato sauce. Add your spices to the enchilada sauce now and allow to simmer for 10 minutes.
Shred or cut up your chicken pieces and place in a bowl. Then set aside.
Open your can of roasted diced green chilies. I put them in a small bowl as they're easier to spoon out, which this will be spooned into the tortillas soon.
No need to drain these.
Now you're going to take each tortilla, one at a time, and cook it in a tsp. of oil in a skillet just until it puffs up, then flip it over so the other side can get puffed and a bit golden browned. The tortilla will still be very pliable, which is what we want (don't fry until crisp).

We're only slightly frying the tort first (before rolling it up with the goodies in it) so when it cooks in the oven after they're all done, the torts won't be mushy.
Now that your tortillas are lightly golden browned, and still pliable, stack them on a plate. You don't need to use a paper towel to soak up the oil/fat because that too helps them remain pliable for rolling.
Spray or grease lightly your 13x9 inch baking dish.
Next, spread some of the seasoned enchilada sauce into the bottom of your baking dish. Just a thin layer is fine.
Now we're going to work on those tortillas and get them filled up. First spread about 1-2 Tbsp. of your Enchilada sauce in the tortilla.
Now add a medium handful of the chicken.
Next add some onion and black bean mixture. Then spoon over a little of the green chopped chilies.
Top with a bit of grated cheese. You can alternate the cheddar inside or the jack inside. I used the Jack.
Then sprinkle rolled enchiladas with grated cheddar cheese and jack cheese. Put as much or as little on top as you like.
Now sprinkle sliced black olives all over the cheese.
Now, it's time to roll em up! Mine is a bit lumpy, but that's okay, they're going into the baking dish all snugged together, side-by-side. Finish off your other tortillas now, and place them into your baking dish.
Once you've got all your rolled tortillas in the baking dish, pour your remaining Enchilada sauce over the top of them all.
Foil your baking dish now. I always spray Pam on the underside of foil when I'm baking anything with cheese so it doesn't stick.

Bake at 350F for 30-35 min in pre-heated oven. Then remove the foil and let bake another 5-10 min until cheese gets a bit golden.
Sprinkle a little fresh cilantro (optional) on top, and a side of something like refried beans with cheese or Spanish rice, and you're good to go! :) Enjoy
Read More Comments
This casserole is so yummy and is much easier to make than rolling individual enchiladas.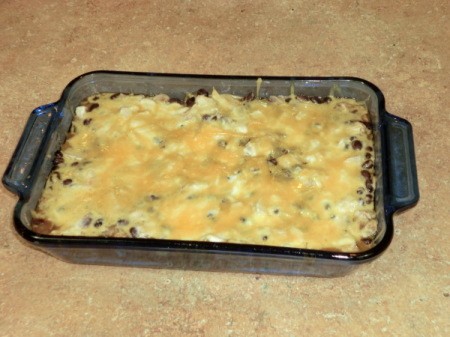 Read More...
Advertisement
Published by ThriftyFun.
© 1997-2020 by Cumuli, Inc. All Rights Reserved.
https://www.thriftyfun.com/Chicken-and-Black-Bean-Enchilada-Casserole.html