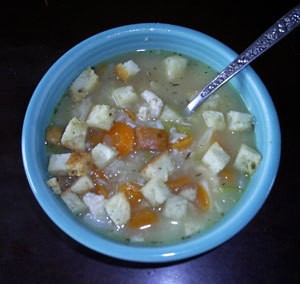 These meals are intended to be a relatively simple and healthy weeknight meal for a family of four. We assume that these dinners are being made in a kitchen stocked with regular kitchen staples. We will not include prices of oil, sugar, flour, spices, etc. unless you need a 1/4 cup or more. Regional food prices may vary and can be reduced by smart shopping techniques.
Shopping List
Rotisserie Chicken

$4.99
Yellow Onion
$.99
3-4 cloves Garlic
$.33
3 stalks Celery
$.50
4 Carrots
$.50
1 cup Rice
$.50
Total Cost = $7.82
Staples
Olive Oil
Salt
Pepper
Thyme
Water
Directions
Broth: The first step can be done in advance and ingredients frozen or you can substitute cooked chicken breast and canned broth or bouillon to make this quicker. Remove chicken meat from storebought rotisserie chicken, chop into bite sized chunks and set aside. Reserve 1/2 of meat for another purpose unless you want very meaty soup. Cover chicken bones with water in a large stockpot, add 1/2 onion, 1 crushed clove of garlic, coarsely chopped celery stalk (with leaves) and coarsely chopped carrot. Bring to boil then reduce heat to a simmer. Add salt, pepper and herbs to taste (thyme, Italian seasoning, bay leaf). Cook for 1 1/2 to 2 hours, stirring occasionally. Add water as needed to keep level constant. The chicken bones will separate and the broth should become a golden color and smell and taste good. Remove from heat and let cool slightly, then strain through a fine sieve or cheesecloth. Discard solids and refrigerate broth to allow fats to come to surface. After a few hours, there will be a solid layer of fat that you can remove with a spatula or spoon. Underneath the broth will have a gelatin consistency and will be more concentrated than canned broth. It will keep for up to six months in the freezer. Just defrost in the microwave or add it frozen to your soup pot, it will melt quickly.

Soup: Finely chop 1/2 onion and 2 stalks of celery. Mince or press 2-3 garlic cloves. Add 1 Tbsp. olive oil to a stock pot or Dutch oven, heat oil to medium low then add onion mixture. Chop carrots into coins and set aside. When onions are translucent, add chicken broth, 1 tbs. thyme and salt and pepper to taste. Bring to a boil and reduce heat to a simmer. Add chicken, carrots and 2 cups cooked rice and simmer for 20 minutes, uncovered. (If you are using uncooked rice, add 1 cup and cover for approximately 1/2 hour.)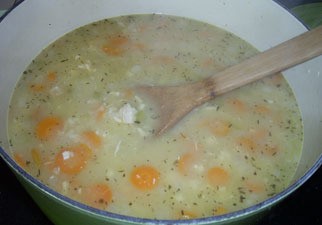 Tips:
I served my soup with croutons made from leftover French bread. You could use fresh bread or crackers too.
Extra garlic and chili peppers/powder are good for colds and could easily be added at any step.
This soup will thicken as it sits. Simply add more water or broth to desired consistency.
Noodles, barley or potatoes could be used just as easily as rice. Just make sure the starch is cooked to correct texture before serving.
Any veggies on hand could be added. Green beans, peas or corn would all be delicious.