Marjorie
Silver Feedback Medal for All Time! 290 Feedbacks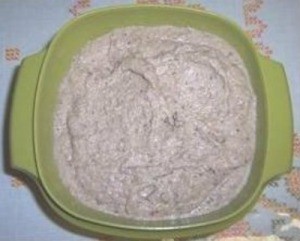 Not so long ago I submitted this salad recipe to ThriftyFun. I wanted to submit it a second time because I came up with a fantastic recipe which is very nutritious, and low in fat.
Editor's Note: Here is the previous recipe.
Chickpea and Black Bean Hummus
This dip goes well with chunks of pita bread
Ingredients
1 can (15 to 19 ounce) garbanzo beans (chickpeas), drained and 1/2 cup liquid reserved.
1 can (15 to 19 ounce) black beans, drained
3 cloves garlic, minced
3 Tbsp. tahini (sesame seed paste) - optional
1/4 cup lemon juice (juice of 2 to 3 lemons)
3 Tbsp. olive oil
1 1/2 tsp. salt or less according to taste
1 tsp. ground cumin
Directions
Combine all the ingredients in a food processor. Process until the mixture is smooth and creamy and no lumps remain, scraping down the sides of the bowl as needed. Serve immediately or cover and refrigerate until ready to use. If you want an Italian-style hummus, add 1 tsp. dried basil.
We had the most delicious dinner the other night. Filled pita (pocket bread) with several spoonfuls of hummus and then added the salad on top. For added flavor, you can drizzle on some oil and vinegar salad dressing. DH had to make his sandwich with a slice of cheese.
The next time I serve this recipe for dinner, I'm going to try a tortilla wrap in place of the pita bread. It is soooooo Goooood!
By MCW from NY
Comments