May 1, 2011
7

found this helpful
Here's a quick and easy way to spice up your hummus to use as a dip or spread.
Ingredients:
1 (7 oz.) container plain hummus
1 Tbsp. Frank's or Durkee hot sauce
Directions:
Mix and serve.
By Deeli from Richland, WA
With the price of hummus in the store, I decided to make some from scratch. Delish! I cooked the beans, even though you can buy them canned if you'd like. I added a few finishing touches to some store bought tortillas to make the perfect snack at home! This might even convert potato chip snackers. Plus, you can use hummus in place of mayonnaise.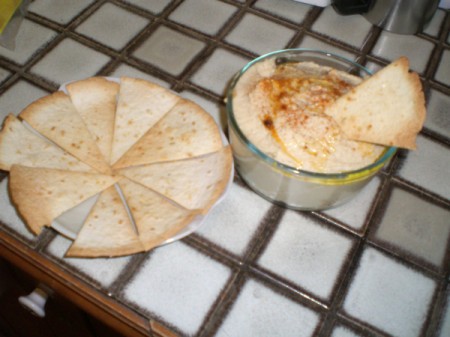 Total Time: 20 minutes (includes 10 minute tortilla baking..if you use canne
Yield: 2 cups
Ingredients:
2 cups raw chickpeas (or canned chickpeas
5 Tbsp olive oil
1/4 cup tahini (sesame paste)*
1/4 cup lemon juice
1 clove garlic
1/4 tsp cumin
1/2 garlic minced
1 tsp sea salt
3 paprika
1 pinch flour tortillas (I used store bought)
pinch your favorite spices to make the tortillas into chips (salt, rosemary, turmeric, garlic, etc)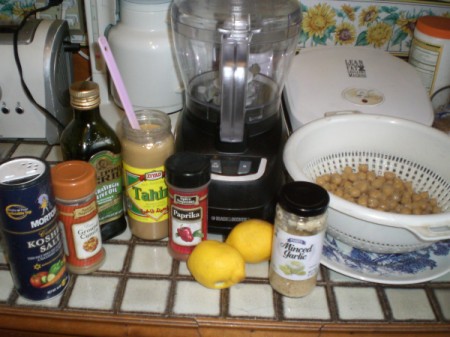 Optional additions: dill, green or black olives, hot or sweet peppers, pumpkin or favorite seeds on top

*Others have told me that plain yogurt or any nut butter (peanut butter, almond butter, etc.) works as well as tahini but I haven't tried them yet.
Steps:
I rinsed then added 2 cups of raw chickpeas and about 4 cups of water to my crockpot to cook overnight. In the morning when I drained them, I reserved the water for adding a little to the hummus for the smooth consistancy I like and froze the remaining water for future soup recipes!
I added 3 tablespoons of olive oil and 1/4 cup tahini to my processor and processed it for 30 seconds.

Then I scraped down the sides and did it again for another 30 seconds.
Then I added half the chickpeas to ensure a smooth consistency.

I added the second cup of peas and the cumin, garlic, salt and processed for 2 more minutes, stopping and scraping down the sides when necessary.

This is where you would add your optional ingredients if you'd like; dill, peppers, green or black olives. I would gently stir them in by hand to maintain their shape. I added my paprika and raw pumpkin seeds on top, just to look fancier.
You can eat with store bought chips or veggies, but I opened a bag of flour tortillas, sprayed both sides lightly with olive oil, cut them with a pizza cutter and added my favorite spices (rosemary, garlic, salt, turmeric) to one side. You can use your own favorite spices.

I placed them on a pie pan in a 325 degree F oven for 10 minutes. Ovens vary so you may want to watch it. The first time I did it was 5 minutes, then I turned it. The second time I didn't cut it and just placed the full circles in the oven and they both turned out fine.

If you want a more 'finished' look for the tortillas, you may want to cut them. Otherwise, you let them cool a few minutes and break them up.
Put chick peas, red peppers, red pepper juice, lemon juice, garlic, and seasonings in food processor. Turn food processor on and gradually pour in olive oil until desired thickness.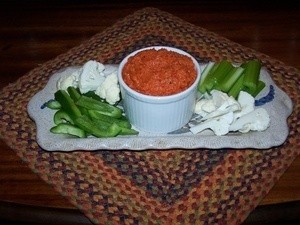 Read More...
August 17, 2017
0

found this helpful
Tahini, made from ground sesame seeds, is a common ingredient in hummus. If you don't like tahini, or simply don't have it on hand, you can still make hummus using the recipes and advice on this page.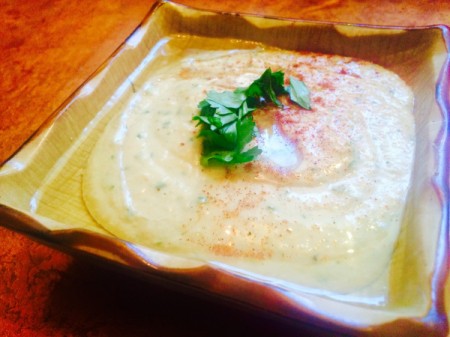 I had some of the best hummus at a restaurant that isn't sharing its recipe. It was very rich. Got any suggestions?
Answers
July 7, 2007
0

found this helpful
It probably had a lot of olive oil in it and maybe some pureed eggplant in addition to the standard ingredients of garbanzo beans, garlic and lemon juice.
Basic hummus recipes are easily found with a Goggle search or if you live near a Trader Joe's they sell lots of different kinds of hummus and you can check the ingredients on the label if you find a variety you like and want to copy it.
Good luck!
July 8, 2007
0

found this helpful
Here are some hummus recipes from foodnetwork.
July 8, 2007
0

found this helpful
This hummus was almost white.
I'm guessing that eliminates the eggplant.
If I hadn't discovered it after I'd tried the *whole* buffet, I would have had a lot more of it!
By guest (Guest Post)
July 9, 2007
0

found this helpful
Hummus is pretty simple and richness is going to be a function of how much fat it has. There are two sources of fat in hummus: olive oil and tahini (ground sesame seeds). The Silver Palate has a very rich hummus recipe with lots of olive oil.
By guest (Guest Post)
July 9, 2007
0

found this helpful
Have you ever checked topsecretrecipes.com? They have lots of clones from restaurant food. I've made a few and they've all been pretty close. You can get a free recipe once a week, after that it's 79 cents I think. Good luck!
July 10, 2007
0

found this helpful
I make hummus by whizzing up a can of garbanzo beans (drained), a few cloves of garlic, a little salt, a little lemon juice, and a glob of olive oil in the food processor. I think it's pretty good.
July 17, 2007
0

found this helpful
It could have been garbanzo and Great Northern beans. I made some of this a couple weeks ago and it was white, whereas garbanzos alone make it beige.
Try using equal amounts of both beans (cooked and cooled or canned, drained)about a cup each, a couple pinches salt, a teaspoon or chopped garlic, a teaspoon or so of tahini (this is an important ingredient, do not substitute peanut butter as I've seen in some site's recipes), a teaspoon or two of olive oil, a squeeze of fresh lemon juice. Process until smooth. I add a little bit of water if it's too thick.
Hope this helps.
Answer

this Question

...
April 7, 2014
0

found this helpful
I would like to make hummus. I have tried a couple of recipes, but haven't gotten the right one yet.
By Lynda
Answers
April 8, 2014
0

found this helpful
1 can of drained chickpeas (garbanzo)
1 large close of garlic (chopped)
2-3 tablespoons of lemon juice (reconstituted is ok)
2-3 tablespoons of tahini
1/2 to 3/4 tsp salt
2 tablespoons olive oil
Put the lemon and garlic in the food processor to grind. Add the drained chickpeas, and the rest of the ingredients. Chilled it tastes better. To serve spread it in a plate as in the picture and pour a little olive oil in the center. Sprinkle a bit of paprika and cumin on to make it attractive and garnish with chopped parsley.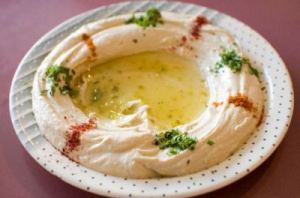 April 9, 2014
0

found this helpful
Hummus
1 can garbonzo beans
2 cloves roasted garlic
1 tablespoon sesame oil
1 tablespoon sesame seed
3/4- 1 tsp salt
1 tablespoon lemon juice
1/4 teaspoon red pepper flakes
1 tablespoon chili powder
1/2-1 teaspoon cumin
1 medium roasted red bell pepper
Drain peas and reserve to add to hummus as you process. Process all ingredients adding pea broth until you have the consistency you want. You don't want it too thin so add a little at a time.
To roast a red bell pepper: split a red bell pepper in half lengthwise and remove the seeds but not the stem. Coat the outside with canola oil and bake inside down in a 250 degree oven until skin looks blistered and beginning to turn dark brown to black. Remove and cool and the skin will slide off easily.
I found this easy and I didn't have to buy the tahini paste which is pricy. It tastes like the hummus in the stores.
Answer

this Question

...
I am looking for a garbanzo bean hummus recipe.
By Marybell from Perryville, MO
Answers
May 30, 2012
0

found this helpful
Spicy Roasted Red Pepper Hummus
Ingredients:
1 (15 oz) can garbanzo beans, drained
1 (4 oz) jar roasted red peppers
3 tbsp lemon juice
1 1/2 Tbsp. tahini
1 tbsp extra virgin olive oil
1 tbsp minced garlic
1/2 tsp. ground cumin
1/4 tsp. cayenne pepper
1/4 tsp. salt
Directions:
Puree all the ingredients in a blender or food processor using the pulse option, scraping sides as needed, until the mixture is smooth and slightly fluffy. Transfer to a serving bowl and refrigerate, covered, for 1 hour or up three days before serving.
May 30, 2012
0

found this helpful
This is really good. I love it with celery.
Hummus
1 can garbonzo beans drained and save broth
2 cloves of garlic minced and roasted
1 tablespoon Sesame oil
1 tablespoon sesame seed
3/4 - 1 teaspoon salt
1 tablespoon lemon juice
1/4 teaspoon red pepper flakes
1 tablespoon chili powder
1/2 -1 teaspoon cumin
1 roasted medium red bell pepper
Drain beans and save broth to add to hummus as you process. Put all ingredients in food processor and process until smooth adding the broth as you process. You won't need all the broth.
Roasted red peppers are pricy so all you do is cut the pepper long ways in half and remove the seeds then rub with olive oil and put on foil the skin side up on a baking sheet with sides and bake at 300 degrees until the skin turns brown to black. Take out and let cool and the skin comes off nicely.
Answer

this Question

...
October 29, 2009
0

found this helpful
A delicious hummus dip recipe.

Ingredients:
2 cups cooked chickpeas (garbanzo beans) or 19-ounce can (rinsed and drained)
1 tablespoon extra virgin olive oil
2 cloves garlic, peeled and quartered
1/2 teaspoon ground cumin
1/4 cup tahini * (sesame paste)
1/4 to 1/2 cup lemon juice, freshly squeezed
salt, to taste
freshly ground black pepper, to taste
Directions:
Put chickpeas, garlic, olive oil, cumin and tahini in a food processor and process. Once it starts to reach the desire texture start slowly adding the lemon juice and process until you have a nice paste for dipping. Then salt and pepper to taste. Refrigerate for two hours before serving.

* Tahini is the equivalent of peanut butter but made with sesame seeds instead of peanuts. In a pinch, you can try this recipe with peanut butter, but it won't be as good.

Once you have made this a couple times you will get a good feel for how much salt, pepper and lemon juice you prefer.