Homemade Hummus with Flavored Tortilla Chips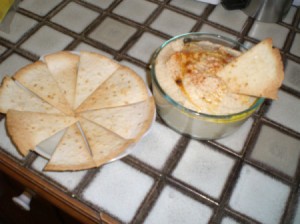 With the price of hummus in the store, I decided to make some from scratch. Delish! I cooked the beans, even though you can buy them canned if you'd like. I added a few finishing touches to some store bought tortillas to make the perfect snack at home! This might even convert potato chip snackers. Plus, you can use hummus in place of mayonnaise.
Total Time: 20 minutes (includes 10 minute tortilla baking..if you use canne
Yield: 2 cups
Ingredients:
2 cups raw chickpeas (or canned chickpeas
5 Tbsp olive oil
1/4 cup tahini (sesame paste)*
1/4 cup lemon juice
1 clove garlic
1/4 tsp cumin
1/2 garlic minced
1 tsp sea salt
3 paprika
1 pinch flour tortillas (I used store bought)
pinch your favorite spices to make the tortillas into chips (salt, rosemary, turmeric, garlic, etc)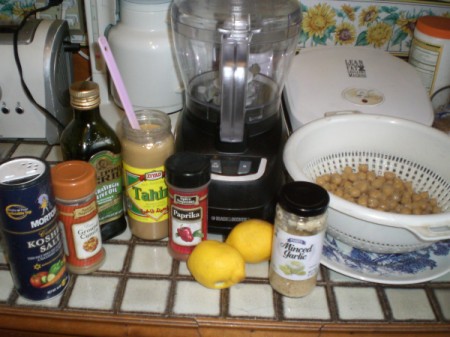 Optional additions: dill, green or black olives, hot or sweet peppers, pumpkin or favorite seeds on top

*Others have told me that plain yogurt or any nut butter (peanut butter, almond butter, etc.) works as well as tahini but I haven't tried them yet.
Steps:
I rinsed then added 2 cups of raw chickpeas and about 4 cups of water to my crockpot to cook overnight. In the morning when I drained them, I reserved the water for adding a little to the hummus for the smooth consistancy I like and froze the remaining water for future soup recipes!
I added 3 tablespoons of olive oil and 1/4 cup tahini to my processor and processed it for 30 seconds.
Then I scraped down the sides and did it again for another 30 seconds.
Then I added half the chickpeas to ensure a smooth consistency.
I added the second cup of peas and the cumin, garlic, salt and processed for 2 more minutes, stopping and scraping down the sides when necessary.
This is where you would add your optional ingredients if you'd like; dill, peppers, green or black olives. I would gently stir them in by hand to maintain their shape. I added my paprika and raw pumpkin seeds on top, just to look fancier.
You can eat with store bought chips or veggies, but I opened a bag of flour tortillas, sprayed both sides lightly with olive oil, cut them with a pizza cutter and added my favorite spices (rosemary, garlic, salt, turmeric) to one side. You can use your own favorite spices.
I placed them on a pie pan in a 325 degree F oven for 10 minutes. Ovens vary so you may want to watch it. The first time I did it was 5 minutes, then I turned it. The second time I didn't cut it and just placed the full circles in the oven and they both turned out fine.

If you want a more 'finished' look for the tortillas, you may want to cut them. Otherwise, you let them cool a few minutes and break them up.
Add your voice! Click below to comment. ThriftyFun is powered by your wisdom!
Advertisement
Published by ThriftyFun.
© 1997-2020 by Cumuli, Inc. All Rights Reserved.
https://www.thriftyfun.com/Homemade-Hummus-with-Flavored-Tortilla-Chips.html