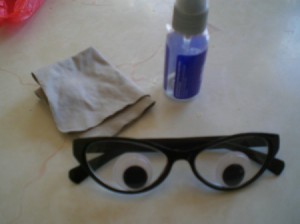 I got a refresher course at my eye doctor's office this week. I've been doing it wrong. Here's what she recommended:
First, always run warm water over the your lens from the top of the glasses (so you are not sanding the dirt into the lens).
Once you've rinsed them off and they are still wet, spray the lens with your eyeglass cleaning solution.
Wipe the lens with microfiber cloth only!
Make sure to wash the microfiber cloth after a few uses! Use only a gentle cleanser (without softener or it will cloud your lens).
If you could have a spare microfiber cloth, that would be even better to give them time to dry.