There was a black mark on the white refrigerator in my rented apartment. I tried cleaning it and now it has spread :(. I have no clue what it is. I've tried almost every possible solution that I've read.
I don't want to end up paying for something that I haven't damaged, but was only trying to clean. Help!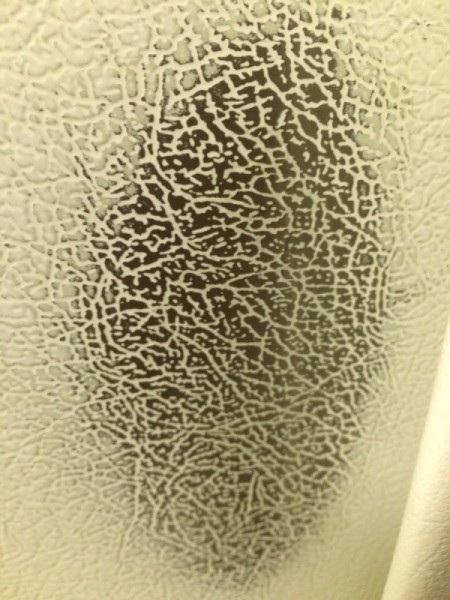 June 11, 2015
0

found this helpful
Abigail is right. You aren't spreading it, it's getting worse from underneath. If you documented it when you did your walk through, simply let the landlord know what is happening.
He can't charge you now or when you move. Some good quality appliance paint will do the trick.

June 11, 2015
0

found this helpful
Looks like the original paint got chipped and then with the scrubbing, you are wearing off the veneer to me. You might try something white-like paint or ink to try and cover...

likekinds
Gold Post Medal for All Time! 523 Posts
June 11, 2015
1

found this helpful
I think Abigail is right. I think there were imperfections in the original finish. I believe moisture seeped through these imperfections and caused the underlying metal to oxidize, resulting in the black you see. This is not uncommon.
I would not use bleach on these black areas. It could cause deterioration of the paint and further exposure to the underlying metal, resulting in more black area.
I have two suggestions for you.
I agree with Sandi, if your landlord is not aware of this situation, make him/her aware of it as soon as possible.
Clean the surface with a cloth dipped into cold water to which you have added a small amount of mild dish detergent, maybe 1/2 teaspoon to a quart of water. Clean the area as best you can with this solution and then rinse thoroughly. Next, dry the area completely, even if you have to use a fan. Once the area is completely dry, you can cover the entire surface with a press and seal type food wrap. I'm guessing the area shown is the freezer door. If the wrap is properly applied, it will be hardly noticeable, but should prevent further moisture damage.
It looks as if you might have to live with the stain. So just do what you can to prevent it from getting worse.I would speak with the landlord before applying any appliance paint to this stain. He/she may agree it's OK, but unless there has been a recent, significant improvement in these paint products, you probably would just as soon look at the stain as the paint covering the stain. Anyway, it looks as if the area is too large for a 'minor touch up' product. Good luck.

June 12, 2015
0

found this helpful
:( she is a landlord from hell! My worst nightmares are coming true now. There goes my security deposit. She will say I shouldn't have touched the sticker or the marks. I can hear her say ' well! You damaged it so you pay for it'

June 14, 2015
0

found this helpful
Hi, it looks like a scuff mark to me. The dollar store sells those Mr. Clean Magic Erasers and it might come right off with that!