Colorful Kwek-kwek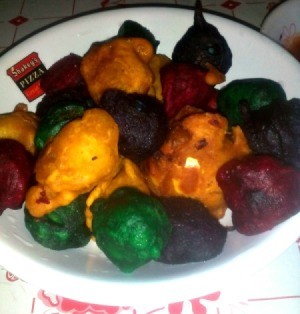 Kwek-kwek is a Filipino street food made of cute quail eggs coated with yellow batter. They are deep fried and served with a variety of sauces. Here's a twisted recipe of kwek-kwek specially made by me. I find it really appealing specially to the kids.
Ingredients:
25 quail eggs
2 Tbsp vinegar
1 cup all purpose flour
4 cups water
1/2 tsp salt
1/2 tsp ground black pepper
3 Tbsp corn starch
2 Tbsp sugar
1 small red onion
1 clove garlic
4 red chilies (optional)
1 Tbsp ketchup
food coloring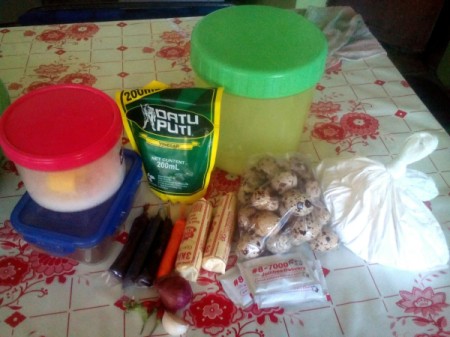 Steps:
Boil quail eggs in two cups of water for 5-10 minutes. Make them perfectly hard boiled.
Cool and peel off the egg shells. Coat the eggs with cornstarch then set aside.
Mix flour, ground pepper, 1 tbsp cornstarch, 1/2 tsp salt, and 1 tsp sugar. Mix very well.
Gradually pour 1 cup of water as you stir the mixture. This is to avoid lumps in the mixture and to control the consistency.
See if its thick enough. You'll know when batter is not dripping off too fast in your spoon.
Divide the batter into the number of coloring available. I have four so I divided the batter into four placing them into separate containers.
Pour pinches or a single drop of coloring in each container.
Mix them with a stick or spoon.
Dip eggs into colored batters.
Coat the eggs. See to it that each has been fully coated with colored batter.
Deep fry the eggs until cooked.
Sauce
Mince garlic, onion and chilies.
Mix 1 tbsp ketchup, 2 tablespoon vinegar, 1/2 tsp sugar and 1/2 tsp cornstarch and 1/4 cup water.
Stir the mixture until sugar and cornstarch are dissolved.
Saute garlic and onion.
Add the sauce mixture.
Add minced chilies and let simmer until thick.
You can also mix vinegar, soy sauce, sugar, cornstarch and water and do the same procedure to make another sauce variation.
Serve kwek-kwek along with the sauce. Enjoy!
Add your voice! Click below to comment. ThriftyFun is powered by your wisdom!
Categories
Pages
More
Categories