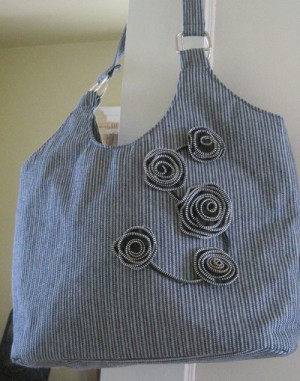 A purse with unusual trim.
Approximate Time: 5 hours
Supplies:
pattern for purse, I used McCall's 5599
interfacing
sewing thread
sewing machine
buckles for attaching strap
lining
metal zippers
fabric glue
needle
Instructions:
This purse has directions included in pattern. I think you could take any purse you buy that is rather plain and use this idea also. I have included everything that you need in the supplies to make the purse from scratch, but you certainly could use one that you have bought.
The roses on it are made from metal zippers. You take a metal zipper, I think these were 12 inch length ones, and cut the stopper end off so they are separated. Now you have two pieces.

You put them together on the short end to get enough length to gather them into a rose.
Then you thread a needle with a double thread and run a gathering stitch on "tape" of the zipper.
Sew the bottom as you go to form a rose.

I used three lengths for the center rose, but the rest were all two lengths.

Then take one length to make the trailing stem, cutting the "tape" close to the zipper.
After you get all these done, glue them to the bag with fabric glue.
By Elaine from IA
Read More

Comments
What can you make from lots of zippers?

I have an abundance of all kinds of zippers, different sizes and was wondering if anyone has any ideas of what crafty thing I could make from all these zippers. Something unusual that nobody else has. I sew all the time but hardly ever use these zippers. I make mostly things that are easy to make. Thanks for your feedback.
Marian from Danville, VA
Answers
November 10, 2007
0

found this helpful
I have directions for a purse made from zippers - all zippers - it is fun and funky, and uses LOTS of zippers. If you want the pattern, contact me through the ThriftyFun message system with your email address and I will send it to you (it is a PDF) - but if you want to go looking for it I downloaded it from the Pfaff website. I am not sure if it is still up there.
Regina
November 10, 2007
0

found this helpful
being a seamstress I'm always using zippers and have lots too. this is a few crafts i plan on making to sell and give as gifts using fabrics and zippers.here is web site showing one of the ideas i am going to make but my stocking will be with plaid fabrics more on the old folk Americana theme using rag look. i also make rag scarves for your neck and at the bottom of each i put pockets with zippers, and i make rag coin bags using zippers. remember you can shorten zippers simply by cutting to your desired length and just stitch over the end a few times so your zipper pull will not come off. heres the site with the zippered stocking info.
www.ilovetocraft.com/.../christmas-stocking.shtml
November 12, 2007
0

found this helpful
i have had success with using 6and 7 inch zippers for friendship bracelets for little ones. you can use velcro on the ends or snaps. decorating them can run the gamut from beads to paints. hope this helps some.
November 12, 2007
0

found this helpful
a LONG time ago - on the cover of Elle a girl had a dress of zippers - one 1/2 was red & the other 1/2 was blue - it was the cutest dress I ever saw -- it was the 70's EVERYthing was sexier than it is now ;)
November 12, 2007
0

found this helpful
I remember seeing a pillow cover made with zippers a while back.
The pillow front was all zippers sewed to each other and the back was a regular envelope pillow back.
Quite funky looking actually. I thought about making a couple for my couch but I would have to BUY the zippers so it never happened.
By Milenda (Guest Post)
November 12, 2007
0

found this helpful
Here in Milw, WI the fairs all had the zipper purses. They were really cool, as you could unzip the entire thing down to 1 strip! Then you just started zipping up and next thing you knew, it was a purse with a flap for a cover. ;p
But I've seen Pre-preteens with mini purses that were all zippers that one mom actually had a pocket for each zipper!I don't know if it opened in the middle at all. But there was over 10 pockets in it with all the zippers.
You can also make stuff an animals. (we made hot/cold packs out of them at our shelter) You open the back seam of a stuffed animal and take out all the stuffing.
For make an animal... you bag up the stuffing separate, then install the zipper along the back of the animal. It is then resold as stuff your own etc.. Most of the time they make accessories for the animals as well such as hats, clothing etc.
For a hot/cold pack... You make a bag out of cotton material that is filled with rice/cherry pits/beans/herbs whatever you want to use and sew it shut. This is then put n the stuffed animal and a zipper is sewn along the back of the animal. Now you can either freeze or heat in the microwave the hot/cold pack and still wash the stuffed animal when it gets dirty. This is great for animals that are new (babies) or older ones during the winter that need a bit of "heat" in bed etc. Also works for cold nights and you want something warm for your feet! I have also known a mom that uses the cold packs for her little ones when they have a fever. It helps to cool them down.
Animal purse/pouch. You can also sew a liner for the inside of the stuffed animal to turn it into a purse, or pj case. (my son uses it to put his book and night light in when he goes to bed so they don't disappear) Girls like when there is a handle on it to carry the animals around.
Answer

this Question