Crafts Using Beach Glass
Solutions
Share on ThriftyFunThis guide contains the following solutions. Have something to add? Please share your solution!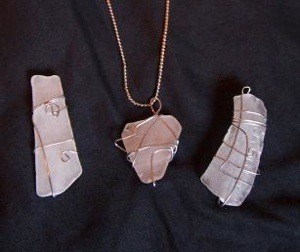 After finding many pieces of beach glass on a trip to Lake Erie, I had to make something with it. I wrapped the glass in a wire and hung it from a chain.
I collected many pieces of glass on my first trip to the beach. It's was fun to see the different sizes, colors, shapes, and textures there were to be found. Besides just glass bottles, it also can be from broken shards of dinnerware, flower pots, vases, etc. So don't overlook those other kinds of beach glass. They are all unique.
The internet gives you a lot of ideas and instructions on drilling holes in the glass. I however wanted to do a simpler design on my first attempt. They suggest you use sterling silver 18 g. or 20 g. 1/2 hard wire. I used what I had and will purchase the better wire as I become more skilled. On the website Etsy, they have lots of pendants you can get ideas from. I first spent many hours researching the process of jewelry making before I wrapped my first piece. I was happy with my results.
Approximate Time: 1/2 hour
Supplies:
needle nose pliers
wire cutters
22 gauge steel wire
beach glass
chain
safety glasses
Instructions:
Choose a piece and decide which will be the front. Also, decide which is top or bottom.
Wear safety glasses and cut a random piece of wire, about 8 inches long. It's all guess work in the beginning.
I eyeballed it and took the center portion and made the bail, looping the wire around the needle nose pliers.
Be sure to wrap as tight and close to the glass as possible. Remember, besides the wire being the design it also is your way of holding the glass in place. Wrap top, bottom or sides so it does not come out of the "cage" of wire.
Be sure to end in the back. Cut if any extra wire and bend the end so no sharp edges are sticking out.
You can do swirls of wire, sharp bends and zig zags. Be creative. Experiment.
Hang from a chain.
The first one I made is my gift to me.
By Little Suzy from OH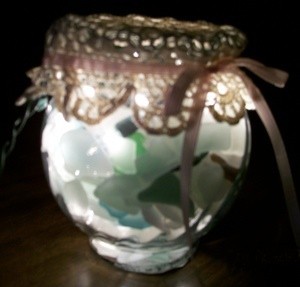 This is sea glass in a small fish bowl. A lady I worked for made this. She spends hours and hours finding this glass in Lake Michigan and other lakes she visits in her travels. This is a Christmas gift from her and I wanted to share it with you! She has many decorative bowls and figurines filled with this colored glass.
I mentioned to her once how I loved her collection and I was brought to tears when I opened her gift to me! I know the time she put into finding these beautiful pieces of glass. I have about a handful of my own which we found in Lake Michigan and I swear it took hours and hours and many trips to the beach to find it.
She put it in the bowl alternately with mini Christmas lights and put the doily on top with a ribbon. It's so much more gorgeous than this picture shows. I will use it as a nightlight in my living room so everyone can enjoy it. It
gets so many compliments!
Ariela from Jax, FL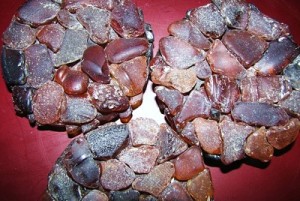 So easy, your kids can do this homemade gift craft! Frozen juice can lids pair with glass to create a stylish and lovely accent for next to nothing.
Approximate Time: 30 minutes
Supplies:
1 lb sea glass/craft glass pieces
2 medium, round magnets per project
1 frozen juice can lid per project
hot glue gun
hot glue sticks
Instructions:
Place juice can lid on work surface so that the lip faces up, toward you; this will help to contain the glass pieces and keep the round shape.
Plug in hot glue gun and insert glue stick.
When hot, begin gluing your largest glass pieces onto the lid, working from the center to the edges of the circle.
Once the first layer is completed, do a second layer of glass, overlapping the underlying gaps between the pieces of the first layer so that the finished effect is one of solid glass where no metal of the lid is showing through.
Take your tiniest slivers of glass and glue them around the rim, adhering them to the two layers of glass; this will cover the metal perimeter of the lid.
Finish by hot-gluing two magnets to the back; you're done!
By Brianna from Dutch Harbor, AK
For about $2 you can go to your local grocery store and buy one of those colored wax, glass-encased Novena candles. Now grab a bunch of sea glass or craft glass along with any beads hanging around from broken jewelry, and go to town creating this gorgeous and versatile gift (if you can bring yourself to give it away!). Once the wax is burned out, turn it into a flower vase. That's two gifts in one! Can't beat that. :)
Approximate Time: 2-3 hours, depending on the intricacy of your design
Supplies:
plain Novena candle
sea glass or craft glass pieces
beads
hot-glue gun
hot-glue sticks
wax paper
painter's masking tape
pencil or pen
scissors

Instructions:
Warm up glue stick in glue gun.
Place 1 foot-square of wax paper on your work station.
Overlap strips of masking tape on wax paper, essentially making one big sticker (about 4x4 inches).
Draw a heart or other simple shape onto masking tape "sticker".
Cut out shape and remove wax paper backing.
Place shape sticker where desired onto glass candle.
Lay out pieces of glass, flat, onto work station.
Begin gluing glass pieces, one by one, with hot glue around the edge of the shape, leaving a tiny space between so you can later peel off the sticker.
Continue until the entire candle is covered in a mosaic-like fashion with glass pieces
Once that is done, remove the shape sticker, which leaves a space to start gluing your beads onto candle
Take beads and start filling the shape's space by gluing with hot glue until filled
Take a picture, especially if you're giving away as a gift, so you can brag about your newest creation to friends and family! Enjoy!
By Brianna from Dutch Harbor, AK
Today I went to the beach on Lake Erie looking for sea glass (beach glass), my first time. I had fun all by myself but thought of something fun to do with a friend.
Read More...
What can be done with a $1 bag of beach glass? Use it for a little decorating in a plain place. My bathroom is so plain. I am doing what I can when I feel like it. I decided to attach beach glass around my plain mirror to try to make it a little more interesting!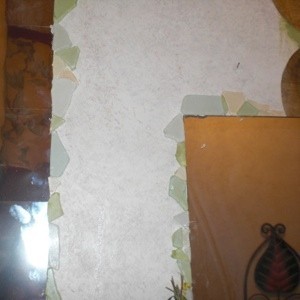 Read More...
I have collected so much stuff from the beach, finally I put it to use. I hot glue gunned two pieces of beach glass, shells and rocks to string, then tied one end to a piece of wood (stick), then took a piece of ribbon and tied it to the end of the stick.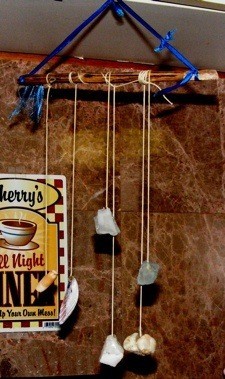 Read More...
Related Content