EllenB
Gold Post Medal for All Time! 858 Posts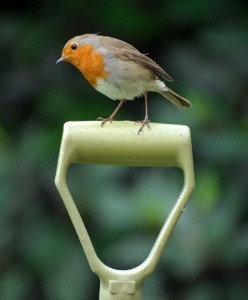 In March 2009, Secretary of the Interior Ken Salazar released the first ever comprehensive report on bird populations in the United States. The report, entitled "State of the Birds", showed that nearly 1/3 of the nation's 800 bird species are either endangered, threatened, or in significant decline. One reason is habitat loss. A backyard filled with singing birds is a pleasant and relaxing place to be. Here's how you can help birds by turning your backyard into a bird sanctuary.
Plant Natives
Different birds eat different types of food. Some prefer plants (seeds, berries, nectar, fruit, nuts, buds, etc.), while others dine on animals (worms, insects, larvae, eggs, mammals, fish, and even other birds). Planting natives species of grasses, shrubs, vines, and trees provides birds with food sources, nesting sites, and shelter from predators and the elements. Natives also attract animals such as insects and reptiles, that, in turn, attract more birds.
Landscape In Layers
Natural habitat for birds contains a diverse mix of plants that grow at different heights. A bird might sing from the tallest tree, but roost or build its nest in the shrubs below. Use tall trees, small trees (both deciduous and coniferous), shrubs, and annuals and perennials to create layers of growth, which birds can use for a multitude of purposes.
Provide Supplemental Food And Water
Along with native plants, offering supplemental sources of food will attract the largest variety of birds and help ensure that they have a safe and steady supply of food all year round. Refill feeders regularly with food desired by birds in your area. This may change during annual migrations (e.g. hummingbirds). To pick the best menu, consult your local wild bird store, nature center, or feed store. Here's a useful chart to help get you started.
Splashing or dripping water is especially attractive to birds, both for drinking and bathing. Birdbaths should be scrubbed with a brush and refilled with clean water every 3-5 days.
Keep Feeders Clean
Feeders and feeding areas need to be cleaned monthly to help prevent the transmission of disease. Run the feeders through your dishwasher or wash them in soapy water and rinse them with a 10% solution of bleach and warm water. Rake up and dispose of excess seed hulls under feeders to prevent mold, and move feeders periodically to prevent the buildup of waste on the ground. Store bird food in an airtight container and discard food that smells musty, is wet, or looks moldy. Hummingbird feeders should be cleaned every three to five days (daily in warm weather).
Eliminate Chemicals
Many of the most toxic chemicals have been banned from use in the U.S., but according to the American Bird Conservancy, approximately 40 pesticides still used in the U.S. are documented to have caused bird die-offs (documented by the U.S. EPA). Not only are garden sprays (pesticides, herbicides, and fungicides) toxic to birds, but also to the animals (insects, retiles, fish) that they eat.
Keep Cats Away
Scientists estimate that cats kill millions of songbirds each year. Ironically, many people who enjoy feeding birds also love cats. If you own cats, the best way to protect neighborhood birds is to keep them indoors. Even cats that are well-fed, declawed, or wear belled collars can still kill birds. An alternative solution is to teach your cats to enjoy time outdoors while on a tether (all three of mine enjoy this).
Tethers should be located well away from bird feeding areas. Note: Cats should not be left on tethers unattended for long periods of time and NEVER while you're away from home. If you don't have cats, install fences or other barriers to help keep stray cats from feeder areas.
Prevent Window Strikes
Collisions with glass windows are responsible for killing millions of wild birds every year. Some windows reflect the sky or surrounding vegetation, and birds are fooled into thinking they can fly through them. The types of windows that typically confuse birds are large, reflective windows (e.g. picture windows), those near the ground, or those that "look through" the house. Attaching decorative decals or other objects to the outside surface of the glass can help reduce reflections.
Either move your feeders farther away (to interrupt the flight pattern), or move them to within three feet of the windows so if birds become startled they cannot pick up enough speed to hurt themselves. A final solution is to cover problem windows with a screen so that birds bounce off, rather than hit the glass.
Participate In Conservation
Citizen science plays a critical role in monitoring birds and helping scientists understand factors threatening their decline. For more information on things you can do to help birds, check out the following:
Comments

November 20, 2009
0

found this helpful
Great information, We were having constant bird strikes on our windows until I found sheets of stickers (native animals) that have a metallic /hologram back on them, so the bird can quickly catch site of it before smashing into window. Only 1 inch big in center of each window