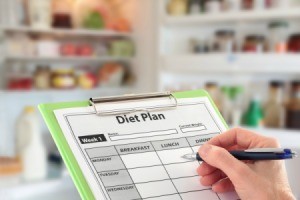 I cannot afford the well-known diet food plans that we see on television. Can anyone give me some advice on how to create an easy diet menu, similar to Jenny Craig or Nutri System, based on foods that you can buy at the supermarket? I know that there are frozen low cal dinners, etc. If anyone can help I would appreciate it. Thanks.
By Gooby from Straughn, IN
Answers
Best Answer
Eat plenty of veggies and fruit and keep meat the size of a deck of cards. I eat no red meat. I bake my corn bread, eat just a small piece about the size of my 2 fingers, lots of water, very little sweets, walk at least 30 minutes every day. It works for me, good luck.
Best Answer
I am a Weight Watchers lady. I too had the same question. This is what I did, I saved all my containers from Lean Cuisine and Weight Watcher meals. I bought my self a Weight Watchers cook book. I made the meals up and divided them by portion in the containers.
I wrapped them and froze them. when ready to eat them just pop in the microwave for 4 minutes. The cook book gives you all the points and calorie information.
Best Answer
I did Jenny Craig a while ago and lost weight from it. It's very simple actually - 3 meals and 2 snacks daily. They didn't count calories but I figured out that it's about 1,200-1,500 calories a day.
With the abundance of low cal, low fat products out there you can do the same. WW has lots of dessert snacks - these help me A LOT on diets when I need a little sweet at night. I buy the 1 point cakes, heat them in the microwave and serve with frozen fruit (defrosted, of course) like dark cherries and a little redi-whip. YUM...
and only about 150 calories.
Like everyone has said - fruits, veggies, water, exercise are the way to go but sometimes you want something more. Increasing fiber is good as well, since it fills you up and helps reduce hunger pangs. However, if you increase fiber, it's a good idea to increase water consumption.
I stick to it for 6 days and go off a little one day a week and have a slice of pizza or something. Then I make sure to get back on the diet the next day.
The best advice is not to deprive yourself and do what works for you.
Answer

this Question

I need a web site that will explain to me the diet my doctor gave me. One that does not require me to have doctorate to understand. Also as egg yolks and baking soda are now on my no no list, can someone direct me to a site that will explain the whys and whats of bread making to me.
Answers
The doctor gave you specific instructions. If you dont understand ask him for clarification, or have someone from his staff explain it to you. Going on random websites may give you erroneous information
I'd ask the doctor, too, as your case is probably about your personal health results, and not targeted in general.
Perhaps you can also email your doctor. My doctor and I commute via the hospitals website so it is easier to reach my doctor.
Your doctor has undoubtedly placed you on a personalized diet plan and should have given specifics for you to follow.
If their instructions are not clear enough then you definitely need to ask for further instructions.
Many doctors now have an email link to their office that you can review your file so you can review what information they are placing in your file. Check to see if your doctor has this program as it may have something about your diet.
You will have to ask about your diet plan and also how strictly you have to follow it and hopefully how long you will have to follow this plan (a few months or forever?).
There may be some items that are more important than others so ask about this also.
If you still have problems you should ask your doctor to refer you to a dietician to help you formulate his plan.
I know for a fact vegan's don't eat eggs at all. There are a lot of bread recipes for vegan's that you can use at home to make your own bread if this is the case.
As for the other problem with your diet and not understanding the ins and outs of the diet I would talk with the doctor who might direct you to a dietician to help you out. They are so good and can really work with you and help you out. Furthermore, they have a lot of information that they can give you to help you understand this. I'd really call the doctor back and see if they can make an appointment for you with their dietician to help you out.
Read More

Answers