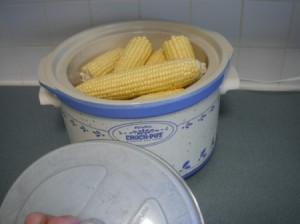 I experimented and cooked 6 ears of corn on the cob in the Crock Pot. I had never heard of anyone doing this but I found out that it works great! It was so good that my husband went back to the grocery store and bought more corn today so I could take pictures and share this idea on Thriftyfun. The leftover corn is good heated up in the microwave for another meal.
To cook 6 ears, I put 2 cups of water in the Crock Pot. I had to break some of the ears in half to get all of them in the pot but that's just fine. It all tastes the same. I set the dial on high and set my timer for 4 hours. That's all. I did not touch it during the cooking time. It turned out perfect. After I took all the corn out of the pot, there was 3/4 cup of water left in the pot.
In hot weather, I put the Crock Pot on the screened porch to keep from heating up the kitchen. The first picture is the raw corn in the pot. The second picture is after the corn finished cooking. I had to wait for the steam to clear because it was fogging up the camera lens.
Cooking corn on the cob in the Crock Pot is so easy. It comes out moist and tender and the flavor is lip-smacking good. From now on, I probably won't be cooking it any other way.