I got these 4 beautiful Windsor chairs a week ago and would like to get an idea of how much they're worth. I do know they were handmade by a craftsman in Bucks County Philadelphia in 1977 because on the bottom of all four chairs he wrote his name, county, and year that he made them.
Answers
June 17, 2018
0

found this helpful
The ones I have seen are $175 and up.
Wow! They are pretty!!! I am partial to almost everything made in my state...except for the sports teams that compete against my Pittsburgh ones :)
On Ebay, I was not able to find an exact match for yours (not knowing the name of the craftsman), but there are some interesting things to note:
In the first link (below) a set FOUR of similar chairs sold for $550 (137.50 each) as part of a live auction...and they were painted (which to us wood purists is a little painful). They are pretty...but still...
www.ebay.com/.../232774373120?hash=item36326f0f00...
Second, if I am reading this right, this auction was to have ONE handmade (now) with a black finish (and the brace feature--which I am not positive, but looks like yours don't have) for $496.
Both auctions you have to factor in shipping which technically increases the "value" slightly as the buyer typically pays that fee.
There are other a number of similar sales on Ebay with a variety of prices (ALWAYS use SOLD auctions as a guide for price, not current listings).
To me, this indicates that the style holds a strong value in today's market, which is good news for you if you want to sell them.
For actual value for yours, you may want to check back to eBay or Etsy to find the exact maker's name and a sold piece to see exactly what his pieces fetch in the open market.
Once you are comfortable with a value, if you are selling them...remember most consignment/antique type stores will give you between 1/16 and 1/4 of "retail" (what they will ask).
If you sell on your own, it takes time as people's needs and whims are what dictate the purchase, so choose a venue where you don't have to pay for the listing (like Facebook Marketplace or NextDoor) and keep "bumping" it to the top (which just means going into your ad and making a note it is still available or dropping the price slightly.
They are lovely!! Thanks for sharing them!
Thank you. I was thinking of asking 450.00 to 500.00 for the set because they are all in such good shape so your answer really helped.
Thank you. The craftsman's name is John Schrantz from Bucks County Pennsylvania. He wrote on the bottom of each chair " Made by John Schrantz Bucks Co 1977.
All I have been able to find on Google is that he's a Craftsman from Pennsylvania.
There are two gentleman with the same name who may be the craftsman on LinkedIn if you belong to that site. One is a carpenter in near the PA/NY border and one is in central PA (not listed as a craftsman, but it may have been a hobby).
I may be bold, as I am known to contact people and ask if - in this case - if he made the chairs and can give you additional history. I have found that most times (9 out of 10) people will either say sorry not me, or will be very flattered that I reached out to them.
Hope you are able to learn more and get a nice price for them. I wish I had a place for them as they are lovely!
Oh thank you so very much please do and maybe u could show him the pic and here is the bottom of one also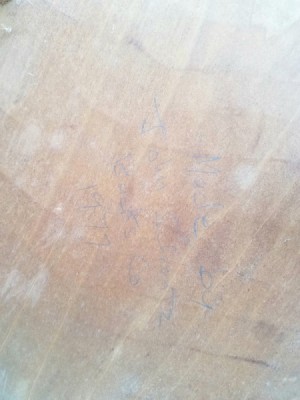 I will see what I can learn!
June 21, 2018
0

found this helpful
Put all the information you have on a search in "Google". Also go on eBay it is possible that like chairs are listed for sale.
June 29, 2018
0

found this helpful
Sadly he hasn't answered. If he does, I will let you know ASAP.
I a sad that he is the 1 of the 1 in a hundred who doesn't respond. If I learn any more, I will get back to you!
June 29, 2018
0

found this helpful
Thank you so much for all your help. I truely appreciate all you are/have been doing.
June 29, 2018
0

found this helpful
Thank you so much for all your help. It is greatly appreciated!
September 21, 2018
0

found this helpful
Superb artisan. Made beautiful Delaware Valley ladderbacks. Great carver, too. Last I heard he was in Nashville making and writing music
Answer

this Question

...
Answers
September 23, 2018
0

found this helpful
You need to know who manufactured these chairs. They could be the real thing or a knockoff. Look underneath for markings
September 24, 2018
0

found this helpful
Chippendale was a company and is a style. So identifying items as original or style can be hard, even for an expert. Here is an article that may help you understand what to look for....but it is not full proof:
www.thesprucecrafts.com/chippendale-style-furniture-148836
I suggest trying a couple of experts at antique dealers you trust. Take the piece if you can vs photos. Hopefully after you have 2-4 good opinions you will know what you have and if you talk to them about insurance value, you will have that info. Retail value is usually lower than insurance value.
Let me know what you learn. I am eager to learn about all furniture styles! Thanks!!
Read More Answers