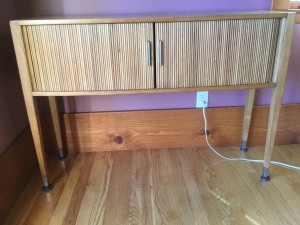 This is a set with 4 chairs, 2 chairs with arms (pictured), a table with two expansion leaves, a credenza (pictured) and a buffet with hutch (pictured). My parents bought it used in about 1967. It is stamped Sligh furniture, Grand Rapids Chair Co. Is it worth getting appraised?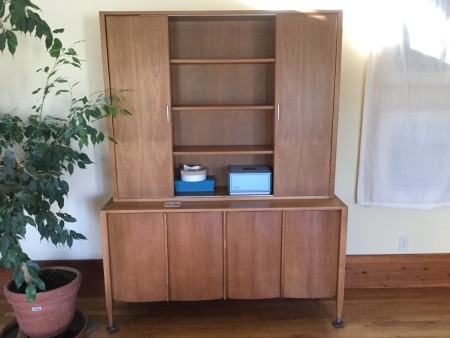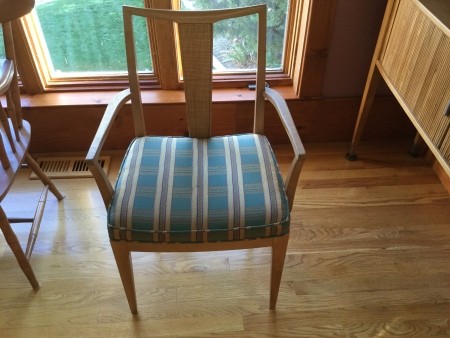 Answers

October 5, 2020
1

found this helpful
Best Answer
Sligh furniture is a well respected name in furniture and your set is definitely worth having appraised. You could try searching for licensed appraisers in your area and call and ask for an approximate cost of an appraisal done in your home so you will have some idea of the cost before you sign a contract.
As to selling: several factors will help determine the final value of any furniture. Location - pick up site - area and Condition are the biggest factors after the overall value is determined.
You should know that, as a general rule, furniture is not a quick seller and many sets/pieces are listed for sale for years before they sell. But, the final price is your decision and when you set the price and receive no 'offers' then you can always reduce the price and go from there.
You can always go online for free appraisals while you're deciding about an in-home appraisal.
These sites provide a lot of information when the pieces are of value - such as your set.
They also provide information on auctions that you might be interested in taking your set to but that would be up to you.
Your location will have a lot to do with the bottom line value as most furniture is sold as local pick up only.
Sometimes someone will see a set like this and be willing to pay for freight shipping but that is rare.
These sites require several pictures of all of the pieces as they will be putting their name to a set and the better the pictures the better the information.
Sligh company was in business from 1880 until 1932 so we know your set was made before 1932.
You can post your pictures to several sites to see what each one tells you.
I think you will be very happy to have one of these appraisals even if you decide on an in-house appraisal.
antiques.lovetoknow.com/Free_Antique_Appraisals_Online
www.whatsellsbest.com/.../antiques.html

October 6, 2020
1

found this helpful
Best Answer
So this brand always confuses me because there is a Sligh that is still around in some form these two pieces look very mid century modern--which would not be from the original Sligh from 1932 and older. I could be wrong, but, I am a bit of an MCM geek and this fits my geek googles pretty well!
www.furniturecityhistory.org/.../sligh-charles-r-cosligh-furnit
I have not found an exact set to yours to put a value on it, but you could always talk to your insurance company to see if it is worth having an appraisal for insurance (replacement) costs.
Personally, there is very little furniture out there worth putting riders on and having appraisals for insurance but that is just me. Most can be covered well under a regulars home owner policy if something happens to them.
If you are asking to resell, that is a totally different value.
I will poke around and see what I can find to see if I have found any similar that have sold and if I do, I will post back.
Answer

this Question

I'm wanting to buy a flour bin cabinet from a friend and am not sure what to offer. It's got the flour bin and sugar canister all intact and bread draw it has been painted white, but I cannot find a label of brand or year any thoughts?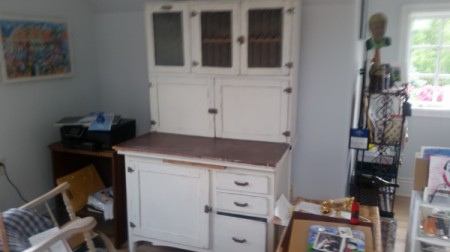 Answers

May 25, 2018
1

found this helpful
Best Answer
What a beautiful piece! Doing business with friends can be tricky. Also there are so many factors that figure into market value of furniture/antiques (condition, age, and even supply and demand in your area). You don't want to over or under pay.
Have you considered getting 2-3 bids from a local antique dealers and then offering her an average of the bids? Some dealers offer bids based on detailed photos, others may want to see it in person. Hope you are able to make a good deal!!

May 26, 2018
1

found this helpful
Best Answer
These cabinets are becoming more rare so I believe the value will be steady or increase as time goes on. Hopefully you can offer a reasonable price that will be fair to you and your friend.
If you offer a price and it is accepted, I hope that someone in the future does not tell your friend, "you really got cheated - that cabinet was worth 3 times that amount!". This does happen quite frequently so be careful when dealing/buying where friends are involved.
I have a similar cabinet that I inherited from my mother (only mine is all original) and I consider mine as "priceless" so that is no help to you but I would recommend that you ask for an appraisal before making an offer.
Any refurbishing that is done to antique/vintage pieces lowers the value (usually lowers it by 1/2 or more to real collectors) and since this one has been painted remember to include that fact in any research as that means the value will be lower than an original piece.
This cabinet is called a Hoosier Cabinet and was probably made between 1900-1950 but I would think closer to 1930-1950 (but many were also made in the 50's).
There were many styles and sizes produced so it is difficult to research as you may never see an exact same piece for sale or sold.
There are several sites that offer free appraisals but check them out first so you know "free" is not a gimmick.
A better option is Barneby's but they charge $17.
I hope you and your friend can reach an agreeable price that sets well with both so you can purchase a lovely and very useful "keepsake" and not lose a friend in the process.
Answer

this Question

I have not been able to find anything remotely similar on the internet to find the value of this dining table. It's 8 legs, gateway (I believe it's called), drop leaf, cherry, original finish 42 x 76 inches (a tad wobbly).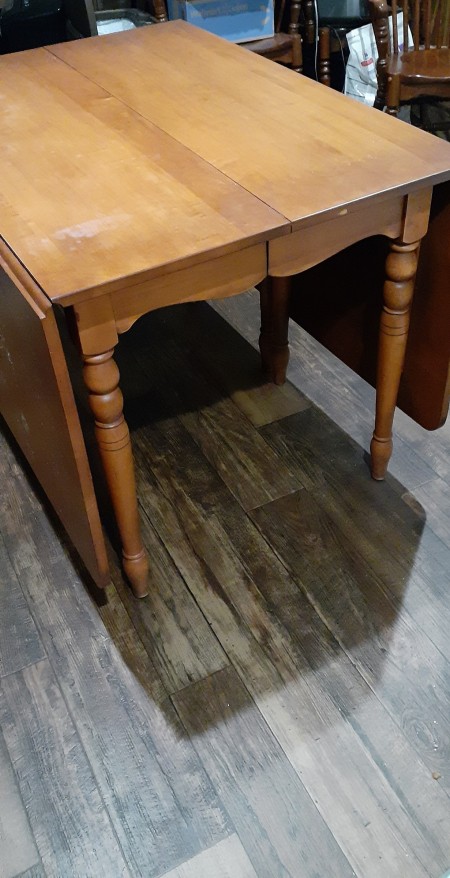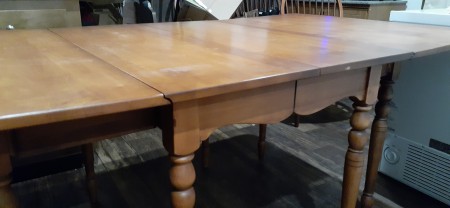 Answers

poehere
Bronze Post Medal for All Time! 105 Posts
July 23, 2020
0

found this helpful
Best Answer
Jefferson woodworking co, KY is the company that has made this table. If this is the only mark you can find and this is a company name this would be the first place to start searching. I have found a table on eBay from this company and they are asking $475 for this table. Keep in mind this is not the exact table as the one you have so the price will vary. www.ebay.com/.../372016916962
You can directly contact this company and it is located in Jefferson Woodworking Co. Louisville, Ky. I would also try and speak with an antique company in your area and see what the value of these tables sells for around you. They would be the best way to find out how much a person in your area is willing to pay for a table.

July 23, 2020
0

found this helpful
Best Answer
So my understanding is there are a number of companies who could have made the table--that the Jefferson Wood Working Company made the slides only--not the table.
You may want to contact the University of Louisville, KY to see if they have on record who else made the tables using the slides. The Jefferson Woodworking Company had a historical presence there.
This company is NOT related to a company still in existence called Jefferson Woodworking Inc or LLC or something like that. Two different companies.
Value is really based on supply and demand for the piece in your area. Where I am this table would probably sell for less than $300, maybe as low as $25 to $50. Where you are it could be high in demand and sell for much more.
I see them all around the country (not the exact style) as you said, but similar tables and they are all over the place in asking price and sadly most sit unsold.
If you have a consignment store in your town, ask them how much it would cost to buy your table--that would give you the retail value where you are and then you can expect to sell it for 1/4 to 1/8 of retail for your area.
Post back with an update! Thanks for sharing!

July 26, 2020
0

found this helpful
Best Answer
You can find many tables similar to yours for sale all over the US and the prices will vary between $75 to several thousand but finding sold tables is more difficult.
www.google.com/search?source=univ&tbm=isch&q=vintage...
Many sellers list tables as 'antique' but have no proof and this is a dangerous game as a buyer can have it appraised and if not shown as antique they can and usually do, demand their money back.
Your table is probably vintage and if in excellent condition might sell for several hundred dollars - but, just as Pghgirl said in her answer - location will affect the final sale price.
Most of Florida is not a good place to sell this type of table and may not bring even $75.
You might want to list it on local venues like Facebook Marketplace, letgo, offerup, as you can start with a higher price and lower it if no one shows an interest. These sites let you list as -pick up only'.
You can also ask your question on this site:
Answer

this Question

This desk was used even when I bought it 25 years ago, so I don't know the exact age. I listed it on Facebook for $75 and someone messaged me saying it might be worth a lot more if it's French provincial. I know it's not an actual antique, but in researching, I saw pieces labeled French Provincial from the second half of the 20th century going for a couple hundred dollars.
How do I know if it's valuable?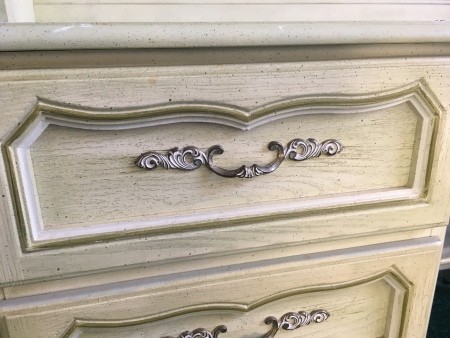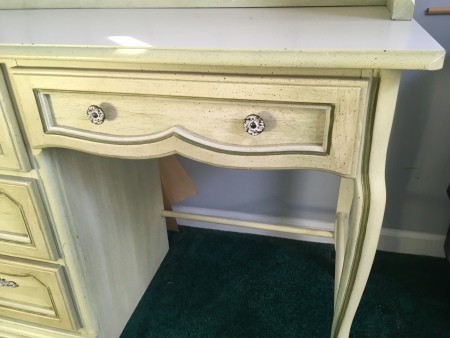 Answers

poehere
Bronze Post Medal for All Time! 105 Posts
January 14, 2020
0

found this helpful
Best Answer
The first thing that needs to be done is to figure out who has made this desk. Normally you can find some sort of marking on the bottom of the desk, inside a drawer, or on the back of the desk. See what company made this desk. That makes it a lot easier to narrow down the date the desk was made and find other desks like this one. If you can't seem to find any of this information about the desk it is time to visit a vintage furniture shop and show them pictures of the desk. They will be able to help out in identifying the desk. You can also try a few online websites that help to give you an idea about how much the item is worth. There are several of them online. Some are free and others you need to pay. All the sites require you to create an account. Here is one site you can check out if you don't have a dealer in your area that can help you out - www.valuemystuff.com/.../antique-furniture

January 14, 2020
0

found this helpful
Best Answer
This brings me back to the 1960s and the furniture that was in our local Sears furniture department. It may be a Sears piece. Here is a link to a catalog:
www.google.com/search?sxsrf=ACYBGNRi5w9rSZry8D_xmJzr9_hgpwt_Mw...
The legs look the same as does the trim and handles.
Depending on where you are located this piece could be worth up to $250. It seems like it sells best on the east coast (like NJ seems to be a huge fan of this style.)
It depends on where you are the supply and the demand for this piece. Most people want the entire set (it was a dresser, desk, shelves, night stand and bed stand).
Nice piece!! Definitely brings back fond memories of my first fascinations with furniture!

January 14, 2020
0

found this helpful
Best Answer
If your piece does not have any markings or even numbers then it is probably one that was sold in a smaller furniture outlet. That does not mean it is not worth more than $75.
The drawer pulls (not the knobs as they are pretty common) are different than most furniture in this style. I have not seen any like them so I'm thinking these may help someone identify your piece.
This appraisal site does a good job but they do charge for any information.
www.valuemystuff.com/.../antique-furniture
There are some sites that will appraise items for free but most will not give a full appraisal unless the item is worth over $500 - but then - how do you know that until you ask?
You can send pictures and any provenance and see what they say.
www.whatsellsbest.com/.../antiques.html
The actual value will depend a great deal on where you live as this type of furniture is costly to ship so most pieces are listed as local pick up only.
Maybe you can check some of the sites that offer this and see what similar pieces are selling for in your area.
If you do not find out anything further about the true age or 'worth' I would suggest you start your price at $250 and lower it if no one shows any interest.
Answer

this Question