These were used for kneading bread, and brought over by the Pennsylvania Dutch.

July 8, 2021
0

found this helpful
Thank you SO much for this wonderful information. I'm enclosing photos, per your response, perhaps you will use 1-2, but all I think will give info to an experienced eye? There are no nails anywhere, but ONE screw inside the drawer in an odd little "cutout". No obvious reason.. The outside wood is not as deep and rich as the interior which has obviously never seen any sunlight. I suspect this is one of the old ones from the 1800s, and the minor changes, though no doubt which affect the value, are pretty minor all things considered. The drawer is actually undetectable & I had the table for years before I found it when moving.
I suspect there was a label inside the drawer (photo) but I have searched and can find no mark unless its hidden. There's also signs of remnants of glue, which I suspect was due to age & maybe legs becoming loose. All in all, it's amazing at how little I know about it. I've had it 25 years; no idea where I got it or what I paid for it.
Any further info would be most appreciated - even a value, because I'm just curious but will never part with it. I will add remainder of photos separately as there's a limit, I guess.
Thanks again,
Annie In Montana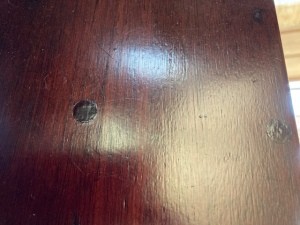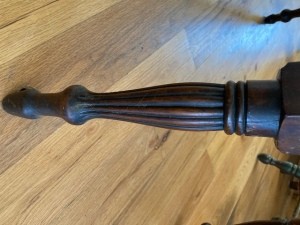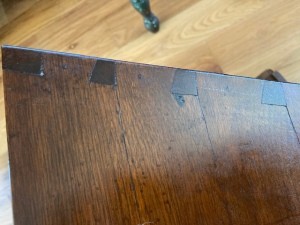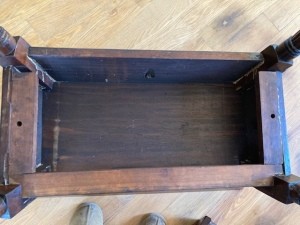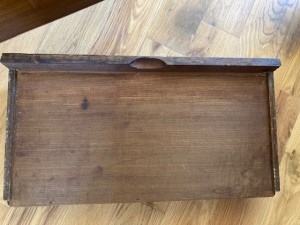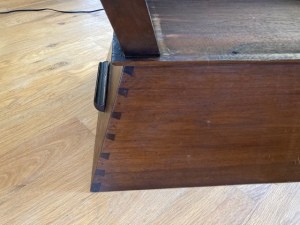 July 9, 2021
0

found this helpful
Thank you for photos. If your table had nails, then by the shape of them I would try to determine the approximate period of your dough box table. Since you write that it has no nails, then your dough box table is made of all wood construction with dowels and pegs holding all pieces together.
Your dough box table has dovetail joints. The type of dovetailed joint reveals much about furniture construction and dating. With just a little study, it is easy to spot true hand made construction vs. machine made furniture.
The name "dovetail" comes from the appearance of the joint, resembling the triangle shape of a bird's tail. Dovetail joint was created by a skilled cabinetmaker using small, precision saws and wood chisels. Tiny angled saw cuts were followed by careful cutting by a sharpened chisel on both sides to avoid splintering. One board had tiny "tails", and the other had the larger "pins", carefully measured to match and fit together exactly. A little glue cements the connection, and a good dovetail joint has great strength and durability. Genuine hand made dovetails were the standard of good furniture craftsmanship until about 1870, when American ingenuity developed the "pin and cove" or round style dovetail. These were cut with a jig or pattern. Popular in the U.S. into the 1890's, these joints never gained acceptance outside of the U.S.
and Canada. European cabinetmakers continued their hand-cut dovetails well into the 1900's.
In the 1890's, American furniture began to be mass produced. The slow and laborious crafting and carving, one piece at a time, by a master woodworker was not suited to the new mass market. Steam power, transferred by pulleys and leather belts, operated saws and were used to rapidly cut a machined dovetail joint. Each cut is exactly like the others, each "tail" and "pin" are exactly matched. A close inspection shows no irregular saw cuts or variation from a skilled craftsman, but rather a precise and identical manufactured machined joint. These machine-cut dovetails are as strong and long lasting as the hand-made joints, and became the standard of better American furniture ever since the late 1890's. Here you can see an example of machine-cut dovetails
www.harpgallery.com/.../machIMG_7338.JPG
From your photo, each "tail" and "pin" of dovetail joints are exactly matched, but the distance between them is not exactly the same. Your dough box has hand-made dovetail joints.
Your dough box table has very beautiful graceful legs. So I think your dough box table was made in the late 18th - early 19th century.

July 9, 2021
0

found this helpful
Dear Diana,
Thank you so much for your informative, thoughtful comment on my Dough Box. I will treasure it even more! I plan to keep the information you provided and stow them away in the Dough Box for my daughter.
Thank you again,
Annie