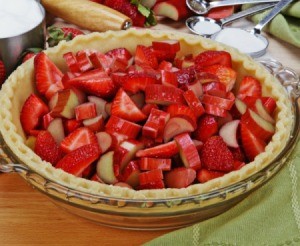 Since summer is almost here and it is time for strawberry and rhubarb, I wanted to send this recipe in. It is a diabetic recipe and I know you do not get a lot of these and they are just as good made this way. Or you can make it like you normally would.
Ingredients:
3 cups rhubarb, cut in 1 inch pieces (or 1 pkg. frozen unsweetened rhubarb, thawed and undrained)
3/4 cup water
1/4 cup flour
3 Tbsp. cornstarch
2 Tbsp. lemon juice
3 cups strawberries, sliced
12 1/2 tsp. Equal Measure (or 40 packets Equal sweetener or 1 2/3 cups Equal spoonful)
1/4 tsp. ground nutmeg
Directions:
Use your favorite recipe for pie crust for a 9 inch crust. Bake in pre heated oven as required by your recipe. Cool on wire rack.
For the whole pie to be baked, oven should be set at 350 degrees F. Add rhubarb into a large covered saucepan over medium heat until rhubarb releases liquid (about 5 minutes). Combine water, flour, cornstarch, and lemon juice. Stir into rhubarb and heat to boiling. Reduce heat and simmer uncovered, stirring constantly until mixture is thickened and rhubarb is almost tender (3-5 minutes longer). Stir in strawberries and cook 2-3 minutes longer. Stir Equal and nutmeg into fruit mix.
Spoon into pie crust, spreading evenly. Bake in oven until bubbly about 40 minutes. Cover edge of crust with aluminum foil if browning too quickly. Cool on wire rack, serve warm. Enjoy!
Dietary exchange:
1 - starch/bread
1 - fruit
1 - fat
By Darlene from Fairview, PA
Read More

Comments