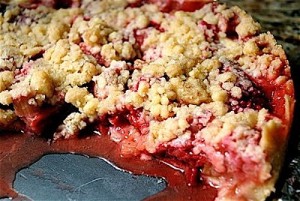 Now is the time to put some pies away for the cold winter months. Strawberries and rhubarb are ripe for picking! This is a quick, easy recipe adapted from the old Betty Crocker Cookbook. Our school Ladies Aid makes 180+ at a time to sell for fund-raising and they're always a hit.
Ingredients:
Filling:
1 cup white sugar
1/4 cup all purpose flour
2 cups sliced rhubarb
2 cups sliced fresh strawberries
Topping
3/4 cup all purpose flour
1/2 cup sugar
1/2 cup firm butter
Directions:
Stir together the filling ingredients and turn into a pie shell.
Mix together the topping ingredients until crumbly and sprinkle over filling. You can use a food processor if making large quantities, otherwise cut in with a pastry blender.
Bake at 425 degrees F for 40-50 minutes or until topping is brown and juice begins to bubble.
If your freeze them uncooked, bake from frozen at 425 degrees F for 20 minutes then at 350 degrees F for 1 hour or until crusts is brown and juices begin to bubble.
Cool completely before cutting if you want a neat slice. If you don't care how it looks - DIG IN!
Servings:
8 - 10
Time:
25 Minutes Preparation Time
50 Minutes Cooking Time
Source: Betty Crocker, sort of
By Lovinglynden from Lynden, WA