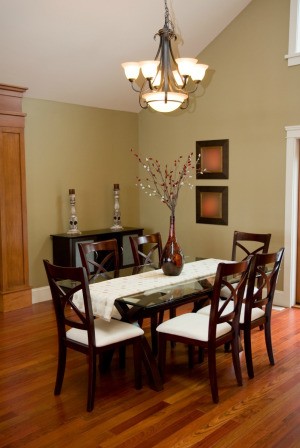 I want to paint my dining room a dramatic maroon, but my husband insists that it would make the room "small". Also I am looking for a finish that would add depth, without being trendy (like sponging).
Any tips for colorwashing? Debbie
Answers

February 15, 2005
0

found this helpful
You can use a bold color, Deep reds, royal purples, saphire blues, etc in a smaller room as long as you provide adequate lighting and keep you linens, dishes and accents (paintings, etc) in lighter and complementary colors. Such as silvers, creams, golds, etc. Any glass or mirror accents in the room will add shine and light and tricks the eye into thinking it perceives more space. And make sure that you have appropriate lighting. If you only have an overhead light, consider getting a chandelier or candleier (same thing but uses votive candles rather that electricity) and wall sconces (try a mirror behind the sconce it doubles the light provided) in order to brighten the space. It provides a classic, elegant space that feels formal and yet comfortable as well. Good luck.

February 15, 2005
0

found this helpful
Go for it!! I painted my small bathroom ink blue and it seemed larger afterwards... cool colors recede from the eye, warm colors come forward... so pick a cooler maroon and my best advice for the color wash is don't be afraid of it. So many people are intimidated but it's literally just brushing on glaze in random X's don't over work the glaze because you want the brush strokes to show.
If I were you I would find a good base coat that isn't quite as dark as the over all feel I want and then get the dark color that I really like and make that into the glaze. Good luck! oh and one more thing, paint out the trim with white, will class up the whole room and possibly even expand it if you have crown molding because the corners will recede.
By Bonnie (Guest Post)
February 16, 2005
0

found this helpful
A neighbor of mine painted her dining room a bright red and painted the woodwork and built-in buffet pure white. Beautiful!!
By Pamela (Guest Post)
February 17, 2005
0

found this helpful
We painted our bedroom "pickled beet" and it was perfect. It made our big room seem even bigger.
Most people seem a little scared to go with bold colors. Take a chance, it'll look great.

February 23, 2005
0

found this helpful
You don't necessarily need to use white for the trim. I did the reverse. My living room was a dark brown paneling and I wanted to litten up the room. I found a very light peach that looks great. It took forever to find a trim and I ended up with a Rasberry/ dark Maroon which was decided on because I had a sweatshirt on that color and it looked good against the wall. I would go with any light color for the trim that also goes with any paintings or linens in the room.

Carrie
Bronze Feedback Medal for All Time! 174 Feedbacks
October 23, 2005
0

found this helpful
I have been told that red makes you hungry.
What does maroon do, I wonder?
By "smaller" don't you mean "cozier"?
Answer

this Question

My kitchen is gray and white. The dining and living rooms are open. What color should I paint these two rooms?
Answers

Hello
Bronze Post Medal for All Time! 107 Posts
January 31, 2017
0

found this helpful
In this case, when it seems so open ended, it really depends on what sort of furniture you have, or what you like in general. What are your favourite colours? What sort of furnitre do you have? What colours are they? What materials?
If you're going for a contemporary look, black, whites, and neutrals are good. If you're going for a Victorian of French country look, go for pastels and many colours. If you're going for a more regal look, rich reds, golds, and purples.
I personally think that homes with many colours are so nice, and it's great to find a person who dares use more than just white, grey, etc on walls.

Judy
Gold Post Medal for All Time! 677 Posts
February 5, 2017
0

found this helpful
Since these rooms are next to each other, and people will walk from one room to the next, I would paint them the same color or different intensities of the same color
Answer

this Question

We have a room with a feature wall that is a darker cheap wood paneling. The original owners had a real fancy for wood paneling. The rest of the walls are normal. The color choices I have in mind are White Dove (white) and Revere Pewter ("greige"). The floor has an old green carpet that we are going to take out and refinish the nice hardwood it's covering.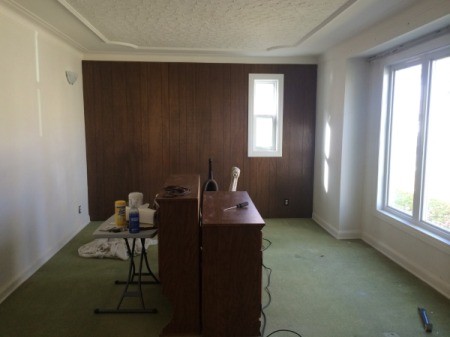 My question is, should I paint the paneling "greige" and the remaining walls white, would it look weird to paint all the walls "greige"? I would consider painting the paneling a darker grey if the other walls were to remain white. I just a want to do something nice, versatile, and appealing, as I plan to sell the house next year. I will take any suggestions!
Information about the room: The room in a normal situation would be considered the living room and has a big front window. However, our house has some odd things going on with the layout, including an extension made to what originally was the dining room. So, the original dining room area with the extension is going to become the living space, and the original living room will become our dining room. When we finish with this house, the new owners can have the option of where they dine or lounge.
Thank you! :)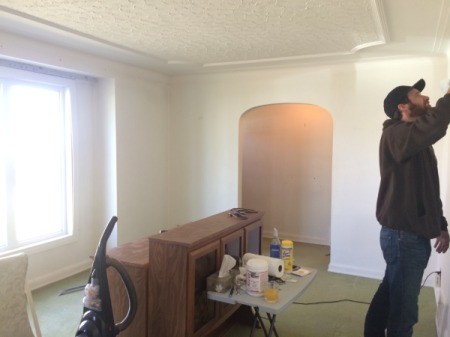 Answers

Myrna
Bronze Feedback Medal for All Time! 168 Feedbacks
October 18, 2015
0

found this helpful
Wood paneling is pretty much outdated telling on the period of the house. I would get a wash and apply it on the walls and rinse off/wipe dry before applying a couple coats of Kilz primer to the paneling before painting the color of your choice. I think the same color as the rest of the walls would look nice or you could paint the wood paneling a deeper color of the other walls. Either would look nice. The dark painted panel wall will cast a hue onto the white walls and give a lightly tinted appearance in that area of the room.
If you really want pure white walls; then I'd paint all walls white. White plays off other colors. I've seen a raspberry pink bathroom with one wall painted and the rest in white and the raspberry produced a lovely delicate pale pink onto the three white walls. The bathroom was small and it didn't look bad.

Louise B.
Silver Feedback Medal for All Time! 337 Feedbacks
October 21, 2015
0

found this helpful
I was just reading a decorating article about the trends in paint. Greige is very popular. You might do the whole room in that, just the paneling wall, or go with a darker shade on that wall and greige for the room. I personally do not like painted wall paneling, but it is certainly a dated look, and since you plan on selling, likely your best option is to paint it.
I might try wallpaper on it if it was for me, but paint is likely a better option for selling.
Answer

this Question
I have peacock green granite counter tile, electra panina piombo for the backsplash, and stainless steel behind stove. The flooring is somewhat multi-colored pinks, bronze, teals, blended nicely with other similar colors. What color should I paint my connecting dining room?
By Janie R.
Answers

poehere
Bronze Post Medal for All Time! 105 Posts
November 5, 2017
0

found this helpful
I would use a light teal or a cream color green on the walls. There are many different shades of teal and green. I would chose one on the lighter side of the color wheel.
Answer

this Question
I have a galley kitchen with a separate dining room which also connects to the family room. My kitchen is a bright yellow, my family room I am thinking to keep it a neutral color. What color would be good for my dining room? I have a gray/stone color sitting room on the opposite side of my kitchen. Also, can the flooring be all the same?
By Anne
Answer

this Question