March 15, 2017
0

found this helpful
The most recommended solution I've found is laying bird mesh just under the top surface of your garden. It a plastic mesh that works by getting caught in the cats paws preventing them from digging and they abandon that spot. You can find it in the garden section of hardware or home improvement stores. Cost is nominal, depending on the amount needed. You can also use chicken wire in the same way, it doesnt show just under the top soil but plants can still grow.
Another physical deterrent is placing a wide border of pinecones around the garden perimeter. Cats dislike the rough surface.
If you want to go a low recycling route, you can try citrus rinds, vinegar, coffee grounds, epson salts, pipe tobacco - all work on the principle of scents that are offensive to cats who rely on their sense of smell to find suitable areas to potty. The offensive smells eliminate their desire to potty there. You can try planting the herb RUE or geraniums both scents are offensive to felines. (Wear gloves if you plant RUE it can cause skin blistering )
One solution thats harmless to cats but actually benefits the plants is a motion activated sprinkler. The cat's trespassing into the garden activates the sprinkler, and they get wet ! The plants get a drink. My sister says it very quick fix to the problem.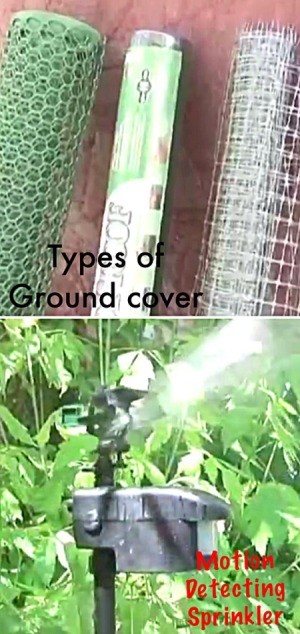 March 16, 2017
0

found this helpful
I thought about the sprinkler idea before, I'll have to give it a shot. Thank you.

March 15, 2017
1

found this helpful
I like the sprinkler idea. My cats ignore smells.

March 16, 2017
0

found this helpful
Yeah, unfortunately my cats are not bothered by scents either. I always empty my coffee grounds in the garden where I don't want them to go and I use vinegar on carpets in our home and they don't seem offended by them.
I just figured if I put something they might enjoy like catnip, they might not poop in the area of their enjoyment... lol