June 13, 2011
0

found this helpful
I am sorry to hear that your dog is in mourning.....I have heard lots of great reviews of DrsFosterSmith Rescue Remedy. It calms them down. You put drops on their tongue.
Here is the linkto a picture of Rescue Remedy:
www.drsfostersmith.com/.../prod_display.cfm?pcatid=1233
You also should make it a point to have a chat with your dog. Find a place where there are no disturbances. Talk to her about the friend she lost.
Say anything but make sure to include the other dogs name, and that it is good, and it is OK.
Animals understand words they have never heard before, many times because of the tone of voice and positive thoughts. If you tell her that it is OK this way, then give her Benadryl, one milligram per pound of body weight when she goes to bed. You could give two milligrams but I rarely give this maximum dose to my dogs. Look at how many milligrams are in a capsule of Benadryl and then do the math..You might have to use the liquid if the dog is small. Benadryl is cheaper but Rescue Remedy would be great to have because I know it works. They even make one for people.
Have you considered getting another animal, maybe a cat or another dog? Even just having another dog visit can get the dogs mind off the loss she endured.
Have you considered taking the dog on a vacation, smells abound in new places and this gets the mind off the beaten track. My grandmother on my father's side was an identical twin to her sister. When she passed away, the dog would sit by her grave day and night. I wish there had been rescue remedy then or Benadryl. Animals can form strong lifelong bonds, and this is a testament to how much your dog loved her friend.
Blessings and give your dog a hug from me. Here is a picture of one of my dogs. :)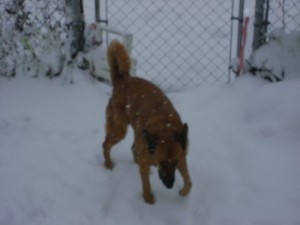 June 13, 2011
0

found this helpful
There is also the chance that it is not mourning, and a vet visit would rule that out for you. The vet might have some advice also, blessings,
Robyn
June 13, 2011
0

found this helpful
Dear JK
I'm so sorry for your loss and your dog's loss and it's good to mourn those we lose. We sometimes forget how much dogs actually feel and know. They are very smart. They love us and one another. It's amazing if you actually study the dog. You'll see that it's most likely mourning, even if a vet says otherwise. You know your dogs and you know how you feel when your dog cries. I would go with that feeling over a vet, unless the dog gets sick, which can happen if they stop eating, sleeping right etc. Watch all those things, the post before had great advice, saying the dogs name, and sayin' it's ok and showing a picture to the dog. You may need to spend extra time with the dog. Cuddle more, love on the dog some more then usually till the dog gets over the loss, which maybe never.
You may want to consider getting another dog,of course you cant replace a dog with another, but it may help the dog a lil', if not the dog may need good ol' time, just like we do as humans, and some extra love walks treats etc. My mother and I are in the medical field and with humans when two people are extremely close when one dies the other will follow shortly after, dying of a broken heart does happen.
Think positive, try all those things, and if it gets too bad go to the vet, but I think the other advice from the post, with some extra love and hugs and treats and walks and maybe another companion will do the trick. When he cries go right to the dog immediately and comfort him or her right away with lil' things and see what works.
Once again, I'm very sorry for your loss, I'm a animal lover and have lost many and it's very sad, take care and please give your dog a huge hug from NICKI from CALI! :)
always
Nicki