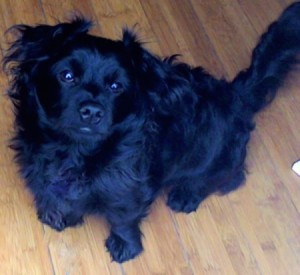 I have a dog. He is part Chi/Pom. I got him when he was 4 months old, he is now 1 and a half years. He was fully trained by me when I got him. We moved a year ago and had him retrained. My brother-in-law brought over his new dog and now he is pooing and peeing all over the house.
He has no health issues. He goes to the door every 1/2 hr, but only to mark his area then comes in and does his duty. He howls when outside and barks and growls all the time. He goes around in circles growling at himself and growls when anyone picks him up, including me. I have tried everything to stop him, from spraying cinnamon or vinegar along with Javex to disinfect.
Last week he peed on my couch for the first time, and has humped blankets, his bed, etc. He is very hyper, he chases the cat all over 3 floors until he is exhausted at least 3 - 4 times a day. He growls and snaps at people when you take a walk with him and refuses to poo outside. He doesn't eat like a normal dog, he picks out pieces of the dry food and puts the rest on the floor making a huge mess. He runs outside when he sees the opportunity to go down the main street, then he comes back when I shout to him. Thus he has to be chained outside each time he goes outside. I am afraid he is going to get hit by a car as it is very busy.
When I first got him the owners said he was a quiet dog, but he has been barking every since. I was told if he peed to rub nose in it, bad mistake wrong thing to do. I was told if he growled or showed any bad behavior to smack him on the nose, bad mistake too. I am desperately calling out for help in this. I am at my wits end with him. Please help me or I will have to get rid of him and I love him regardless.