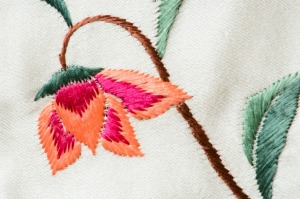 Does anyone know where to find a pattern for the "Colonial Lady" or "southern belle" type of embroidery pattern that you used to do on the edge of a pillow? You embroidered the head and upper body, and then crocheted the "skirt" on the edge of the pillowcase. I am looking for either already stamped pillowcases or an iron-on transfer pattern.
Where is Lee Wards when I need them?
Judy from Altoona, PA
Answers
January 10, 2006
0

found this helpful
I remembered seeing this pattern in Herrschners, Inc. catalog, but I guess it was in an earlier edition (I just checked the "Winter Sale" one). In any event, you could try their Web site, www.herrschners.com and ask them if they still carry it. Also, do you have a Michael's, JoAnn's or Hobby Lobby near you? They have Web sites, too: think they are their names with the usual dot coms. Good luck!
By yvonne (Guest Post)
January 10, 2006
0

found this helpful
you can go to colonialpatterns.com, they have the southern belle motifs for $1.30 each. these are the iron on type, and then you embroidery the design, i am not sure if the lower part of the dress that hangs over the edge of the pillowcase is crocheted or what, but it does hang over the edge of the pillowcase border from what i saw. all the patterns for the colonial and southern belle patterns are located in the linens and vintage section. i hope this helps you with your project.
By Laura (Guest Post)
April 21, 2006
0

found this helpful
Hi Judy,
I've been looking for sun bonnet Sue's as well. Try a search for "sun bonnet sue embroidery transfer" on ebay.
Cheers, Laura
p.s. I'm also going to check out our neighbourhood Salvation Army Thrift Store and a local craft store.
By Erin (Guest Post)
April 22, 2006
0

found this helpful
Herrshners carries this, if you go to their site and search for "southern belle" you get the pillowcase kits and the thread kits, which are sold separately.
here is a link to the search
www.herrschners.com/search.aspx?q=southern+belle&tab...
October 26, 2006
0

found this helpful
Sent in by Email:
In response to the lady trying to find Colonial Lady Pillowcase patterns: You will find these patterns in Annie's Attic Catalog.
By Marsha from Houston, Texas
By Sheila (Guest Post)
January 10, 2007
0

found this helpful
I am looking for cutwork pillow cases. The skirt of the lady is completely crocheted. Can anyone help?
By Juanita (Guest Post)
November 20, 2007
0

found this helpful
RE: "Colonial Lady" Pillowcase Pattern,you may try Aunt Martha's transfer patterns to iron on your pillowcases. I have found those iron on transfer patterns at Joann's Fabric Store and Michael's Craft Store. Good Luck in finding them.
March 19, 2008
0

found this helpful
I have this pattern and the pillowcases. If you wish to contact me by EMail, maybe I can help you out.
Knitting Queen
By mel (Guest Post)
August 12, 2008
0

found this helpful
You can find these iron on transfers at www.colonialpatterns.com they are the old Aunt Martha's patterns.
August 13, 2008
0

found this helpful
I have done a pair with a lady holding a fan, I need the crochet skirt pattern. Can anyone help? Thank you, Denny
Read More

Answers
While looking for some nice embroidery patterns on the net I realized, that some very beautiful ones I had found and copied in my files, were coloring pages. You can set them and print them any size and directly put them under the foot of a sewing machine to embroider a tablecloth or anything else.
I am looking for free hand embroidery patterns to download. I am unable to purchase them any longer.
By Sally from Saskatoon, Canada

Answers
February 13, 2011
0

found this helpful
I'm teaching my daughter how to cross stitch, and I wanted patterns easier than what already had. So I just typed "easy free cross stitch pattern" into my Google search bar and went from there. There are many places that offer free patterns of varying difficulties. Just do a simple search like I did, for whatever kind of embroidery you're interested in. About.com had a lot of patterns and projects.
February 13, 2011
0

found this helpful
You could also use pictures from coloring books, the only thing is you would have to trace them.
February 13, 2011
0

found this helpful
I agree with the others here: use coloringbooks and google, and any drawings that interest you. I've come across these websites in my google searches: www.emblibrary.com, www.embroiderydesigns.com, www.oregonpatchworks.com
I would just trace them out on tracing paper. Sometimes I ask my husband to draw, since he's skilled at line drawings, and then I can trace from that (to keep the drawing for reuse).
Read More

Answers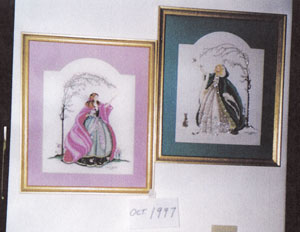 I'm looking for a needlework, of an angel/fairy. She is wearing a big green coat, and she is blonde. There is a tree leaning over top of her, she is looking left, and there is a bird at her fingertips. Also, there is a rabbit on the bottom left corner of the needlework. It's a doll looking figure needlework. It's part of a set, called the 4 seasons, I have the one in the pink coat. I'm mainly looking for the green coat one, but I would like to purchase the other two, too. See attached photo.
Sabine from Hamilton, ON
Answers
By cjb (Guest Post)
September 3, 2007
0

found this helpful
Those are marketed as angels, not fairies and are sold in needlepoint shops. When I was doing needlepoint, the patterns were very, very expensive and called for lots of metallic yarns.
By marilyn (Guest Post)
September 3, 2007
0

found this helpful
Try http://www.NordicNeedle.com I think that's where I saw those kits. Good Luck.
You must be a very skilled needlewoman, to do these!
August 19, 2009
0

found this helpful
I've seen those on Ebay.
Answer

this Question
Would anyone know of a pattern to embroider a vine on a scarf?

Carmela

Answers
December 22, 2008
0

found this helpful
I don't know about embroidery, but some sewing machines have a leaf and vine stitch that is very pretty, and you could use threads that are very pretty like metalic ones. My machine is a singer futura and the # number 17 on it is a leaf and vine stitch. Maybe someone you know has that stitch on there sewing machine and could let you use it to get that look. or maybe you could print one from your computer if you have a art cd to get it from then just transfer that onto your scarf by using a invisible tracing pencil then do your embroidery over it. just an idea. happy holidays.
By londa (Guest Post)
December 24, 2008
0

found this helpful
My local library has all kinds of pattern books for crafts, it's easy and free!
Londa
Answer

this Question