Troubleshooting an Embroidery Machine

I am new to machine embroidery. I am using a Brother Innovis 955. My first test pieces were fine. I am now trying to sew a satin stitch name using the same thread, material, and stabiliser as the test piece, but the stitched letters are coming out white (bobbin thread) not pink like the thread on the top of machine.
I hadn't changed any settings, but have tried changing the tension, put in a new needle, etc. all to no avail. I am confused.
Answers

February 7, 2017
0

found this helpful
Your test pieces were small. The actual piece may be much bigger, and the weight of the piece may be pulling and causing the machine stitches to come out wrong. Try laying the piece of material on the sewing table so it is not stretched as you sew.

February 8, 2017
0

found this helpful
Solved! As I said new to machine embbroidery, it was the bobbin thread not being fed properly.
I cant believe how much time, effort and material I wasted trying to sort when all I needed to do was rethread the machine, but at least I have discovered this potential 'fault' before attempting a large project.
Read More

Answers
10 More Questions
Ask a QuestionHere are the questions asked by community members. Read on to see the answers provided by the ThriftyFun community or ask a new question.

The embroidery carriage on my Singer xl400 is not moving and the panel shows error code 10 (wrong size hoop), but nothing I do changes the outcome. Please help.
Answers

poehere
Bronze Post Medal for All Time! 105 Posts
October 13, 2019
0

found this helpful
It says that this error code is your hoop size and it is too small. They are saying that you need to trun off the machine and put in a larger hoop. I think may be you have done this before.
Here is a good video on how to troubleshoot some of the major problems with this machine.
www.youtube.com/watch?v=2YeDNwJDV_k
Answer

this Question

Does anyone know about the Maker Original MK3700 embroidery machine and how it works? I have had it for week and had just endless problems to get it going.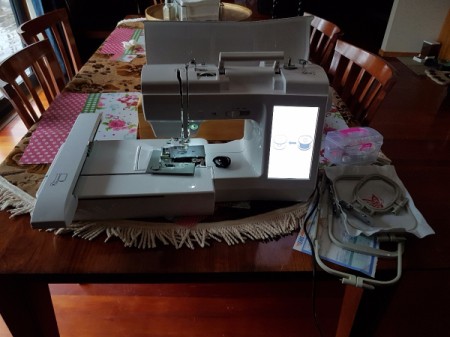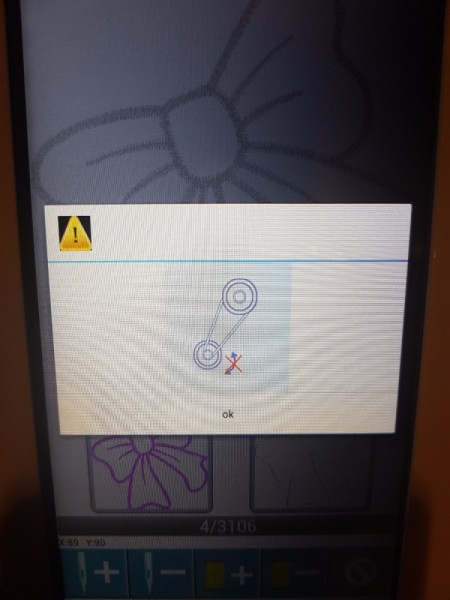 Answers

July 28, 2017
0

found this helpful
Are you saying the name of the machine is "Maker Original"? I cannot find anyone who has ever heard of a machine with this name. No one - so far - has recognized the number/model MK3700 so it will be difficult to help with your problems without more information.
Do you have a manual? Please try to locate more info on the machine (sides, underneath, or any paperwork) and submit reply. Maybe someone knows more but otherwise you may have to ask someone at a sewing shop. Google sewing shops with your zip code and make some calls - maybe someone can help you.

July 28, 2017
0

found this helpful
I can't find this make either. If you had it only a week, I would contact the seller and ask for some lessons. If the machine is faulty, get your money back.

July 28, 2017
0

found this helpful
Have you found any more information about your machine? Did you talk with the previous owner about any booklets or any other information they can supply. I know these machines are expensive even used but you will need instructions or you will never be able to use this machine. You will need a name, maker and model number or you will not be able to find a manual or be able to order any parts you may need.
Call some sewing shops or visit them and have photos and any information as they are usually very informative about these machines or they can give you an address of someone that may be able to help you.

attosa
Diamond Post Medal for All Time! 1,246 Posts
July 28, 2017
0

found this helpful
I have searched, as well, and can't find a thing. Look around the machine for model numbers or other imprinted information and let us know.
Answer

this Question

I have a Brother 1400e sewing machine, it stitches out placement fine. Then when I put the first appliqué piece down, it stitches out until it gets to the final stitching and then it tears the stabilizer and pulls the fabric away as well. I have tried everything.
I changed the needle, bobbin, bobbin case, and thread. I tried pulling the bottom thread to the top when starting. I have never had this problem before, I have a 1600e, as well. I have been using this machine three years now. Thanks so much.
Answers

October 19, 2019
0

found this helpful
This problem sounds pretty involved and will probably take a technician to sort it out for you.
There may even be a certain sequence to follow to get your machine back on track.
You can call or contact Brother but they will not help you with machine problems. They will direct you to your nearest dealer for support of any kind. This referral is in the contracts that Brother has with their associate stores.
www.brother-usa.com/brother-support
You can find your local store (may not be where you bought your machine) or look up Brother sewing machine repairs with your zip code.
It is possible that Sears Service Center could help you and they may be less expensive.
Most likely your machine does need a good cleaning and this may be what started the problem.
Answer

this Question

I have Brother Disney SE270 embroidery machine. My husband bought me this machine years ago, so I took it out recently to embroidery something and it worked for a few days, but then it locked up, and made a terrible noise, and there was an error message. The wheel that moves the needle was locked up so I opened the bobbin holder and played with it a little and got it loosened up.
And it worked again but only for about a 1/2 hour then it locked up again, could this have a simple fix? Or would it be better to take it to a dealer? Thank you for any help you can give.
Answers

February 15, 2019
0

found this helpful
Did you get this problem solved or did you take in to be looked at?

May 15, 2019
0

found this helpful
if your needle was stuck down in the bobbin casing its highly likely the needle went into or scuffed the bobbin case itself...take the bobbin case out and do a inspection...see if you can see any scratchs or needle punctures....you might be able to file it down and make it smooth again or you might have to just purchase a new bobbin case....if it has any kind of rough surface or knicks it can cause the string to get caught or not feed the bobbin thread correctly.
Answer

this Question

I have a opportunity to buy a Phoenix 540 embroidery machine, but it needs to be fixed. When you push the start button the machine runs at high speed in one spot.
The owner replaced the motor and it still does the same thing after the motor was replaced. Is it worth buying and repairing?
Answers

July 16, 2017
0

found this helpful
Are you are talking about the Industrial Embroidery Machine 15 needle Phoenix 540? If so, these are very expensive machines and usually takes a trained technician to analyze and repair them.
I would suggest for you to talk to someone that has one of these machines and can maybe give you some professional advice about the problem you are asking about or find a technician. It would really be best if you could take it to someone to check it out. There should be some sewing shops in your city.
Now, you probably already know how much these machines sell for so I think you should weigh the asking price against possible several hundred dollars in repairs or get a real repair estimate before you commit.
Hope you are going to use this to make money to override the cost...

July 16, 2017
0

found this helpful
I would call a shop that repairs these machines and ask for a range to repair. Take this into consideration when you make your offer. I personally don't buy anything unless it is in working condition. You get no guarantees; I bought a bread machine, used it twice, and it bit the dust. However, I paid very little for it.
Answer

this Question

I have a Brother Innovis NS1150E embroidery machine. Occasionally it skips stitches. Is there a way to go back and restitch them?
Read More

Answers

After an upgrade on my Duetta 4500D embroidery machine my screen turned red. Has this happened to anyone else? How do I fix it.
Answer

this Question

I am having several problems with my Brother embroidery machine 350se and there is no repairman near by. First, it will not do any decorative stiches at all. It won't even do a stretch stitch. It embroiders just fine, but my problems seem to be in the sewing postition.
I have definite problems with no bobbin tension and the fabric seems loose with the foot down. The feed dogs are in the up position. Is there away to adjust the foot pressure? I know I need a new bobbin carrier, but am wondering what else I need before I place my order.
Answers
Helen
Bronze Answer Medal for All Time! 155 Answers
December 21, 2016
1

found this helpful
It really sounds as if your machine needs a good overhaul. With complex electronics, there often seems to be little you can do yourself any longer. I would bite on the bullet and contact your nearest Brother manufactory to see where you can take your machine. Good luck!
Answer

this Question
Just as with your typical sewing machine there are two thread sources that work together to create the designs. This page offers some suggestions for what you can do if your embroidery machine will not pick up bottom thread.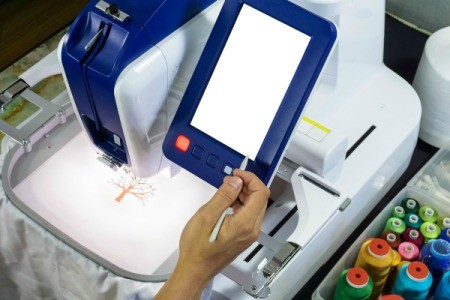 It may be the thread you are using if you are having trouble with fraying using your embroidery sewing machine. This is a page about preventing fraying thread on machine embroidery.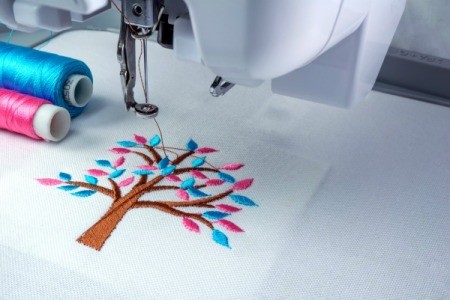 Categories
Pages
More
Categories
Published by ThriftyFun.
© 1997-2023 by Cumuli, Inc. All Rights Reserved.
https://www.thriftyfun.com/Troubleshooting-an-Embroidery-Machine.html