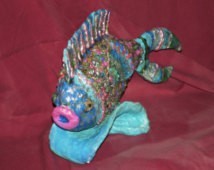 I learned when I was very young that toys and new clothes did not take a priority in our family. My mom bought me the least expensive little cotton dresses and then she would purchase and applique of a sheep or a bear that I liked and put it on the pocket, and I felt pretty special. It wasn't her fault, at all. I grew much faster than my older step siblings. It's the truth that if she bought me some Sunday shoes on Monday, they would be too small by church time. She also grew up in the Depression, and she was extremely creative. Some nights, I would hear the sewing machine going all night while she created the outfit of my silly dreams, complete with hidden pockets everywhere.
I was a very nervous kid, and I wanted more than anything to be able to take one of my toys to school with me. But that was not in the rules. So when I was about 8, I carefully stitched a tiny ragdoll family, each one about as long as my middle knuckle. My mom was very proud of me! She thought I might be a great seamstress some day. I just wanted to make tiny toys. I never dreamed some day, they would make much tinier ones out of plastic. They lived in the back of my desk, and I never got caught.
I never wanted to work for anyone else, so I would be a writer when I grew up. But freelance writing wasn't so easy back then, before the internet. I just knew that one could be a writer with a good mind, paper, and a pen. No expensive machinery. But like I said, I still didn't have the internet, so to get even a whisper of my voice heard, I needed an agent. And truthfully, I didn't have much to say at that age. So the next step was to be an artist.
I had watched my mom, my sister, and my brother create art and make money all my life. They really put me in the shade. But when I moved away, I got my courage and I got some paints and brushes, and just to be fancy, I got a canvas. I always felt that you shouldn't spend a bunch of money on machinery and supplies before you know how it's going to turn out. Pull yourself up by your bootstraps, be creative, and you will become more creative.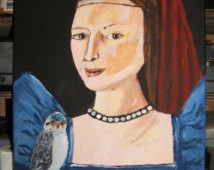 My first pictures were laughable. And then I tried to be a perfectionist, a realist, and that was not fun at all. Then after a while it seemed like the brush was carrying my hand. It was the most natural thing in the world. I still wanted to be GOOD, but mainly I wanted to forget about that and see what the brush wanted to do. I also loved making little sculptures from oven baked clay, or painting on T-shirts. Trying out new styles of painting that I felt sure I invented myself. Not everyone loved my art, and sometimes I painted totally different from other times.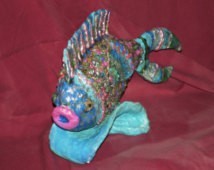 I just HATED to spend money on anything expensive. Like a kit. Make your own kit. Make your own coloring book. But it's a great way to spend an evening with your friends, much better than a lot of ways. But could you all get together and design, using geometry and your imagination together, a coloring book to sell? Maybe you could even have one of those drink wine and paint classes featuring the masters. Maybe serve a little less wine and teach them about great artists, and definitions of art. Not only is that living frugally one better, actually making money on what you used to spend it on, but bringing wisdom and forgotten values to a whole group of people.
You don't have to spend a bunch of money to be classy. And you shouldn't starve because of fear of the economy. I now sell my art regularly, not regularly enough to take care of my needs, but I keep expanding what I do. It's a very good idea to diversify your interests and look for honest new opportunities, not only to make money with, but to stimulate your mind, maybe meet people and network, and learn a whole new field of interest.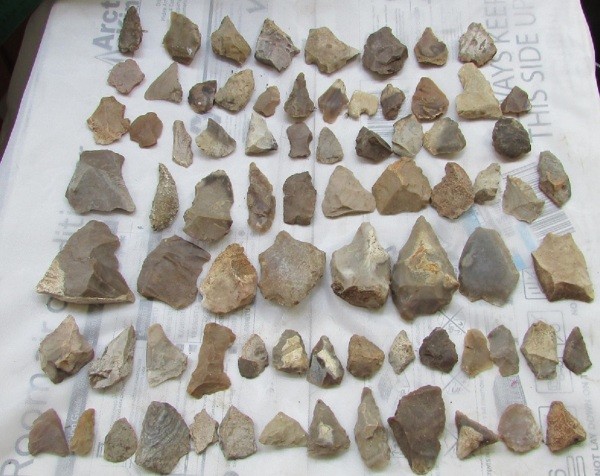 I was quite shocked to find a great wealth of arrowheads on our Texas land. I felt as if God had given me an instant treasure. I can truly walk outside with a bucket, and come back inside in fifteen minutes with at least twelve Native American artifacts. However, I really have to study the whole subject of North American ancient anthropology to be able to know what to sell, what to keep, and how much to sell it for.
In the third picture, almost exactly in the middle, the ivory colored artifact is one like I have never seen before or been able to find on the internet. It certainly seems like stone, but it could be bone. If it is a weapon, it would be a projectile, and I don't see how it could injure an animal compared to the other artifacts in the picture, especially, for instance, the small curved and deadly looking (still) spearhead, or arrowhead. The most primitive man did not use projectiles but hand mauls and spears. And his weapons were much much larger, because the animals that hunted him, and he hunted were much, much larger than the largest animals alive on earth today. I feel double blessed, because I get to handle and study these VERY ancient objects, tools, and weapons, and I have been blessed with the curiosity to learn about prehistoric man.
Learning keeps us young, and prosperous. I will next be learning how to do stuff with the antique stack of wood in our back yard and studying on how to wire a lamp. I can make an awesome lamp, except for the wiring. That's my other lesson for this week.
If you were born into a life of poverty, your own questions can stimulate your mind. Look for the answer to every question, and you will soon grow rich with knowledge, which is the only way riches will stay with you anyway. Think up the answers in your head, and you will grow rich with creativity. People who have not had a good degree of want will not do these things. These things come by learning to live frugally in a material way, and very very expansive in the true world, the world of the Totally Possible.