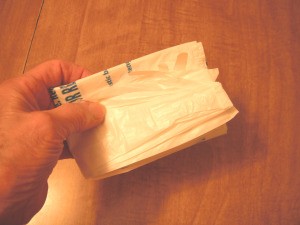 In 1987, when I first started picking up roadside litter, I asked my friend to save me her Wal-mart bags. She brought them to me in a Wal-Mart bag and all of them were neatly folded. This is where I got the idea of folding my bags. Using these bags, I would stuff my pockets with over 20 bags and walk a mile and pick up the litter, filling the bags as I walked. I never ran out of bags.
After grocery shopping, I put the bags inside one bag and set them in the extra chair at the end of the kitchen table. I fold them when it's convenient. It's easy and only takes a few minutes. The folded bags take up a lot less space.
I have a lot of uses for them and keep a couple in my pocket book, some in the vehicles, in my gym bag for my wet bathing suit, and usually have one in the pocket of my jeans. Whenever I need to use a bag to take something to a friend or neighbor, the bag is not wrinkled, which makes it look neater.
I don't waste plastic bags. Any excess, I put it in the car to take back to the grocery store for recycling.