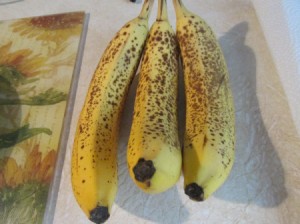 I love making banana bread. It is one of my favorites. I thought I would share what I do with my ripened bananas.
I buy bananas with each food shopping day. I always make sure I buy a few extra. When they are ripened, I peel, mash (a bit chunky) and put them in a Rubbermaid airtight sealed container. I always use ones that are marked with the amount they hold. I use 2 cup containers.
The preview you will see holds 1 3/4 cups. I write out a sticky label with the amount and the date and freeze them. When I have enough (about 6 cups of mashed bananas), I thaw them in lukewarm water, and this makes 4 large banana breads. I won't write the recipe as I have already posted my banana bread recipe. Unless otherwise I am asked to.
A lot of people do not think that mashed bananas can be frozen. They freeze just fine! Enjoy! :)
Editor's Note: We have linked to Jackie's Banana Bread Squares recipe below.