Freezing Cookie Dough
Solutions
Share on ThriftyFunThis guide contains the following solutions. Have something to add? Please share your solution!
I have found most cookie dough can be made ahead of time and baked later. Be sure to tightly wrap the rolls of cookie dough in plastic wrap, chill in the refrigerator, and then freeze.
For drop cookies, I freeze them on a baking sheet, then transfer them to freezer bags. This works great for chocolate chip, sugar, oatmeal, and peanut butter cookies. Thaw the cookie dough for 30 minutes before baking.
By Bobbie G from Rockwall, TX
I was making cookies the other day and decided that I didn't want to bake the whole batch of dough. So, using my cookie dough scoop, I put the dough onto a baking sheet, and placed the whole sheet into the freezer until the dough was frozen.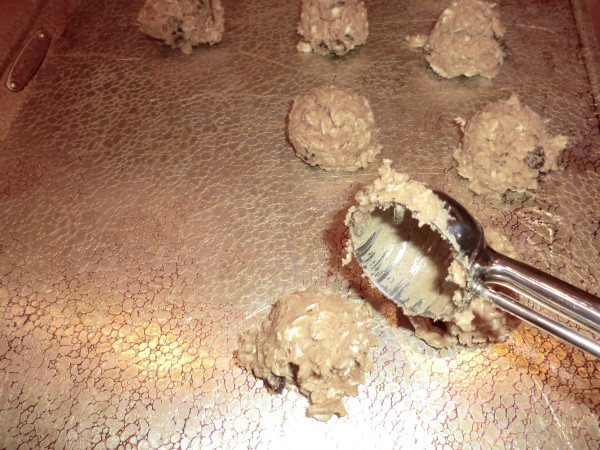 I then removed them from the freezer, laid the dough balls onto pieces of waxed paper so they didn't touch, then placed them into a freezer bag.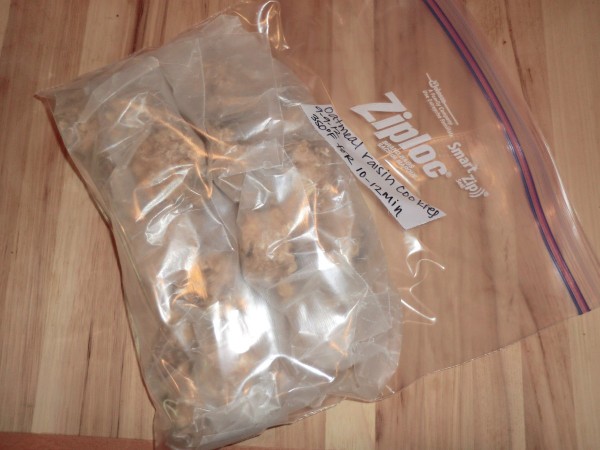 On the bag I wrote what kind they were, the date I packaged the dough, and the baking instructions for when I decide to bake them. Now I can bake as many cookies as I want! :)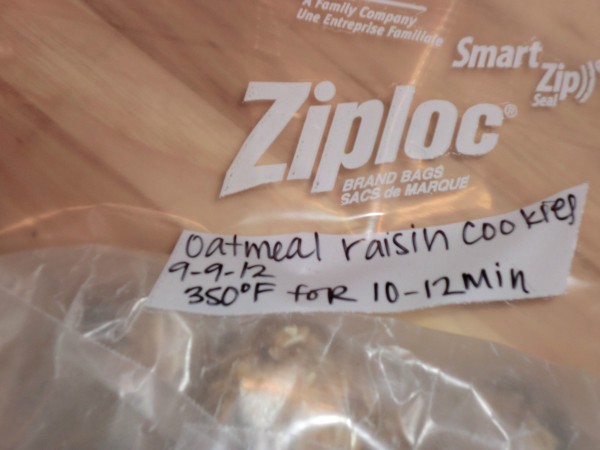 April 14, 2005
0

found this helpful
When I make chocolate chip cookies, I always make a full batch. Since it's just my husband and me, I bake a dozen and form and freeze the rest on wax paper in the freezer. After they are frozen, I just toss them in a tightly covered bowl and leave in the freezer until we are ready to make some more! I take them out and let them sit on the cookie sheet while the oven is pre-heating. This way our cookies are always soft and fresh!

By Judy
October 18, 2012
2

found this helpful
To save time, when making cookie dough, make at least one extra batch. Divide the extra batch, and put into clean frozen juice cans, covering the open end with foil, and freeze. When you want to bake cookies, take out one of the cans, open the other end and push out the dough through the can. Slice with a sharp knife, place rounds on cookie sheet, and bake. Fresh home made cookies in a jiffy!
By Jen
I've found a way to re-use the plastic tube canisters that Wyler's lemonade and other brands of sugarless fruit drink mixes come in. They are the perfect size for cookie dough.
After rolling and cutting the dough with round cookie cutters slightly smaller than the canister rim, I stack the unbaked cookies with a "cut to size" piece of wax paper between each one. Several squares of waxed paper can be stacked for cutting the circles to save time.
Then fill the canister leaving 1/2 inch space at top, seal with the plastic lid, label and freeze. It is easier to handle the dough for cutting and stacking if it is refrigerated for about 2 hours first. I make several batches ahead. Then when my kids want homemade cookies, or company stops for coffee and a visit, it's quick and easy to bake the cookies from the pre-made dough. This would work for rolled biscuit dough as well.
Make ahead to save time during those busy weeknights families often have.
By Jean from MI
August 8, 2001
0

found this helpful
I love to make cookies, but with just my husband and 1 toddler at home, we can never eat a whole batch of cookies up before they are going stale. So what I do is make a whole batch of cookie dough, bake just one or two sheets of cookies, then freeze the rest of the dough in cookie sheet size portions.

The dough freezes well in old cottage cheese/sour cream containers, and a piece of masking tape on top tells you what kind of dough is inside. I always have cookie dough on hand for emergencies, and we enjoy fresh, hot chocolate chip cookies about 3 times as often. Another idea is to cook up the whole batch and then freeze whatever cookies aren't eaten right away. Then the cookies can be taken out of the freezer when you need them (to put in lunches or whatever).
Julie
Videos
October 1, 2012
0

found this helpful
This video shows you a quick way to freeze your cookie dough. View the full recipe here: Freezing Cookie Dough
Related Content