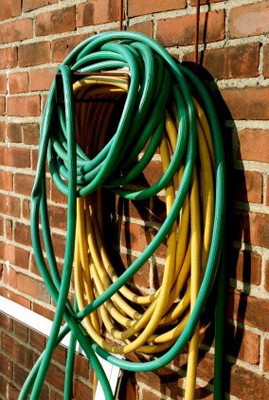 When it comes to watering garden plants, fancy irrigation systems are nice, but most of us still rely on Mother Nature, and a good old-fashioned garden hose to deliver the goods. Although it is one of the most easy-to-use tools in the shed, working with it can feel a bit like wrestling a wild beast, especially when taking it out and putting it away.
Avoiding Hose Hazards
Let a Cart Do the Lifting
Even a short length of garden hose can be heavy to lift and awkward to carry. Depending on the size of your yard, dragging it to where you need it can put a lot of unnecessary strain on your back. Let your equipment take the weight off your back. Use wheeled carts and reels to make moving hoses around the garden easier.
Protect Tender Plants
Once uncoiled, use hose guides to keep hoses from and running over and crushing tender plants. Decorative guides can be purchased online or at garden centers, or you can save yourself some money by re-purposing found objects to make your own. Here are just a few ideas:
PVC pipe or rebar (covered in bamboo for a nicer look)
Copper plumbing pipe (over time it will weather to a nice patina)
Old tools sunk into the ground (e.g. broken spading forks, sawed off fireplace pokers)
Solar yard lights
Stout tree branches
Vintage door knobs
Old croquet mallets
Smart Storage Solutions
Hangers and Hooks
You'll get a longer life from your hose if you store it off the ground, and let the water drain out of it freely. One easy and inexpensive way to do this is to wind it around an old wheel rim attached to a fence post with the nozzle facing down.
Home improvement stores and garden centers offer a wide range of decorative metal hangers, which come ready to attach to your shed, garage, or house. Freestanding hose hangers are yet another option, albeit a pricey one. They take up more space, and unless anchored securely into the ground, they have a tendency to become wobbly over time.
Creative Coiling
Coiling your hose by hand can be an arduous task, and it's worth investing in equipment that makes the job as easy as possible - if only to spare you the frustration. Powered reels are nice because they wind your hose automatically. At the very least, a reel with a simple manual crank handle will enable you to wind your hose into a tidy coil.
An alternative to putting your hose away after each use, is to hide it away in freestanding container close to where you need it (e.g. a plastic garbage can cut in half, a large decorative terra cotta pot, or a half barrel).
Helpful Attachments
A few simple hose attachments can help you save time and use water more efficiently.
Bubblers: Attached to the nozzle end of your hose, these devices turn a harsh stream of water into a gentle trickle. They are great for watering fragile seedlings and areas prone to erosion.
Quick-release Couplers: Screw them into faucets, hose ends, and attachments to connect your irrigation devices together quickly and easily.
Select Spray Nozzles: These nozzles are equipped with a dial that lets you choose between multiple types of spray settings. Depending on your watering needs, choose settings like mist, shower, stream, flat, jet, or even flood.
Water Wands: If you have to water hanging baskets or plants in the middle or near the back of a flower bed, attach a water wand to the nozzle end of your hose. Usually made from hard plastic or lightweight aluminum, they instantly extend your reach and allow you to direct water to hard to reach places.
Read More Comments
Even though I'm an avid gardener, visible hoses have always been an irritation to me! Gotta have them though! I hate those reels, but I hate them lying on the ground even more. You can buy 'fancy' containers in which to store your hoses, but I haven't been able to talk myself into spending the $ for them!
I've tried everything imaginable, until I had an 'aha' moment last week. I purchased an 18-gallon, green, storage container from WalMart for $6.00. Then I had hubby drill a hole in the center and toward the bottom of the container.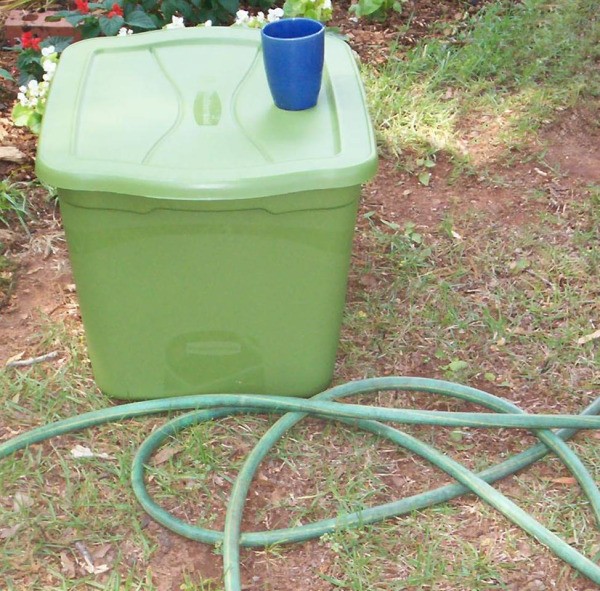 I snaked the female end of the hose through the hole and behind some plants and connected it to the faucet. Then I curled the hose inside the container and closed the lid.
To ensure the wind didn't blow the lid off, I put a couple of small plants on top, then to disguise the container, I put a larger, more mature potted plant in front of it.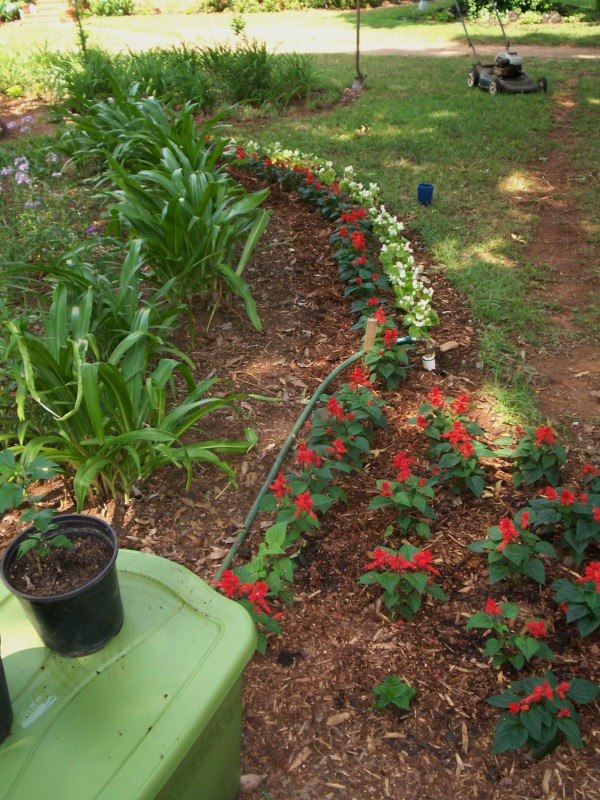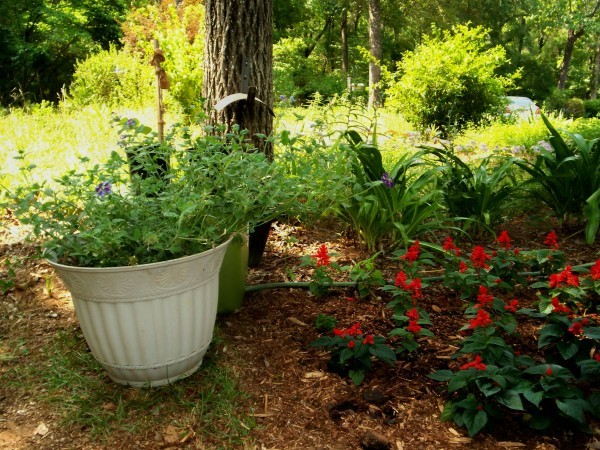 Watering is easier now that I don't have to worry about dragging the hose over plants nor do I worry about disturbing the mulch. Just lift out the hose, turn on the faucet, and I'm ready to water.
Works great for me and I don't have to 'hide' hoses when I'm photographing or just want to relax in the gardens. I tried only one initially, but now that I see how well it works, I'll be going back for more containers to place in other gardens.
By Norma from Parrott, GA
Read More Comments