July 3, 2011
0

found this helpful
Best Answer
I like 3M Scotch Quick Dry Tacky Adhesive.
http://www.scot TLgl78QJJZ7RMBbl
I make and sell cards. I don't do much with ribbons/fabrics, but when I do, I either use this, a tape runner, or on rare occasions I'll use my Xyron.
I'm going to include a couple pics of some cards I've made. I used the 3M Scotch Quick Dry Tacky Adhesive on both of them.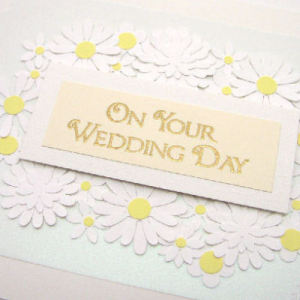 July 6, 2011
0

found this helpful
Best Answer
I have had good luck using iron-on backing on the fabric, cut out the shape, iron it on the card or the box or what ever paper object you wish to decorate. This is the same iron-on backing that you would use on an all fabric project.
July 8, 2011
0

found this helpful
Best Answer
I do a lot of papercraft and if I need to attach fabric detailing, such as a flower, I tend to use a blob of 'hot melt' glue in the centre ('cool melt' would probably be just as good). If I want to stick on a larger, flat piece of fabric I use double sided sticky tape.
You can also purchase sheets of 'sticky dots' that you apply whatever needs sticking straight on to the sheet. When you lift it off the entire back will be covered in evenly spaced, minute, glue dots, ready for sticking onto your project. Any other glue can tend to wet the paper and 'warp' it whilst drying. Hope this helps?
July 3, 2011
0

found this helpful
You could make glue cheaply but mixing flour and water to make a paste.
July 3, 2011
0

found this helpful
I couldn't figure out how to add a second picture to my other post. Here is another card I made using the same glue. It had lots of layered flowers, and just an itty bitty dot of the glue did a great job.