Green Smoothie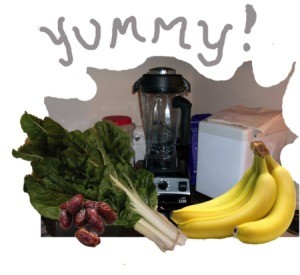 We all hear it - we must have an acutely large serving of fruits and veggies a day!! But who really wants to, especially considering the possibly inversely proportionate ratio of effort expended to taste? Nobody! So, the thing to do is to have lots of smoothies!
This is a smoothie I present here that is a very personal variation of many one can see online, and it is a personal favourite. It's tasty even for veggie haters! It is also vegan/raw for those who are monitoring such things.
Total Time: 1.5
Yield: 64oz
Ingredients:
16 oz Water ($free)
8 oz Almond or Soy Milk ($50cents)
8 units Banana ($1.50)
8 units Dates ($2)
2 tsp Ginger Powder OR ($50cents)
1 oz Ginger Root ($20cents)
1/2 cup Coconut Powder (optional) ($50cents)
2 cups raw Swiss Chard or Spinach ($1)
1/2 cup raw Cilantro ($25cents)
1/2 cup raw Mustard Greens ($50cents)
Steps:
Chop up bananas into halves and make sure dates are de-pitted. Wash greens; then chop up to a manageable size. Cut up ginger if using ginger root.
measure out all remaining ingredient, and blend - generally start with the greens so as to ensure they are as pureed as possible - then add dates, bananas, and finally everything else
Add your voice! Click below to comment. ThriftyFun is powered by your wisdom!
Advertisement