Grilled Chicken Recipes
Solutions
Share on ThriftyFunThis guide contains the following solutions. Have something to add? Please share your solution!
August 19, 2009
2

found this helpful
I like this recipe because I live alone and can make up several packets at a time to freeze when there's a bulk sale of chicken to take advantage of at a low price and, other than tossing a salad, each packet is a full meal for me :-)
Ingredients:
4 skinless chicken breasts or thighs
2 bell peppers cut into strips
1 lb. red potatoes, thinly sliced
1/4 cup barbecue sauce of choice
1 Tbsp. orange juice
Directions:
Place each chicken breast in to the center of a foil packet. Divide bell peppers and potatoes evenly over chicken breasts. In small bowl, stir together barbecue sauce and orange juice. Pour evenly over chicken and vegetables. Double fold packets closed. Place packets, seam side up, on the rack of a grill or oven. Grill or bake packets until vegetables are tender and meat thermometer inserted in to the thickest portion of chicken reads 160°F and juices run clear.
By Deeli from Richland, WA
July 21, 2011
1

found this helpful
I found this recipe at Campbell's Kitchen website when searching for some simple new grilling ideas. Not only is this good but it's also really easy and these sauce ingredients are almost always readily available on hand.

Of course, I simply couldn't resist tweaking it and doubled the recommended honey, mustard and onion powder. If you don't want to be that bold, simply halve those three amounts listed here ;-)
Ingredients:
1 (10 3/4 oz) can Campbell's Condensed Tomato Soup
1/4 cup honey
2 tsp dry mustard
1 tsp onion powder
2 lbs boneless skinless chicken breast halves and/or thighs
Directions:
Oil the grill rack and preheat to medium.
Stir the soup, honey, mustard and onion powder together in a saucepan.
Grill the chicken turning and brushing often with the sauce mixture and cook until the juices run clear when piercing with a fork, about 15 to 20 minutes.
When the chicken is almost cooked through bring the remaining sauce mixture to a boil, while stirring, and serve as extra sauce on the side.
By Deeli from Richland, WA
If you have an open grate grill you'll want to use a grilling basket for the onions ;-)
Ingredients:
1 boneless, skinless chicken breast half
1 boneless, skinless chicken thigh
1 Tbsp. and 1 tsp. lemon juice
1 Tbsp. extra virgin olive oil
1 tsp. pepper
1 yellow onion, thickly sliced
1/2 cup mayonnaise, or more to taste
hot sauce to taste
salt and pepper to taste
Directions:
Place chicken in a large resealable plastic bag with lemon juice, olive oil, and pepper. Shake to coat, and marinate in the refrigerator, shaking once, for 2 hours.
Lightly oil grill grate and preheat grill to high heat.
Place the onions on the grill, cook until lightly charred on both sides and set aside. Place chicken onto the grill and discard marinade. Cook for 15 minutes, turning once, or until juices run clear. Remove from heat and cool.
Chop chicken and onions and mix with mayonnaise in a serving bowl. Season mixture with hot sauce and salt and pepper to taste. Cover and refrigerate until chilled through and flavors have blended.
By Deeli from Richland, WA
This is my families favorite recipe for chicken. It is moist and full of flavor! 3 Ingredients for a 5 star meal!
Read More...
Use a peeler to remove strips of zest from half of the lemon, then trim into fine strips with a small knife. Reserve and set aside.
Grate the other side of the lemon to make 1 Tbsp. zest. Finally, squeeze the juice from the lemon into a bowl.
Read More...
I used to love Cracker Barrel grilled chicken tenders but found out that they are not gluten free so I can't have them. This recipe is about as close to that taste as I can get. I have to be really careful when eating out, when I ask for a gluten free menu. I'm finding out that more restaurants have one.

Read More...
November 7, 2005
0

found this helpful
Combine the oil, juice from one lime, oregano, and black pepper in a shallow glass baking dish. Stir. Place the chicken breasts in the baking dish and turn to coat each side...
Read More...
June 30, 2005
0

found this helpful
Marinating with Hellmann's Dijonnaise adds a creamy Dijon flavour and keeps meat moist and tender during grilling.
Read More...
June 11, 2004
0

found this helpful
Lemon, garlic and basil flavors come together to make some tasty grilled chicken.
Read More...
February 26, 2018
0

found this helpful
March 22, 2013
0

found this helpful
This page contains grilled chicken breast recipes. Grilling is a popular way to prepare chicken.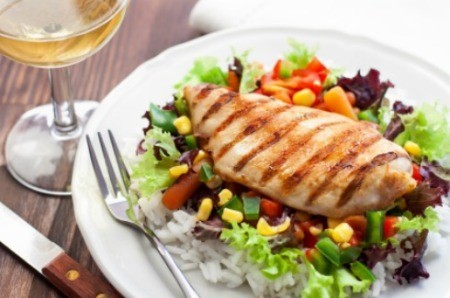 Related Content