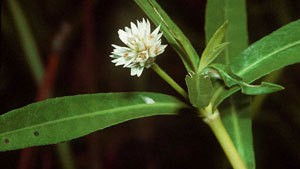 Botanical Name:
Alternanthera
Life Cycle:
annual or tender perennial
Planting Time:
spring or summer
Height:
6" to over 1 foot
Exposure:
full sun to partial shade
Soil:
average soil
Hardiness:
zones
5-11 dependent on variety
Bloom Time:
spring to early frost
Flower:
white, inconspicuous
Foliage:
reds to purples to greens to yellows, can be blotchy or variegated
Propagation:
root cuttings 1 to 2 inches in length
Suggested Use:
beds, edging, borders, containers, and terrariums
Growing Hints:
Alternanthera make excellent fillers for container displays due to their compact growth. Space four inches apart for a carpet effect and pinch back occasionally to keep plants bushy. Pot plants and bring indoors as a house plant for winter.
Interesting Facts:
Alternanthera come in many varieties. Varieties commonly grown as annuals are also known as Calico Plant or Joseph's Coat.