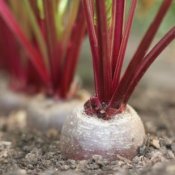 Gardeners love to grow beets because they mature quickly and they can be grown in almost any climate. They are rich in anti-oxidants, and although grown primarily for their sweet-tasting roots, they also produce a cap of delicious, edible greens.
Site and Soil
It's easy to find a place for beets in the garden. They prefer full sun, but will tolerate some light shade, so if part of your garden gets only half day sun, or you have space between two tall crops, you can plant them there.
Beets are root crops, and a little bit of extra soil preparation is needed to make sure that the roots develop properly. The best soil for beets is a light, sandy loam that has been enriched with compost or aged manure. The key is to dig deeply (at least 8 inches down) and free the soil of any rocks, dirt clumps, or roots which could impeded development and cause forked or misshapen roots. If your soil is acidic, you'll need to add some lime in to raise the pH to the range of 6.5 to 7.5.
Planting
Beets develop the best flavor, color, and texture, when they grow and mature quickly during cool weather. Plant them in traditional or wide rows, or block plantings.
How much to plant: Plan on a 5 to 10 foot row of garden space per person for fresh eating. For canning or freezing, sow 10 to 20 feet per person. (One ounce of seed will plant a 75 foot row).
Sow beet seeds as early as you can work the soil (or when soil temperatures exceed 45 F). In cooler climates, succession plantings can be made every two weeks for a continuous harvest. The "seeds" of most cultivars are actually small fruit clusters that contain between 4 and 8 seeds, each having the potential to produce several individual seedlings.
Plant the seeds 1/2 inch deep and 1 to 2 inches apart, in rows 12 inches apart. If you are planting in blocks, the seeds should be spaced 8 inches apart on all sides. Avoid planting them any closer together or they will be difficult to thin later on. After planting, water the seed bed with a fine mist and cover it with a thin layer of straw or grass clippings to keep the soil moist.
Growing and Care
Mulching: When your seedlings emerge, remove any straw or hay mulch that is covering them and use it to cover the soil in between the rows. This will help suppress weeds and keep the soil around the seedlings cool and moist.
Thinning: The most common mistake made when growing beets is the failure to thin them properly. To make sure beet roots have enough room to develop, you need to thin the clusters of seedlings to 1/2 apart when they reach 2 inches tall. After that, it really depends on the cultivar that you are growing. (Carrot-shaped beets should be thinned to 2 inches apart, standard round cultivars to 4 inches apart and large cultivars bred for storage to 6 inches apart.) To thin, pull out clusters of seedlings so that the ones remaining are about 4 inches apart.
Then, using a scissors, snip off the extras seedlings in each cluster until only one remains.
Feeding: Beets should be given a shot of a diluted solution of fish emulsion and kelp extract when the first true leaves are fully open (either as a side dressing or foliar feeding). Continue to feed them weekly until the plants are 2 to 3 inches tall.
Watering: Young beets need a steady supply of water. Too little and the plants will go to seed early and the roots will become woody and tough. Keep the soil evenly moist, but not soggy throughout the entire growing season.
Hilling up: As beet roots grow larger, they have a tendency to poke above the soil's surface, and get sunburned "shoulders" (turn green). To avoid this, keep them covered by hilling up the nearby soil.
Pests and Disease
Beets are relatively problem-free crops, but they are occasionally attacked by flea beetles, leaf miners or curly top virus (which is spread by leaf hoppers). To protect seedlings, cover them with floating row covers as soon as they emerge-leaving them on until harvest.
Harvesting
Early cultivars of beets can be harvested when the roots reach 2 to 3 inches in diameter (use your fingers to brush away the soil and reveal the top of the root). While the beets are growing you can also pick up to a third of the leaves off each plant and use them as cooked greens. Pull them gently, or dig them up and cut off the stems and leaves.
Roots can be kept in the refrigerator (leaves removed and stems cut short) for several weeks. Roots can also be stored in boxes between layers of sand or peat, at 35 F to 45 F for up to 5 months. Other ways to preserve beets include canning, pickling, or freezing. Fall crops can also be left in the ground until needed, if covered with a heavy blanket of mulch.
Varieties
Your basic beet is red in color with a round shape, but you can also find varieties that are white, yellow, carrot-shaped-even striped. 'Detroit Dark Red,' good for both spring and fall harvests. Reliable early varieties include 'Red Ace,' 'Early Wonder' and 'Little Ball'. 'Cylindra' is long and carrot-shaped instead of round. 'Burpee's Golden' is a beautiful red-orange beet that doesn't bleed when you cut it. Regardless of the variety, most beets will mature in six to eight weeks.
Read More

Comments