Growing Beets
Botanical Name:
Beta vulgaris
Description:
Beets have green, leafy stems and a round fleshy tap root measuring 4 to 6 inches in diameter. They are typically red in color.
Planting Time:
Plant them in the early spring as soon as the soil is workable.
Exposure:
full sun
Soil:
light, well-drained soil
Planting:
Sow seeds directly in the garden in two week intervals for harvesting all summer. Plant a final crop for winter storage 90 days before the first frost. Sow seeds to a depth of 1/2 to 1 inch spaced 3 to 4 inches apart in rows 12 to 18 inches apart.
Watering:
Keep young beets well watered and the soil surface moist but not wet. A lack of moisture will cause plants to go to seed (bolt) and develop tough, woody roots.
Maintenance:
Apply grass clipping thickly between rows to control weeds and conserve moisture. Fertilize weekly with compost tea or seaweed as soon as plants develop their true leaves and until plants are 2 to 3 inches tall. Cover any roots poking through the soil's surface to prevent them from turning green and tough.
Harvesting & Storage:
Pull beets when they reach 2 inches in diameter. Remove tops to store in the refrigerator or store in boxes layered with sand or peat and keep them at temperatures of 35º to 40º F (up to 5 months). Cover fall crops with mulch and store in the ground. To prevent bleeding, leave 1/2 of the leaf top attached.
Diseases and Pests:
Watch for leafminers, leaf hoppers and curly top virus.
Tips to Success:
A common mistake is over planting and under thinning. Beet seeds are actually small fruits that each contains 4 to 8 potential seedlings apiece so don't plant seeds to thickly together. If not thinned properly, they won't develop roots worth harvesting. Thin when seedlings are 1 to 2 inches high to 1/2 inch apart and as necessary as the plants grow.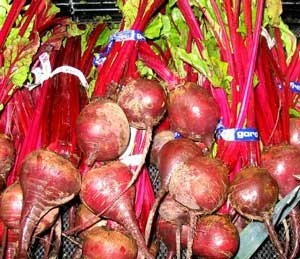 About The Author: Ellen Brown is an environmental writer and photographer and the owner of Sustainable Media, an environmental media company that specializes in helping businesses and organizations promote eco-friendly products and services. Contact her on the web at http://www.sustainable-media.com
Add your voice! Click below to comment. ThriftyFun is powered by your wisdom!
Related Content