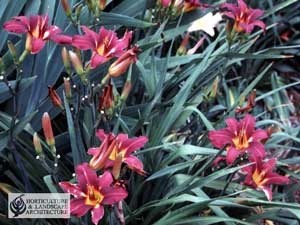 Botanical Name:
Hemerocallis
Life Cycle:
perennial
Planting Time:
spring or fall
Height:
dwarf types 18" to 24", standard 2' to 6'
Exposure:
full sun or light shade
Soil:
average to rich, moist, well-drained soil; will tolerate drought and poor soil conditions
Hardiness:
zones 3 to 9
Bloom Time:
bloom time varies depending on variety
Flower:
every color with the exception of true blue; showy, trumpet shaped flowers
Foliage:
green; long grass-like leaves
Propagation:
division
Suggested Use:
beds, borders, edging, mass plantings, foundations plantings, containers, and groundcovers for slopes
Growing Hints:
Daylilies are one of the hardiest and easiest perennials to grow. Although the flowers are only open for one day, each plants produces lots of buds and many varieties bloom continuously over the entire season.
It's a good idea to start with nursery plants that are blooming to ensure you're getting the color and structure you prefer. Plants are hardy enough to transplant while flowering. Once established, divide in the spring or fall every 4-6 years. When plants start to produce less flowers, it's time to divide them.
Interesting Facts:
Daylily flowers are edible. Use them to add color and flavor to stir-fry , salads and soups (they have a taste resembling green beans). Pick flowers only from plants you are sure have not been sprayed with insecticide.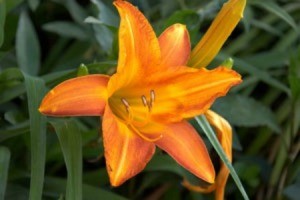 When I moved to my present home, I inherited a big, unruly bed of faded orange daylilies. For a while I contemplated getting rid of them, but the bed was large and well-established and it seemed like a lot of work. Then I become friends with an avid daylily collector, and before you know it, I was exploring the many (MANY) types of daylilies available. With the hundreds and hundreds of different lilies growing in his garden, I was certain he had one of the largest collections in the world. That is, until I found out there are more than 50,000 daylily cultivars!
Beauty For A Day
In Greek, Hemerocallis, the botanical name of the daylily, means "beauty for a day" because each flower lasts only a day. So why would anyone grow flowers that last only one day? To begin with, a daylily grows many scapes (flower stems) that produce dozens of buds. This actually keeps the plant in constant bloom for weeks. There have also been many changes in daylily development over the past few years, resulting in stronger plants that produce more flowers for a longer blooming cycle. Daylilies are also very easy to grow and maintain, they survive in all types of climates and they grow in almost any soil. A truly forgiving plant, any daylily enthusiast will tell you, they are the perfect perennials.
How To Use Daylilies
Gardeners love daylilies for their varied shapes and sizes and for their wide range of colors - all the colors of the rainbow, except blue. They make excellent ground covers on slopes and look lovely planted against fences, on decks or patios, and peeking through wrought iron railings or when adding splashes of color to borders and beds. They give the best color when planted in large groups or sweeping swaths in the garden.
Blooms For A Day
Daylilies grow from eight inches to five feet tall with varieties featuring flowers as small as two inches or as big as eight inches. They usually bloom the year they are planted and grow quickly to form clumps. Some daylilies "re-bloom," that is they flower once early in the season and again in the fall. Others bloom in succession for a few months. As with most perennials, "deadheading" encourages more flowers.
Caring For Daylilies
Daylilies are very adaptable, but prefer nutrient-rich, well-drained soil in a sunny location. Planting them in the shade will result in a leafy spikes with few flowers and care should be taken to keep them away from trees and shrubs that will compete for nutrients. The exception to this is in southern states, where many daylilies, especially those with dark colored flowers, grow better if given some afternoon shade. In general, most daylilies are drought tolerant and need very little fertilizing (once yearly if at all). Personally, mine seem to thrive on neglect.
Planting daylilies is best done in the spring or autumn. Recommended spacing is 18 to 24 inches apart, just below the surface of the soil. Planting holes should be only slightly larger than the root mass.
Seasonal Maintenance
Daylilies look best if they are cared for throughout the season. At the beginning of the growing season, remove any old and dead foliage from the clumps. Remove blooms after flowering to keep your lilies neat and to encourage more flowrs. When all the flowers on a scape are finished, cut it close to the ground. Daylilies are not very susceptible to pests and then only suffer minor damage. Some of the more common pests are aphids, spider mites, thrips, slugs, and snails.
Dividing daylilies is not required, but it can invigorate plants if they become crowded and overgrown. Plants can be divided anytime they are not flowering.
Collecting and Breeding Your Own
Rare varieties of daylilies can command prices as high as $300 a plant among avid collectors. Don't worry though, there are thousands of fabulous varieties available for the rest of us in the $3 to $10 range. A quick search online will put you in touch with many resources for collecting daylilies and point you toward instructions on how you can hybridize your own to create totally new varieties. The American Hemerocallis Society (www.daylilies.org) contains information on every aspect of growing and collecting daylilies, including databases, publications and calendars for local, regional and national club activities.
Question:
I've always heard that you shouldn't plant different color daylilies close to the orange ones because it will cause them all to be orange.Is this true? Orange ones seem to grow wild here.
Karen L. from West TN
Answer:
Hi Karen,
I'm assuming that the orange daylilies you are talking about are common daylilies, (Hemerocallis fulva), also referred to as Tawny Daylilies, Orange Daylilies, or Roadside Ditch Lilies by some. Common daylilies are considered invasive plants in many parts of the United States. That's because they are usually willing to grow almost anywhere and in almost any type of environment-sun, shade, drought, monsoon, rich soil, or poor soil. Once orange daylilies establish themselves, they are hard to kill even with chemicals.
Common Orange Daylilies do not set seed. Instead, they spread slowly by way of underground rhizomes. Mixing them in with other colors is not the primary concern. As Beth already stated below, these flowers are incredibly resistant to insects and disease so they have a tendency to grow into huge colonies and out-compete nearby species. Many gardeners have planted them only to be unable to get rid of them later. It's not recommended that you plant these in the midst of other perennials, or anywhere that you do not want them to spread.
For information about daylilies, visit the American Hemerocallis Society at http://www.daylilies.org/
Ellen
Answers
May 18, 2008
0

found this helpful
The reason people say that all of the daylilies will turn orange is because the wild orange ones are very aggressive. They don't turn the others orange, they choke them out. So you can plant other colors with the orange, but you need to be watchful and make sure that the wild ones don't get too surly. They're easy enough to thin out, though.
July 24, 2015
0

found this helpful
No do not do that. The orange ones will choke and kill your other plants and flowers.
Answer

this Question

...