Planning Tips:
Pear trees are hardy to zones 4-9 and one advantage to growing them is that they tend to suffer from fewer disease and pest problems than most other fruit trees. For the best results, choose disease resistant trees that are at least 4 to 5 feet tall and have a 5/8 to 7/8-inch trunk diameter. Ideally, the trees will have 1 to 3 branches 2 to 3 feet up their trunks.
You'll need at least two cultivars to get a crop of pears, but keep mind that different varieties will not always cross-pollinate with each other. Be sure to ask the nursery which selections make the best match. Expect your first significant crop of pears after the trees reach 8 to 10 years of age.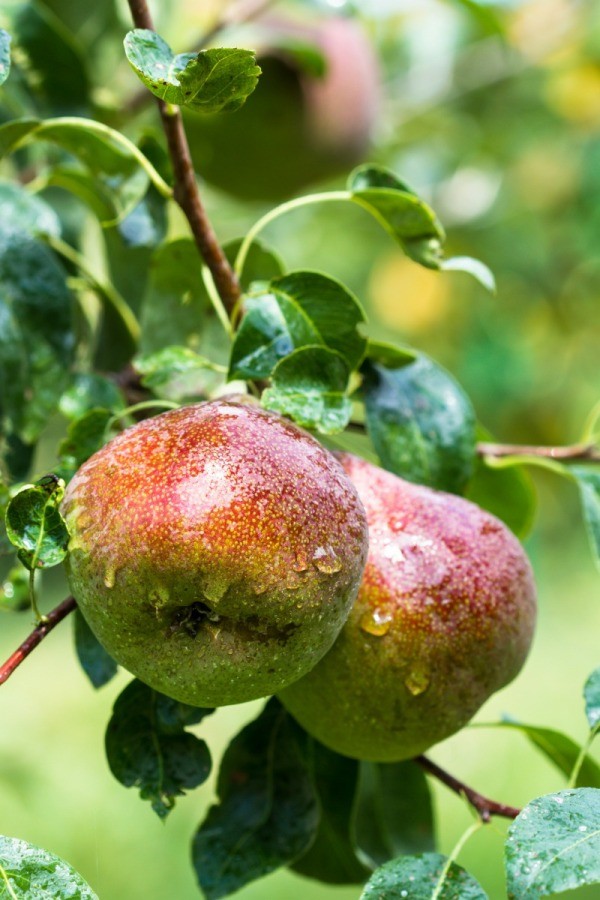 Site Preparation:
Choose a planting site with full sun exposure and average to rich soil that has a pH of 6.0 of 6.5 (slightly acidic). Pears will tolerate poorly drained soil better than most other fruit trees.
Planting:
Pear trees should be planted in the spring or fall (avoid fall planting in zones 4-6). Space standard-size trees from 20 to 25 feet apart and dwarf varieties from 12 to 15 feet apart.
Care & Maintenance:
Young pear trees should be trained (pruned ) to develop a structure that will best be able to support the weight of their fruit. Pear trees should be trained to have a central leading trunk and a shape similar to an apple tree. If fire blight is a major problem in your area, train your pear trees to have multiple trunks. This way, if your tree becomes infected, you can remove the infected wood and the tree will survive and bear fruit on its other trunks.
Pears are uniquely susceptible to an insect called psylla-a tiny red or green insect that sucks juice from fruit. As psyllas eat they secrete a honey-like substance that attracts a particular type of black, sooty mold. This mold looks similar to fire blight, but washes off.
Too much fertilizer and over pruning can encourage both problems. Branch spreaders increase air circulation and train branches while minimizing the need for pruning, and fertilizers should be applied only sparingly in the spring of each year.
Harvesting & Storage:
Pears should be harvested when they reach a mature size and still feel hard. They should be light green in color and separate easily from the fruit spur (point of attachment). Let them continue to ripen at room temperature for 5 to 7 days before eating them. Depending on the variety, pears will keep in the refrigerator for 2 weeks and even longer at slightly colder temperatures (31º to 32º F.